Storm Forecast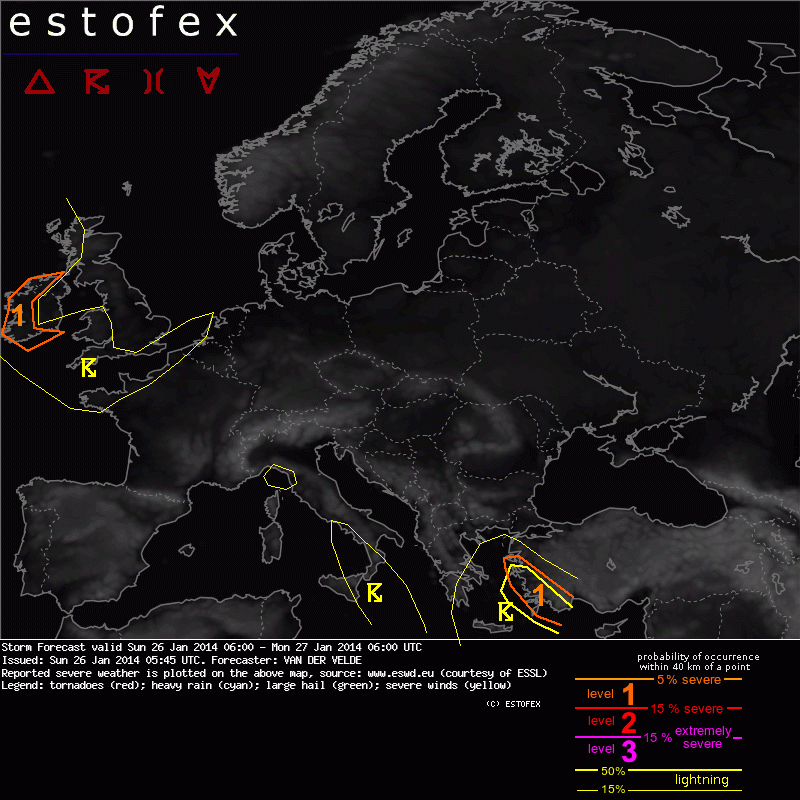 Storm Forecast
Valid: Sun 26 Jan 2014 06:00 to Mon 27 Jan 2014 06:00 UTC
Issued: Sun 26 Jan 2014 05:45
Forecaster: VAN DER VELDE
A level 1 was issued for Ireland mainly for severe convective wind gusts.

A level 1 was issued for southern Turkey mainly for excessive convective precipitation.

SYNOPSIS

A deep low lies off the west coast of Scotland. Cool slightly unstable airmass will contain thundery showers around the British Isles while the tight pressure gradients cause 10-11 Bft storm conditions before the northwest coast of Ireland, mainly toward early Monday.
At the east side of the map we find a large cold high over Russia and an eastern Mediterranean or Aegean low. Additionally an upper shortwave trough slides over the Alps to Sicily and the southern Mediterranean.


DISCUSSION

...Ireland...

The level 1 reflects the contribution of deep convection to the wind gust threat, which is minor. The overall threat imposed by the background gale conditions is much higher.

...Turkey and Cyprus...

A cold front moves eastward along the south coast at a speed that should limit the chances for excessive precipitation. Along the eastern section of the coast and on Cyprus the shear parameters are strong, with potential for supercells bearing large hail, severe gusts and tornadoes. The western section of the Turkish coast will have persistent presence of weak CAPE and convergence, along with not so low LCL heights and low precipitable water content, limiting the excessive rain threat, but an isolated event is not ruled out.