Storm Forecast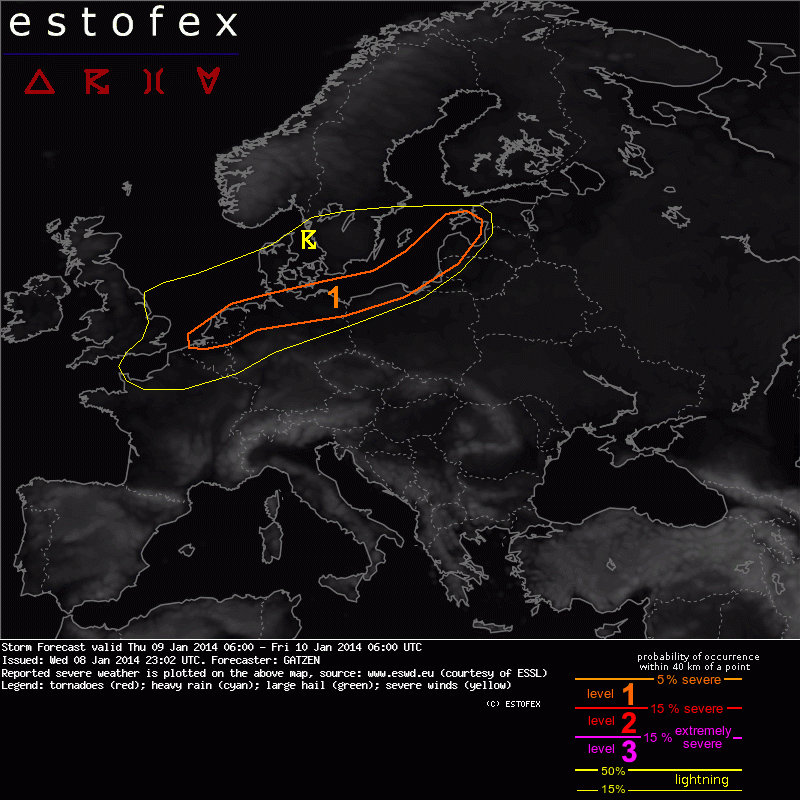 Storm Forecast
Valid: Thu 09 Jan 2014 06:00 to Fri 10 Jan 2014 06:00 UTC
Issued: Wed 08 Jan 2014 23:02
Forecaster: GATZEN
A level 1 was issued for the southern North and Baltic Sea region mainly for severe wind gusts.

SYNOPSIS

The remainder of the large northern Atlantic trough is pushed across Europe ahead of the North American arctic outbreak, leaving a cut-off low over the Canaries. Ahead of the lifting trough, another tongue of warm maritime air spreads into Central Europe, and a surface low pressure system will intensify while moving from the British Isles to the southern Baltic Sea. Its cold front will cross Central Europe until Friday morning. Most of the Mediterranean is dominated by a subtropical ridge.

DICUSSION

Central Europe

A lifting trough will affect most of western and Central Europe on Thursday. The main trough axis will accelerate eastward forming a negatively tilted short-wave trough that affects the North Sea and Baltic Sea region. Ahead of this trough, a weakening south-westerly mid-level jet streak will move from northern France across Germany into the Baltic States. It will provide strong DCVA.

At lower levels, warm and moist maritime air masses will spread into Germany in the morning hours ahead of the cold front. The warm air mass is expected to remain rather stable given the unfavourable placement underneath the anticyclonically sheared flank of the mid-level jet. A narrow cold frontal rain band is forecast with almost no lightning activity. Isolated severe wind gusts are not ruled out along the cold front, though.

The trough axis will follow the cold front in the evening hours across Germany. Cold air advection is expected to be dominating, leading to QG sinking. Although rather good moisture will remain near the trough axis with 0-1 km mixing ratios up to 6 g/kg, lapse rates are forecast to be poor. Therefore, chance of thunderstorms is forecast to be rather low. The best potential exists along the northern borders of Germany, where the negatively tilted trough axis is located.

Storms that form will have a potential of producing severe wind gusts. One factor will be the strong vertical wind shear that favours organized storms. Some multicells and bowing lines may form. Additionally, the strong background flow will increase the gust potential. Therefore, showers and local thunderstorms are expected to be capable of producing severe wind gusts, leading to a level 1 threat that moves east during the night across northern Poland into the Baltic States.