Storm Forecast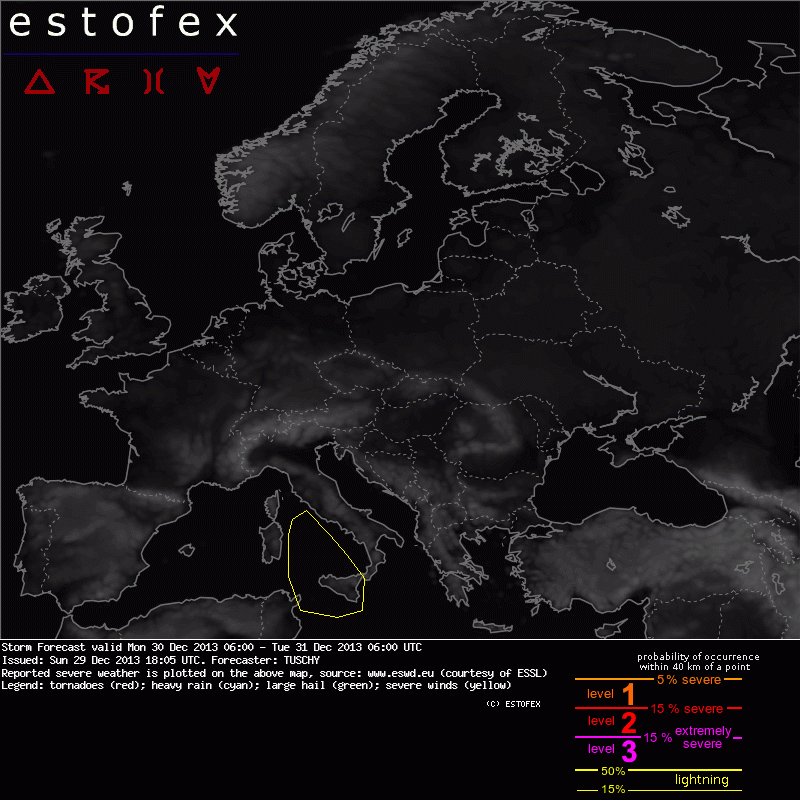 Storm Forecast
Valid: Mon 30 Dec 2013 06:00 to Tue 31 Dec 2013 06:00 UTC
Issued: Sun 29 Dec 2013 18:05
Forecaster: TUSCHY
SYNOPSIS and DISCUSSION

A temporal break in the active pattern of intense extratropical cyclones over NW Europe is forecast. Not much to breathe however, with a sub-980 hPa depression approaching Ireland from the west during the end of the forecast. A strong high pressure stays put over E-Europe.
Despite numerous frontal passages over Ireland/UK and Scotland, not much SBCAPE (if at all) is forecast. One narrow cold-frontal rainband crosses the area from west to east until noon while breaking apart with another one affecting Ireland and W-UK during the overnight hours. Both features have the strongest flow in the stable pre-frontal region, with 15-20 m/s post-frontal winds at 850 hPa. With intense LL shear along those bands and some offshore/coastal LL CAPE, a short funnel/tornado event can't be ruled out, but ingredients remain very poor for anything significant. Hence, no level area will be added. Hence the main hazard will be strong wind gusts.

A few short-lived thunderstorms are forecast beneath an healthy looking cold-core low, which crosses the Tyrrhenian Sea from N to S and approaches Sicily during the evening hours from the north. Those storms occur west of a N/S aligned moisture tongue/warm conveyor belt ahead of that vortex (with highest rainfall amounts being stratiform in nature), so the main risk will be sleet and gusty winds. Augmented offshore LL CAPE could also support an isolated waterspout event.