Storm Forecast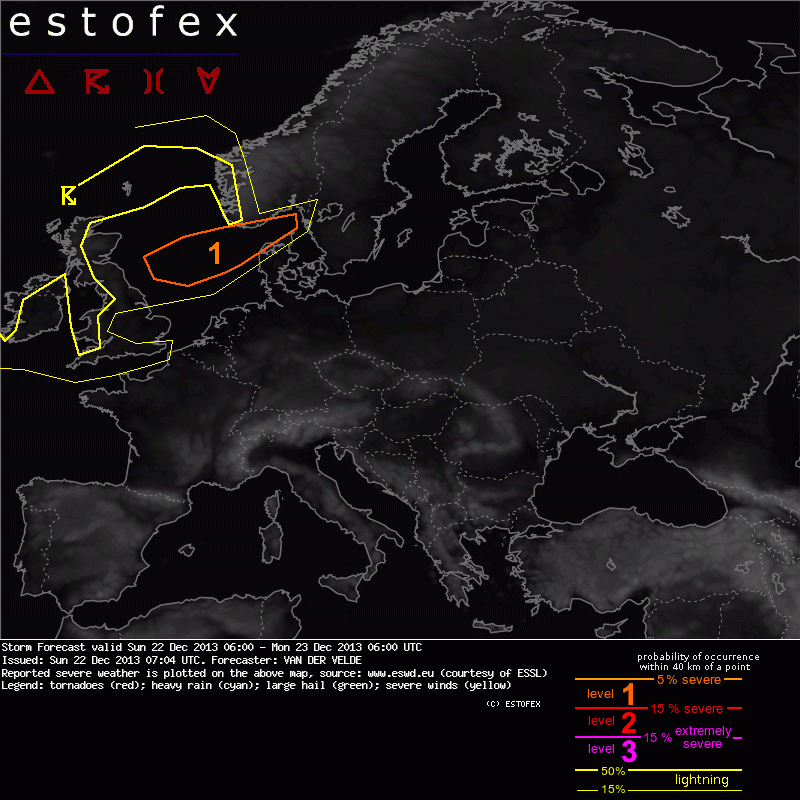 Storm Forecast
Valid: Sun 22 Dec 2013 06:00 to Mon 23 Dec 2013 06:00 UTC
Issued: Sun 22 Dec 2013 07:04
Forecaster: VAN DER VELDE
A level 1 was issued for convectively organized severe wind gusts over the North Sea.

SYNOPSIS

A vast area of maritime arctic air with steep lapse rates has been generated by a large low pressure system near Iceland. Convective cloud tops can reach wel below -20°C temperatures and will electrify despite low moisture input (2.5-4 g/kg), which is already confirmed by ATDnet lightning detections around the UK and Ireland. Convective organization will be poor except for a shortwave trough currently (06Z) inactively over the UK, which may well shape itself as a convective comma cloud over the North Sea during morning and afternoon and reach Norway and Denmark before 18Z. GFS predicted CAPE there is weaker than around Scotland, but there should be solid deep convergence. Given the low/mid level winds over 30 m/s there exists a chance that a possible convective line may organize a more substantial wind gust threat than the background conditions itself.

In all indicated thunder areas there is a threat of damaging winter lightning to tall structures due to their stronger current strokes.