Storm Forecast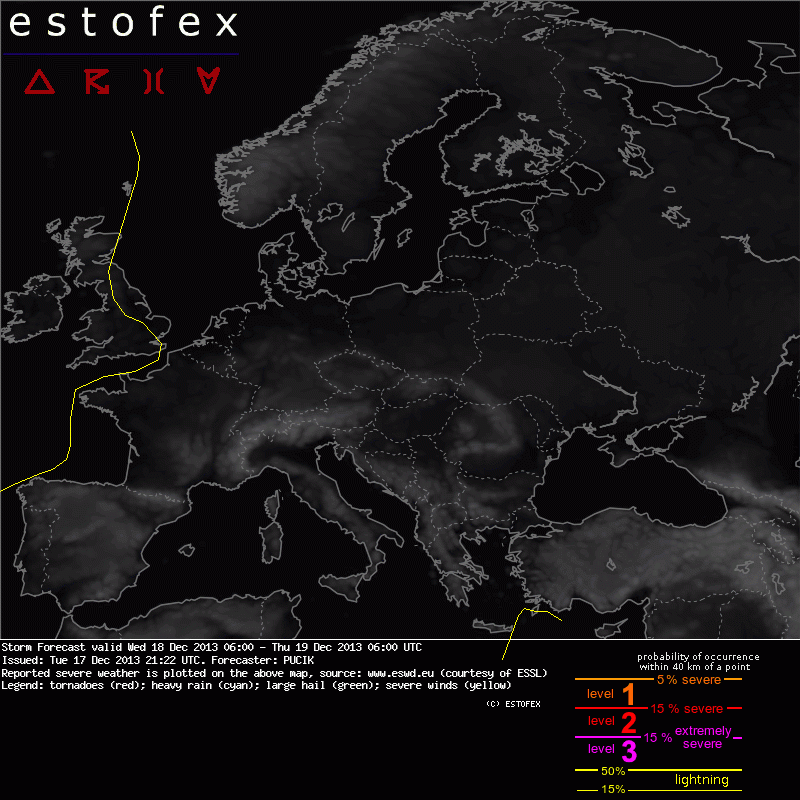 Storm Forecast
Valid: Wed 18 Dec 2013 06:00 to Thu 19 Dec 2013 06:00 UTC
Issued: Tue 17 Dec 2013 21:22
Forecaster: PUCIK
No threat levels have been issued.

SYNOPSIS and DISCUSSION

Most of Europe will remain under dry and stable conditions, two exceptions being the southern coastline of Turkey and then the western coastline of the British Isles. Pronounced trough along with the deep low (minimum pressure under 950 hPa) will affect especially Ireland / Northern Ireland and Scotland in the evening to night hours. Both ECMWF and GFS simulate marginal latent instability under cold mid-tropospheric airmass, yielding possibility of low-topped thunderstorms behind the main frontal zone. 20-25 m/s of 850 hPa is simulated behind the front (apart from the immediate south of the low with simulated "sting-jet" feature). Although convective donwdrafts might enhance downward mixing of momentum, it is likely that DMC will exist only in the form of scattered cells rather than forward propagating strongly forced MCS. Therefore, we refrain from issuing a Level for this situation attm.