Storm Forecast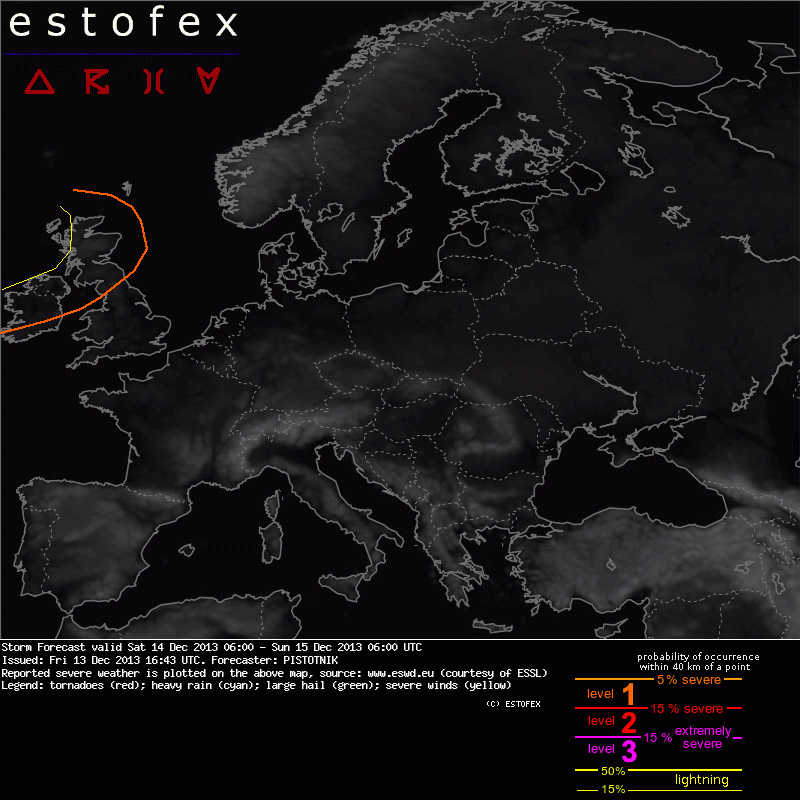 Storm Forecast
Valid: Sat 14 Dec 2013 06:00 to Sun 15 Dec 2013 06:00 UTC
Issued: Fri 13 Dec 2013 16:43
Forecaster: PISTOTNIK
A level 1 was issued for parts of Ireland and the UK for severe convective wind gusts.

SYNOPSIS

With the evolution of a strong frontal zone over the Northern Atlantic Ocean, the flow starts to zonalize again over the Northern half of Europe. A first trough and its occluded, rather inactive frontal system flatten the European long-wave ridge while they move into Scandinavia and Central Europe. A more powerful cyclone follows up between Scotland and Iceland and brings another winter storm to the British Isles, which get crossed by its frontal system and a subsequent mesoscale comma.
Further downstream, a long-wave trough over Northeastern Europe and a cut-off low over Turkey, both filled with very cold air, gradually move out of the forecast domain. High pressure resides over the Mediterranean region.

DISCUSSION

... British Isles ...

Impressive wind fields develop on the Southern flank of the approaching storm cyclone over the British Isles (850 hPa winds between 30 and 45 m/s), though their climax will be placed in the warm sector where downward impulse transport is limited. The cold front will cross Ireland and Scotland in the afternoon and most of England in the evening hours. Neutral profiles and weak CAPE signals are confined to the Scottish West coast, where rather shallow convection may locally enhance the maximum wind gusts to 25 m/s or higher. However, with only moderate forcing and limited baroclinicity along the front, there are no convincing signs for the development of a convective line which would result in more widespread gusts.
In the wake of the cold front, an intense short-wave trough will likely spark a comma development, which is forecast to pass slightly to the North of Ireland before probably hitting Scotland overnight. With signals of low-end CAPE, a warm core and another sharp wind maximum (850 hPa winds up to 35 m/s), a potential for widespread and convectively enhanced severe wind gusts exists with the passage of this system. An isolated tornado is not ruled out when convection makes landfall and encouters strong low-level shear and helicity due to frictional effects.
The latest UKMO-NAE runs (Fri 06 and 12z) show a more Northerly path and a somewhat weaker development of this comma. This hints at still some forecast uncertainties and, together with remaining doubts about the degree of convective involvement, precludes a level 2.