Storm Forecast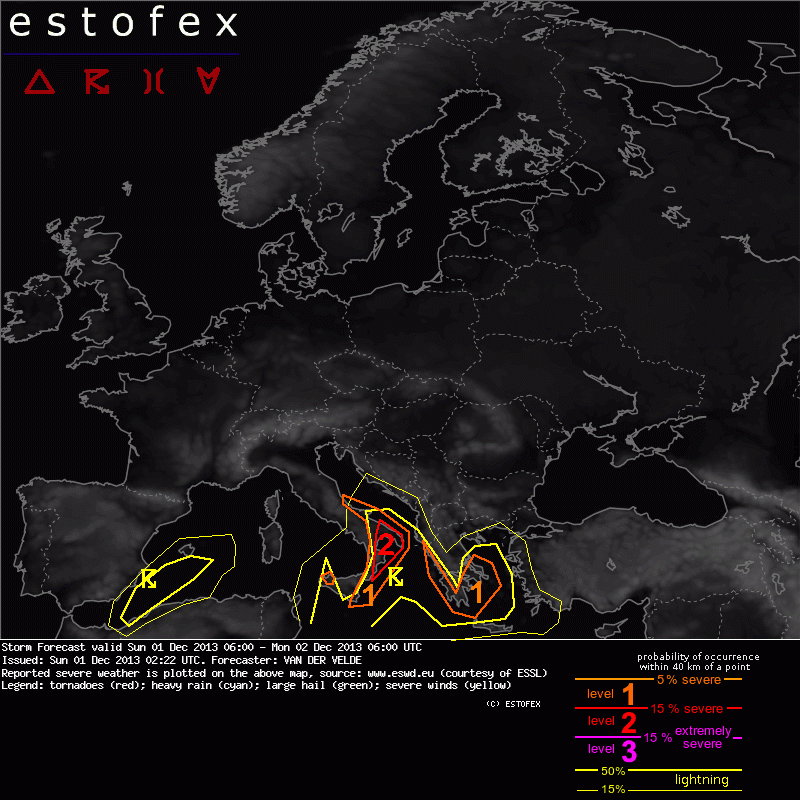 Storm Forecast
Valid: Sun 01 Dec 2013 06:00 to Mon 02 Dec 2013 06:00 UTC
Issued: Sun 01 Dec 2013 02:22
Forecaster: VAN DER VELDE
A level 2 was issued for southern Italy mainly for excessive convective precipitation.

A level 1 was issued for parts of southern Italy and Greece mainly for excessive convective precipitation, but also for chances of tornadoes and large hail.

SYNOPSIS

The synoptic pattern is dominated by three major systems: a blocking high pressure over the British Isles, a very large low over Scandinavia, Baltic region and northwestern Russia, and a low over the central Mediterranean Sea centered over Sicily. Due to the northerly origins of the low level airmass over most of Europe, the coldest air is in place in a band between Portugal and Romania, with warmer maritime air filtering in around the high pressure area via the North Sea.

DISCUSSION

The Sicilian low pressure area originates south of Malta and deepens to about 993 hPa (GFS) at 06Z, after which it weakens. The pressure gradient as a result becomes steep over southern Italy and sets up a strong southeasterly flow advecting a warm moist air sector onshore. There is already significant convective activity in this region. A cold front moves up north across the east coast of Sicily to the entrance of the Adriatic Sea in a time span of 6 hours, and focuses an "atmospheric river" of large moisture transport vectors over the higher terrain of southern Italy. Very persistent thunderstorm clusters should ride the coastline and release locally 40 to over 100 millimeters of rain in 3 hours as predicted by models of the HNMS and LaMMA. The GFS model produces lots of convective rain across southeastern Greece also, during afternoon/evening and night, but the high-res models are more conservative. This is where MLCAPE values in GFS are higher than 1000 J/kg, while it barely exceeds 500 J/kg elsewhere.
In most of this area there is moderate deep layer and low level shear in support of a mix of multicells with occasional supercells. Isolated large hail and a few waterspout or mesocyclonical type tornadoes are not ruled out.