Storm Forecast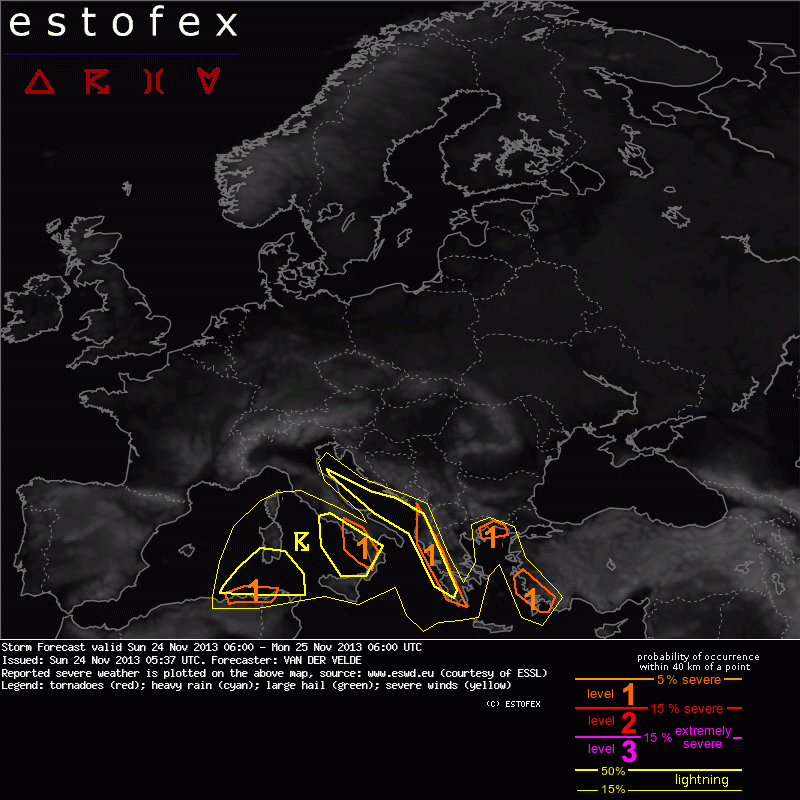 Storm Forecast
Valid: Sun 24 Nov 2013 06:00 to Mon 25 Nov 2013 06:00 UTC
Issued: Sun 24 Nov 2013 05:37
Forecaster: VAN DER VELDE
A level 1 was issued for N Algeria, S Italy, SW Balkan, E Greece mainly for some chance of excessive convective rainfall.

A level 1 was issued for E Greece and SW Turkey mainly for large hail and severe convective gusts.

SYNOPSIS

Blocking high pressure is in place over the British Isles. A northerly flow brings cold air from Scandinavia into central Europe. The Mediterranean houses a low pressure area which has produced convection for several days and is dynamically weak. Two frontal bands advect parallel to the flow into western and eastern Greece. There is good deep layer shear over these fronts but capping and weak MLCAPE (low tops) are negative factors. In all level 1 areas onshore advection of slow-moving storms can occur and locally this may lead to excessive precipitation. The moisture content and CAPE are limiting factors. Waterspouts likely will occur in the cold side of the low, under weak shear and slow storm motion conditions in convergence zones. The Greek (morning-evening) and Turkish (night) level 1 areas offer a warmer, moister airmass with SREH over 200 mē/sē and might grow supercells with large hail, and there is strong flow which can be transported to ground in storms. Cells may ride the coast line or mountains and produce excessive rain. A mesocyconic tornado is not ruled out but the overlap in 0-1 km shear and instability is not solid.