Storm Forecast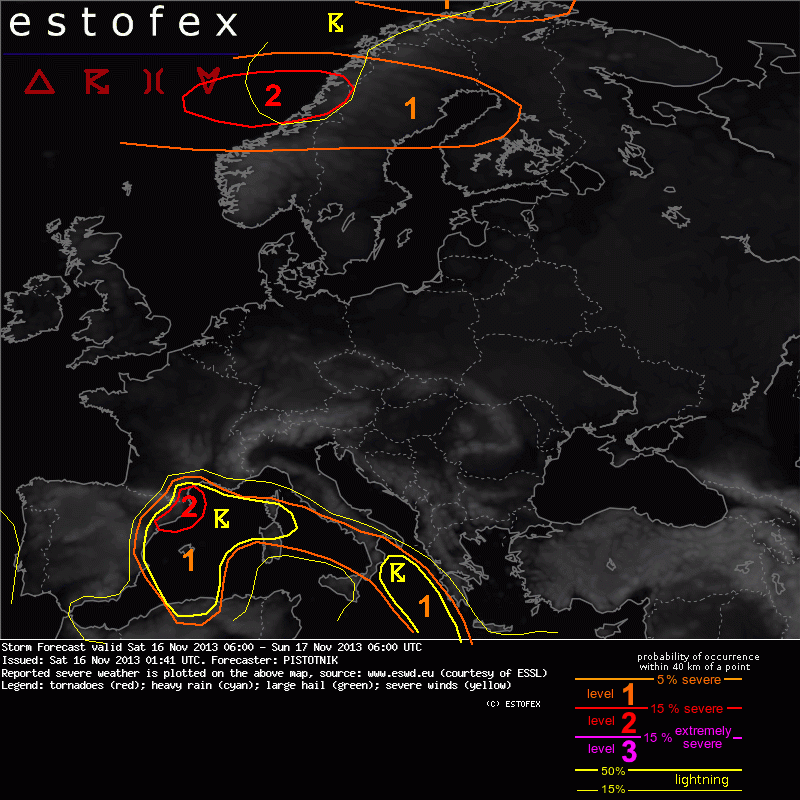 Storm Forecast
Valid: Sat 16 Nov 2013 06:00 to Sun 17 Nov 2013 06:00 UTC
Issued: Sat 16 Nov 2013 01:41
Forecaster: PISTOTNIK
A level 1 and level 2 were issued for E Spain and extreme SW France for excessive precipitation and to a lesser degree for severe convective wind gusts.

A level 1 was issued for much of the W Mediterranean mainly for excessive precipitation, waterspouts and to a lesser degree for severe convective wind gusts.

A level 1 was issued for much of the Central Mediterranean for excessive precipitation and waterspouts.

A level 1 and level 2 were issued for the Norwegian Sea, Central Norway and Central Sweden mainly for severe convective wind gusts and to a lesser degree for tornadoes.

A level 1 was issued for N Norway for severe convective wind gusts.

SYNOPSIS

A pronounced cut-off low slowly moves to the Southwest over Spain. Rather low geopotential extends eastward across most of the Mediterranean region. Further North, a belt of high pressure with cool and calm conditions extends from the Bay of Biscay via Central Europe to the Black Sea.
The Northern Atlantic Ocean, Scandinavia and Northeastern Europe are covered by a very strong zonal flow (speed maxima in excess of 50 m/s at 500 hPa and in excess of 70 m/s at 300 hPa). A first trough and its attendant, occluding frontal system move from Finland into Russia, followed by a menacing rapid cyclogenesis which is forecast to track eastward across Central Scandinavia overnight.

DISCUSSION

... Mediterranean region ...

Steepening lapse rates towards the West, where cold air has settled beneath the cut-off low around Iberia, and seasonably increasing low-level moisture towards the East result in low to moderate CAPE (maxima up to 1000 J/kg) across large parts of the Mediterranean region. Lift support is most plentiful over the Western Mediterranean Sea, which gets overspread by weak warm air advection and repeated vorticity lobes from the South in the periphery of the Spanish cut-off low. The combination of this forcing and instability release over the warm sea can result in the development of several, mostly shallow surface lows. The dominant one is foreast to move from the Balearic Islands to the Spanish East coast on Saturday while slowly filling up.
Repeated rounds of thunderstorms will make a landfall in Eastern Spain and extreme Southwestern France, quickly becoming elevated and packed into a stratiform rain shield while moving inland. The heaviest precipitation will likely occur along the Catalonian coast, where widespread accumulations between 50 and 100 mm, and locally even more, seem possible with persistent onshore flow during the forecast period. Though a considerable part of this precipitation will be of stratiform nature, the expected involvement of some embedded thunderstorms makes a level 2 still seem appropriate.
Offshore convection will stay surface-based and can spawn a few waterspouts, next to heavy precipitation. Some storms may also benefit from regionally enhanced deep-layer shear up to 20 m/s. Severe wind gusts and small hail are not ruled out in case storms, especially more isolated ones, can attain a better degree of organization.

Over the rest of the Mediterranean region, the synoptic situation turns less conspicuous. However, an almost stationary convergence zone runs eastward from the Golf of Lion across the Tyrrhenian Sea to the Ionian Sea. Scattered to widespread showers and thunderstorms are expected during much of the forecast period in these regions. With weak shear and slow motion, they pose a noteworthy risk of excessive precipitation, which will only slowly diminish overnight. A number of waterspouts may spin up along the main convergence zone or along land breeze fronts.

... N Norway ...

In the maritime polar air in the wake of the first cyclone, unorganized sleet and snow showers will move onshore in Northern Norway. With deep mixing and 850 hPa winds around 30 m/s, severe wind gusts are possible in the 06 to 12 UTC time frame. Shower activity will continue throughout the forecast period and will even increase again overnight (including the possibility of a few lightning strikes), but then the relaxing wind field should preclude any further severe weather.

... Norwegian Sea, Central Scandinavia ...

Supported by a pronounced short-wave trough, a rapid cyclogenesis will develop over the Norwegian Sea from the morning hours, will likely make a landfall near Mo i Rana, Norway (Sat 21 UTC) and will continue towards Oulu, Finland (Sun 03 UTC). While the models mostly agree on the track, slight variations exist with respect to its timing and major variations with respect to its intensity. Curiously, the two extremes are spanned by the Fri 00 UTC and Fri 12 UTC GME runs, which simulate a core pressure of 980 and 964 (!) hPa for Sunday 00 UTC, respectively. Large-scale lift support is extremely favourable in the afternoon over the Norwegian Sea with a coupled jet configuration (right entrance of the first jet streak and left exit of the second one), so a really powerful development would not be a too big surprise.
Aided by this very strong forced ascent, a belt of neutral to marginally unstable profiles is forecast to develop along the cold front, which will hit the Central Norwegian coast around 18 UTC. The formation of a shallow convective line is likely, and the risk of severe (>25 m/s) or even extreme (>32 m/s) wind gusts with its passage seems high enough to issue a level 2 for the Southern flank of the cyclone. While the extreme wind shear is forecast to be mainly unidirectional over the sea, backing surface winds due to frictional effects over land might result in an isolated (and possibly strong) tornado, though neither the topography nor the time of day are particularly favourable. Heavy precipitation may become another, minor issue, as much of the Atlantic moisture is squeezed out with the upslope flow along the Norwegian Alps. Further inland, the cold front will probably soon loose its convective character, but a level 1 was extended well eastward in order to account for traces of CAPE which are still visible on the GFS and WRF forecast maps.

With 850 hPa winds peaking over 40 m/s, widespread wind gusts well in excess of 25 m/s are still expected in Central Sweden and later across the Southern half of Finland even in the absence of any deep convection, especially near the back-bent occlusion. Remember that these threats are not included into the ESTOFEX scheme any more. Nonetheless, it needs to be mentioned that this cyclone can turn into a very serious early winter storm! Please address to your respective National Weather Service in case you need more information.