Storm Forecast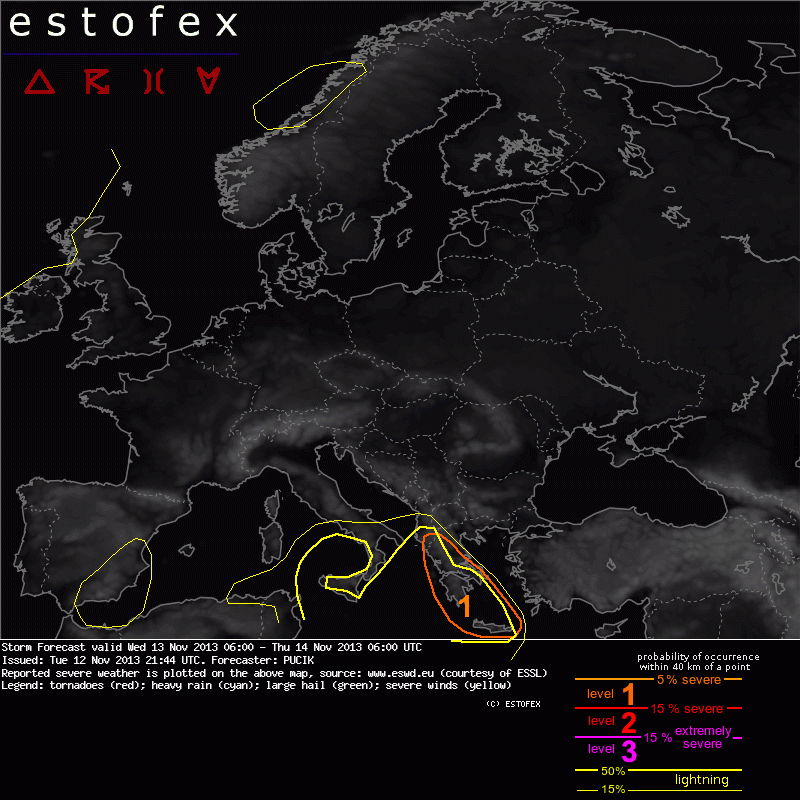 Storm Forecast
Valid: Wed 13 Nov 2013 06:00 to Thu 14 Nov 2013 06:00 UTC
Issued: Tue 12 Nov 2013 21:44
Forecaster: PUCIK
A level 1 was issued for Greece mainly for excessive precipitation and to the lesser degree for marginally large hail and tornadoes.

SYNOPSIS

A complex synoptic scale pattern is forecast over Europe. The northern half should be under the influence of two pronounced short-wave troughs. As of Wednesday 12 UTC, the first one will stretch from Northern Scandinavia towards Poland, the other one will be located just west of the British Isles. Towards the south, a ridge will amplify from the Atlantic towards France, dividing aforementioned troughs from disturbance over Iberia and quite persistent and almost stationary cut-off low centered south of Italy. This cut-off low will drift only very slowly towards the east and should be a major feature regarding the DMC development during the day.

DISCUSSION

... Greece ...

A tongue of moister airmass is forecast to stretch across the coastal areas within a belt of steeper mid-level lapse rates that are advected from northern Africa, resulting in a low to moderate degree of latent instability. Moderate to strong vertical wind shear is simulated with DLS values between 15 and 20 m/s, increasing towards south. A high coverage of DMC is expected at forward flank of the low as pronounced PVA should aid in the CIN reduction. Current thinking is that an MCS will already be ongoing in the morning hours, moving towards south and east during the day. Because models diverge on the exact position of MCS and the overall moisture content will be quite limited [mixing ratios between 8 and 11 g/kg] we refrain from issuing a Level 2 for this event. Nevertheless, some threat of excessive precipitation will exist. In case that stronger shear manages to support supercellular character of DMC, marginally large hail and or tornado events are not ruled out either.

... Southern Italy and the adjacent seas ....

Steep lapse rates in the lower levels along with a surface convergence near the coastlines might support waterspout development with a low-topped convection in cold mid tropospheric temperatures.