Storm Forecast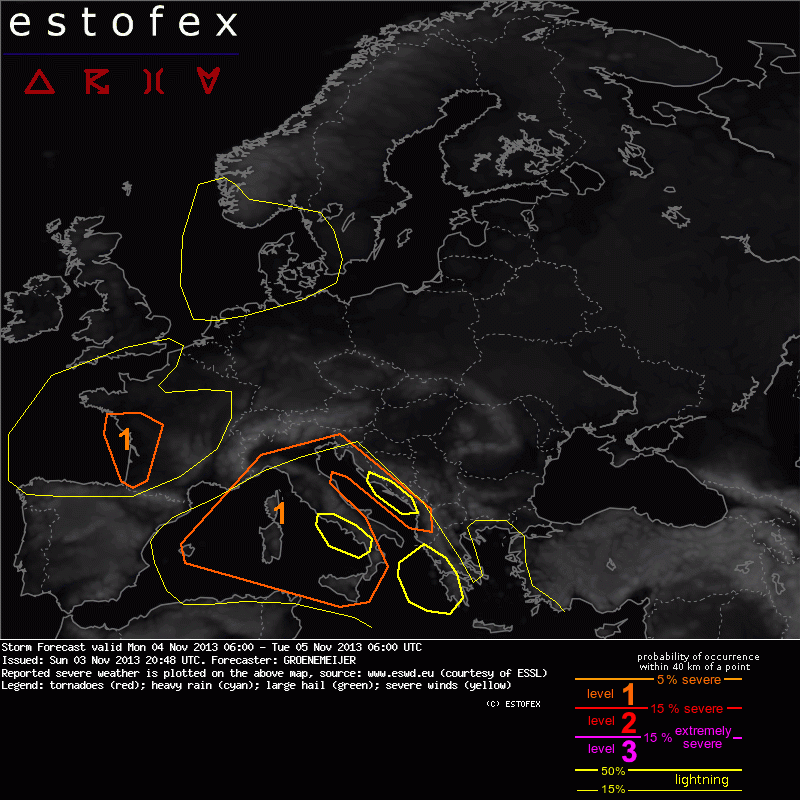 Storm Forecast
Valid: Mon 04 Nov 2013 06:00 to Tue 05 Nov 2013 06:00 UTC
Issued: Sun 03 Nov 2013 20:48
Forecaster: GROENEMEIJER
A level 1 was issued for parts of the central Mediterranean Sea, mainly for extreme rain.

A level 1 was issued for parts of SW France, mainly for tornadoes.

SYNOPSIS

In a strong westerly flow, a broad longwave is located over western Europe. A shortwave trough initially from central Scandinavia to Lithuania moves quickly northeastward into NW Russia.

Upstream, a shortwave trough from SW Norway to the Irish Sea moves eastward. Ahead of it, a surface cyclone moves from the Southern North Sea to near the Aland Islands.

Another trough, from western Brittany to N Spain moves eastward into the Mediterranean Sea. Surface cyclogenesis is forecats across NW Italy.

DISCUSSION

...Central and Western Mediterranean...

Ahead of a developing cold front, an increasing southwesterly low-level flow is expected across much of the western and central Mediterranean. Upward motion ahead of the trough and the front should help to increase convective converage within the slightly unstable air-mass in place. The SW coasts of the Italian Peninsula and the western Balkan coast will be vulnerable to excessive rainfall because of the upslope flow. Given the humid air-mass, some waterspouts and tornadoes may also occur. Ahead of the surface cyclone, across Northern Italy and Slovenia, a mix of convective and stratiform precipitation will likely also produce excessive rainfall amounts.

...SW France...

Ahead of the upper-level shortwave trough, strong upward motion is expected to yield widespread convective storms within a moist, slightly unstable air-mass. Given the very strong low-level flow (25 m/s at 850 hPa) and attendant strong low-level shear, it is possible that a few tornadoes will form with these storms, that may at times attain supercell characteristics. The risk should diminish from the north during the afternoon.

...Netherlands, Germany...

It appears that with the cyclone, relatively little convection will occur, except perhaps for a few narrow bands of shallow convection. It appears that these will lack sufficient vigor to be held responsible for any severe gusts that may occur on Monday morning.