Storm Forecast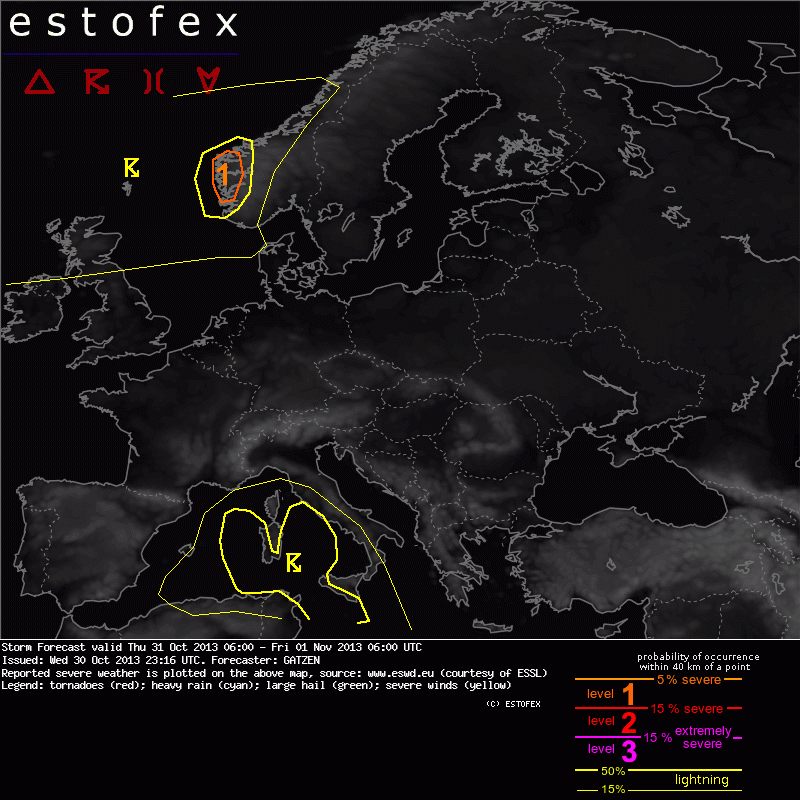 Storm Forecast
Valid: Thu 31 Oct 2013 06:00 to Fri 01 Nov 2013 06:00 UTC
Issued: Wed 30 Oct 2013 23:16
Forecaster: GATZEN
A level 1 was issued for parts of western central Norway mainly for excessive precipitation.

SYNOPSIS / DISCUSSION

Weak geopotential and cool mid-level temperatures will remain over most of the west Mediterranean. Embedded in the weak geopotential, a cut-off low present east of Iberia will slowly dig southward entering northern Algeria. To the east of this trough, southerly winds will lead to low-level warm air advection resulting in steepening lapse rates especially across the Tyrrhenian Sea. Additionally, boundary-layer moisture will be rather rich from the central Mediterranean to the western Balearic Islands, whereas northerly winds advect dry air further west. Latest observations indicate that a weak surface low has formed across the western Balearic Sea with increasing convective activity. Weak vertical wind shear will not support organized convection, but the high coverage and slow storm movement will support isolated excessive precipitation that may affect parts of Italy and Sardinia or Corsica. Additionally, waterspouts are not ruled out near the coasts and along outflow boundaries. The threat seems to be to marginal to issue a threat level at this time.

Across the east Mediterranean, mid-level ridging and subsidence will limit the potential of deep moist convection, but isolated storms are not excluded especially in associated with offshore land/sea-breeze fronts during the night and morning hours.

Central Europe is dominated by weak lapse rates at the southern flank of the jet stream currently extending from the British Isles to southern Scandinavia. A short-wave trough moving east late in the period will provide strong DCVA from Scotland to the northern North Sea and the European Polar Sea, resulting in steepening lapse rates overspreading the warm sea surface. Showers and thunderstorms will therefore increase in coverage and intensity and thunderstorms are expected to spread eastward reaching Norway. Vertical wind shear is relatively weak and severe thunderstorms are not forecast. However, storms will likely contribute somewhat to the excessive precipitation along the western Scandinavian coasts.