Storm Forecast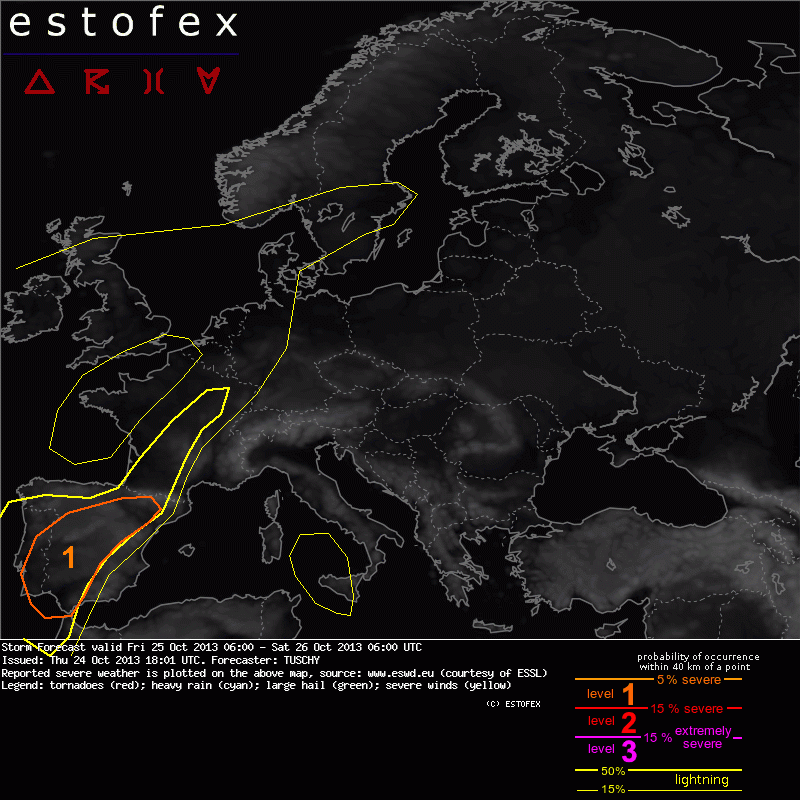 Storm Forecast
Valid: Fri 25 Oct 2013 06:00 to Sat 26 Oct 2013 06:00 UTC
Issued: Thu 24 Oct 2013 18:01
Forecaster: TUSCHY
A level 1 was issued for parts of Portugal and Spain mainly for large hail and severe wind gusts. An isolated tornado event is possible.

SYNOPSIS

An extensive trough over the far E-Atlantic advects a warm and humid air mass far north towards central Europe. Strong mid-level ridging continues over the C/E Mediterranean...assisted by an extensive surface high over SE-Europe. Both features keep the weather quiet convective-wise. A brisk westerly flow affects N-Europe as numerous waves move rapidly to the east. The air mass will be too stable for any serious convection.

DISCUSSION

...Ireland ...

During the start of the forecast, northward spreading dry slot points into the occlusion and overspreads residual postfrontal BL moisture. A few electrified storms are possible. The main risk will be a few severe wind gusts with 20-25 m/s 850 hPa flow. Thunderstorm coverage will be too isolated for a level area. The risk diminishes during the late afternoon hours onwards.

... Portugal, Spain and France ...

Moist SW-erly onshore flow continues, although depth of that BL moisture thins away. This should lower surface dewpoints by a couple of degrees compared to yesterday, but adequate BL moisture is still forecast to be in place well onshore. Northward fanning EML from Morocco overspreads the moist BL, resulting in moderate MLCAPE build-up. Expect 300 to 600 J/kg with peaks approaching 1 kJ/kg along the SW coast of Spain and Portugal, but also (capped) along the coast of NE Spain, where moist Mediterranean air advects far inland.

The right entrance of a departing upper jet and approaching forcing of the main upper trough induce adequate lift for CI during most of the forecast period. DLS exceeds 30 m/s and therefore will be favorable for longer lived storms. Forecast soundings from S-Portugal/Spain stress that high shear/moderate CAPE environment with 500 J/kg and unidirectional 60 kt DLS. Main concern will be anticipated strength of the warm conveyor belt and hence thick cloud cover (limited insolation). Also, near storm parallel flow along a N-S alinged boundary favors a mixture of showers/stratiform rain and embedded storms. Any more discrete storm however will be able to become organized (supercellular) with a large hail and severe wind gust risk....especially over S-Portugal and SW-Spain. In case aggressive NW-ward extent of GFS (regarding lapse rates) will be correct, even a very large hail event can't be ruled out. An onshore moving supercell might also produce an isolated tornado event with some LLCAPE. The tornado risk could also increase a bit over W/C Spain during the late afternoon hours, when lowering LCLs and increasing LL shear overlap.

During the afternoon and evening hours, moisture advection from the W/NW Mediterranean also interacts with the front, which runs from C-Spain to E-France. Isolated to scattered CI is expected within 30 m/s DLS and 300-600 J/kg MUCAPE. Initially discrete storms will be organized multicells with an isolated large hail and severe wind gust risk. Rapid clustering is anticipated with numerous clusters ongoing well into the night. After sunset, expect this activity to become elevated with a lowering severe risk. Isolated large hail and heavy rain remains possible until 06Z ... mainly within the 50-% lightning area. Would not be surprised to see a temporaly back-building cluster over the far SE Bay of Biscay towards C-France with locally very heavy rain (effective PWs approaching 30 mm). Meager CAPE precludes a level 1.