Storm Forecast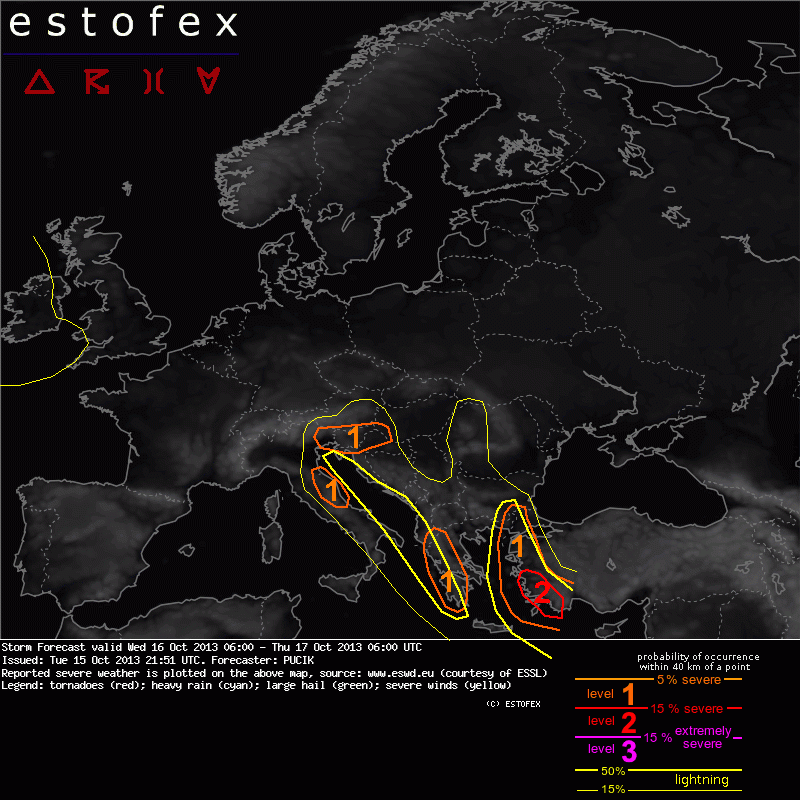 Storm Forecast
Valid: Wed 16 Oct 2013 06:00 to Thu 17 Oct 2013 06:00 UTC
Issued: Tue 15 Oct 2013 21:51
Forecaster: PUCIK
A level 2 was issued for Southwestern Turkey mainly for excessive precipitation, tornadoes and to the lesser extent for large hail and severe wind gusts.

A level 1 was issued for Northwestern Turkey and Western Greece mainly for excessive precipitation and tornadoes.

A level 1 was issued for parts of Italy, Slovenia and Northern Croatia mainly for severe wind gusts and to the lesser extent for tornadoes.

SYNOPSIS

A strong zonal flow is forecast over much of Western and Central Europe in conjunction with the disturbance ariving from the Atlantic. Ahead of the disturbance, ridge will translate towards Central Europe. Northwesterly flow aloft should accelerate the movement of cut-off low, centered over the Czech Republic as of Wednesday morning, towards the Aegean region. Strong jet-streak is forecast to develop on its southwestern flank, yielding strong forcing in its exit region. This cut-off low and its influence on the Mediterranean region regarding the DMC occurence will become the primary issue to deal with this forecast period.

DISCUSSION

... Southwestern Turkey ...

A tongue of moist airmass is forecast to reach the region, along with a band of steep mid-level lapse rates. ECMWF is particularly optimistic regarding the latent instability build-up, showing CAPE values above 2000 J/kg for the coastal areas! Region of high latent instability will shift slowly eastwards, in accordance with the advection of steep lapse-rates. Even though isolated to scattered storms might form along the coastline even during the day, the main timeframe of severe weather risk should be between 00 and 06 UTC. Low-level wind field is expected to strengthen with the arrival of the mid-level / upper-level forcing and formation of the surface low over the northern Aegean. Forecast soundings show very moist low levels, moderate CAPE and most importantly, pronounced veering and increase of low-level winds with height, yielding long, semi-circular hodographs. A full facet of severe weather types is possible - while more isolated storms might attain supercellular characteristics, capable of tornadoes, severe wind gusts and large hail, it is very likely that a large MCS will form. Effective PW values should be high and with strong low-level flow, excessive rainfall events are well possible with such MCS, besides an isolated event of severe wind gusts. Threat will likely continue well into the next forecast period and Level 2 seems to be warranted due to the combination of more severe threats.

... Western Greece / Northwestern Turkey ...

These areas are not going to have as favourable conditions as SW Turkey, but still, strong forcing will provide more than enough compensation for lack of higher CAPE values, so that MCS propagating SE-wards will be likely, especially in the late evening / night hours. With enhanced LLS, isolated tornado event is not ruled out, albeit the primary threat should be in the form of excessive precipitation.

... Northeastern / Eastern Italy, Slovenia, Northern Croatia ...

A brief window around 12 / 15 UTC will exist for the development of DMC in the very cold mid-level airmass. With jet-streak above the area, very strong DLS is forecast to overspread an area of marginal latent instability. Primary question is whether updrafts can get sustained in the environment of strong storm relative winds along with significant drying at mid-levels. A very conditional Level 1 is issued for the possibility of low-topped supercells capable of severe wind gusts and/or tornadoes (moist low levels and enhanced shear in the lowest 1 km).

etc...