Storm Forecast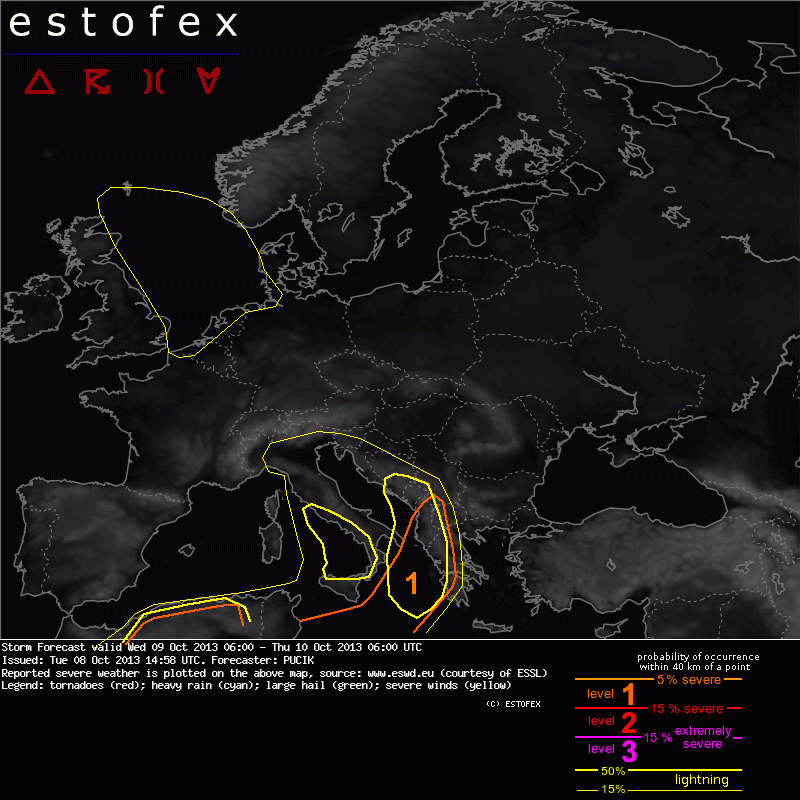 Storm Forecast
Valid: Wed 09 Oct 2013 06:00 to Thu 10 Oct 2013 06:00 UTC
Issued: Tue 08 Oct 2013 14:58
Forecaster: PUCIK
A level 1 was issued for Algeria mainly for large hail, severe wind gusts and excessive precipitation.

A level 1 was issued for the Ionian Sea, western Greece and Albania coastline for excessive precipitation and to the lesser degree for marginally large hail and severe wind gusts.

SYNOPSIS

With a significant ridge building over the Atlantic, a deep short-wave trough is forecast to dig along its forward flank across the Northen Sea towards BENELUX and France. A 50 m/s jet-streak is simulated at 500 hPa between this feature and a ridge. This trough will begin merging with a quasistationary cut-off low over Italy, which will finally begin translating towards east, de-amplifying during the process. Despite relatively active weather over Western Europe, conditions will be not conducive for DMC, perhaps apart from the Northen Sea in the post-frontal airmass characterised by very cold mid-level temperatures yielding steeper lapse rates. The only region worthy more detailed discussion will remain to be Northern Africa, the Ionian Sea and the western coast of the Balkans / Greece.

DISCUSSION

... Algeria ...

Models agree on widespread DMC activity over the region along the WAA regime, especially over the western part of the country. Steep lapse rates, moderate CAPE values along with enhanced vertical wind shear (15 m/s westerly flow at mid-levels over 10 m/s southerly flow at 850 hPa) could yield some well organised DMC with threats of large hail and severe wind gusts. Moreover, once widespread CI leads to the formation of a large convective cluster, excessive precipitation threat should be present as well. A borderline Level 1/2 is warranted for the area with lack of stronger forcing and shear precluding the higher level attm.

... Southern Tunisia towards Greece and Albania ...

Abundant DMC activity is ongoing already as of the time of forecast issuance in the belt of enhanced low-level moisture and steep mid-level lapse rate, in the region of DCVA. Moderate degree of latent instability is simulated both by GFS and ECMWF, yielding MLCAPE values between 1000 and 2000 J/kg. With enhanced mid-level flow, bulk wind shear values in the 0-6 km layer should reach around 15 m/s, to that well organised DMC should be possible. The highest coverage of storms is expected near the coastline as low-level flow encounters uplift. In case that MCS forms with convective line perpendicular to the coastline, an excessive precipitation might result. Steeper mid-level lapse rates and moderate vertical wind shear point to the possibility of marginally large hail and/or severe wind gusts, but these threats should be less significant than that of heavy rainfall.