Storm Forecast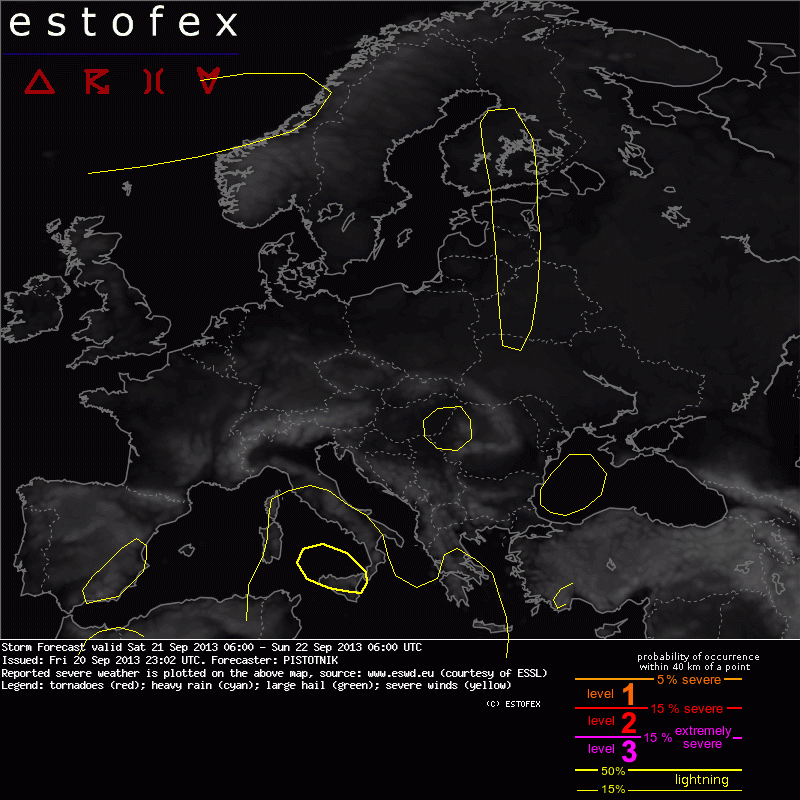 Storm Forecast
Valid: Sat 21 Sep 2013 06:00 to Sun 22 Sep 2013 06:00 UTC
Issued: Fri 20 Sep 2013 23:02
Forecaster: PISTOTNIK
No threat levels were issued.

SYNOPSIS

An old trough slowly recedes towards the East and starts to make room for strong subtropical ridging into Western and Central Europe. The quasi-barotropic character of these long waves results in still cooler-than-usual conditions over Eastern Europe and pronounced warming towards the Southwest.
Dynamics are weak, and regions with somewhat steeper lapse rates (mainly in areas of QG lift scattered across Northern and Eastern Europe) are largely separated from regions with better low-level moisture (mainly over the Mediterranean and Atlantic). This results in another mostly quiet day convection-wise.

DISCUSSION

... Eastern Europe ...

Roughly moist-isentropic lapse rates in the periphery of the Eastern European long-wave trough allow the build-up of low-end CAPE where low levels are slightly moister. Two such areas are Eastern Hungary / Western Romania and parts of Belarus. The environment will be characterized by deep-layer shear around 15 m/s and fairly strong QG lift ahead of southward moving vorticity maxima. Enhanced shower activity may just become deep enough to produce a little lightning and moderately strong wind gusts.
Further North, an axis of augmented low-level moisture extends across the Baltics into Southern Finland, but forcing and shear are much weaker. Isolated, non-severe thunderstorms are possible in this belt as well, either embedded into a decaying occlusion or slightly behind it.

... Mediterranean Sea, Black Sea ...

With predominantly Northerly winds, low-level moisture is not impressive but sufficient to create some hundred J/kg of CAPE. The Eastern half will see a visit of some leftover vorticity lobes that spread southward from Central and Eastern Europe later in the forecast period. Their lift support may result in scattered showers and thunderstorms especially over the Tyrrhenian and Black Sea overnight. One or two waterspouts are possible.
Otherwise, a strengthening cap and a lack of forcing towards the West will keep convective initiation very isolated.

... Central Norway ...

A powerful jet streak (70 m/s at 300 hPa) rounds the Western European ridge over the North Atlantic. In its left exit region, rising motions result in steepening lapse rates, and showers and low-topped thunderstorms in a cool maritime air mass will move onshore in Central Norway. A pronounced warm front ensues further upstream and will quench convection as soon as vertical wind shear increases closer to the jet axis, which keeps the potential for severe wind gusts limited.