Storm Forecast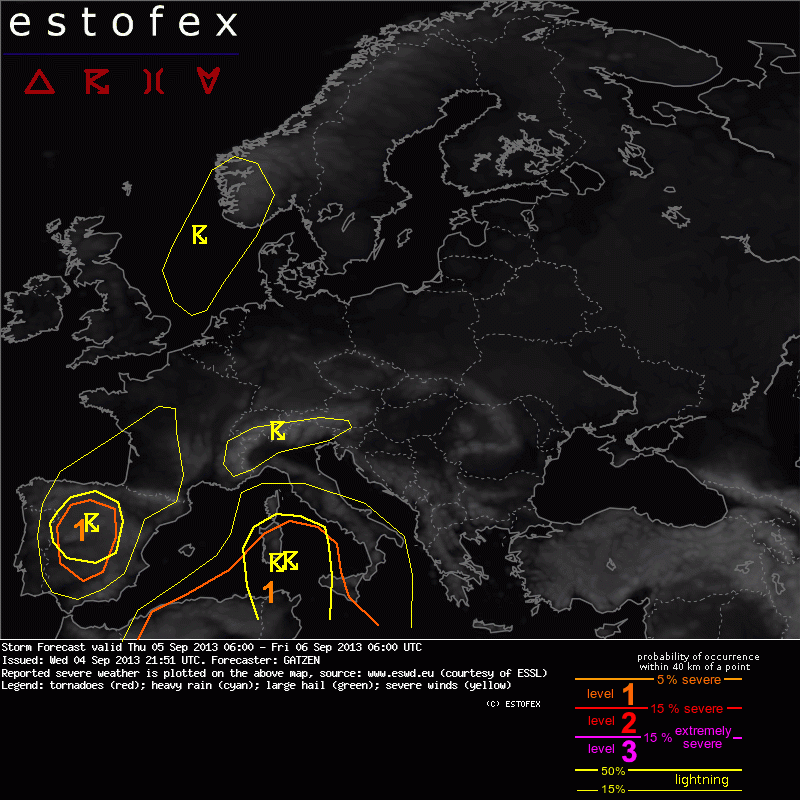 Storm Forecast
Valid: Thu 05 Sep 2013 06:00 to Fri 06 Sep 2013 06:00 UTC
Issued: Wed 04 Sep 2013 21:51
Forecaster: GATZEN
A level 1 was issued for northern Algeria and Tunisia mainly for large hail.

A level 1 was issued for Sardinia and surroundings mainly for excessive rain.

A level 1 was issued for western central Spain mainly for large hail and severe wind gusts.

SYNOPSIS

The amplified trough over eastern Europe cuts of an forms a closed upper low centred across the north-eastern Ukraine. To its west and north, the Alpine mid-level high ridges into Scandinavia. Western Europe is affected by rather low geopotential. A trough centre is located over north-western Iberia and another cut-off process in underway over the British Isles. Additionally, a weak cut-off remains near Sardinia.

Best low-level moisture can be found in an easterly flow regime across the south Mediterranean with mixing ratios in excess of 13 g/kg. Rather good moisture is also present in the warm air mass that extends across west-central Europe. However, lapse rates are rather poor over most places except for the Iberian Peninsula and northern Africa.

DISCUSSION

Northern Algeria, Tunisia

At the southern flank of the Mediterranean trough, a strong westerly flow affects northern Africa. However, the diurnally driven thermal low across the Atlas mountains will allow for northerly to north-easterly surface flow during the afternoon hours. Upslope flow and rich Mediterranean moisture will increase the chance of thunderstorms as steep mid-level lapse rates are expected. CAPE in the order of 1000 J/kg is expected over the area in the evening hours. Main uncertainty is if the cap will break. Weak forcing is expected in the wake of the main trough axis that moves into Tunisia in the morning hours.

Current thinking is that storms will go on across Tunisia in the morning hours and weaken until noon. With strong vertical wind shear, a few supercells may be possible capable of producing large hail. In the wake of the precipitation, insolation will result in increasing instability across northern Algeria. Initiation is forecast to be most likely over the mountains. Every storm that develops may become a supercell in the strongly sheared environment, and large or very large hail is not ruled out as well as a severe downburst. The main limiting factor will be the weak forcing over most places, and storms are expected to decay rather quickly. Therefore, a level 1 threat is issued despite the good overlap of instability and vertical wind shear.

Sardinia and surroundings

Near the centre of the Mediterranean trough, lapse rates will be rather steep overlapping the rich Mediterranean moisture. Low-level convergence will assist for widespread thunderstorms capable of producing excessive rain due to slow storm motion and high water content. A waterspout is also not ruled out. Storms will gradually spread eastwards into Italy/Sicily and are expected to weaken in the afternoon hours. Weak vertical wind shear will limit the storm organization.

Western/central Iberia

In the range of the Iberian cut-off low, thunderstorms have formed across Portugal and will slowly spread eastward. During the daytime, increasing CAPE is expected ahead of the thunderstorms due to diurnal heating of the mid-level cool air mass. Together with the rather well-mixed boundary-layer, storms may locally produce severe wind gusts or large hail. The weak vertical wind shear will limit the severe potential, though. In the evening, storms will start to weaken.