Storm Forecast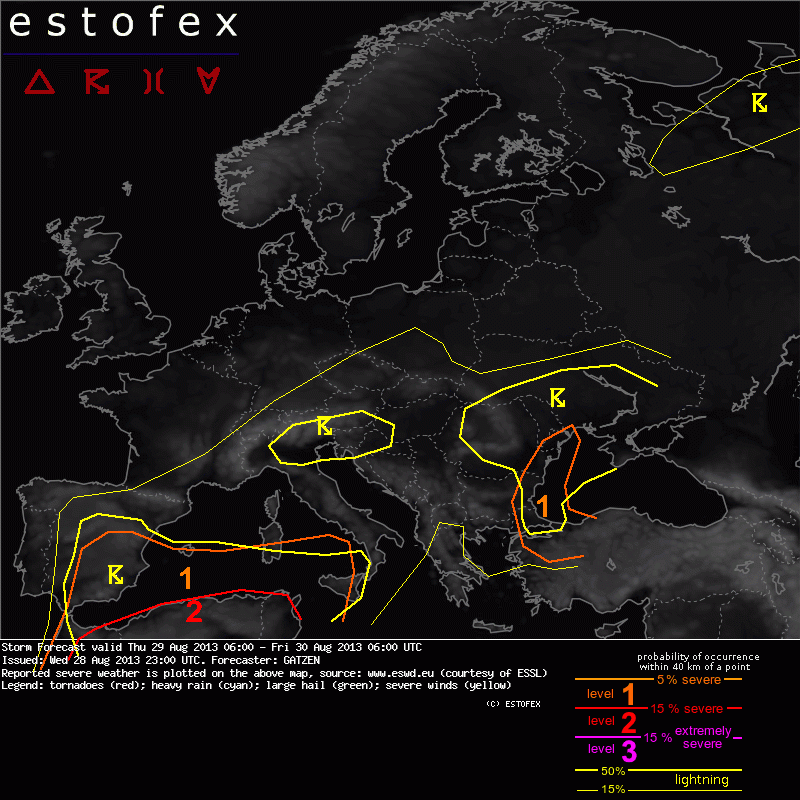 Storm Forecast
Valid: Thu 29 Aug 2013 06:00 to Fri 30 Aug 2013 06:00 UTC
Issued: Wed 28 Aug 2013 23:00
Forecaster: GATZEN
A level 2 was issued for northern Morocco, Algeria and Tunisia mainly for very large hail.

A level 1 was issued for south-eastern Spain and the south-western and central Mediterranean mainly for large hail.

A level 1 was issued for the western Black Sea region, Moldova and north-western Turkey mainly or large hail.

SYNOPSIS

East of an Atlantic ridge, relatively weak geopotential affects Europe. Given northerly winds, lapse rates and low-level moisture have decreased over most areas. However, rich boundary-layer moisture is forecast over the south Mediterranean where also a plume of steep lapse rates will spread eastward. The same region is also affected by a strong south-westerly mid-level jet ahead of a short-wave trough centred over Iberia.

DISCUSSION

Northern Morocco, Algeria and Tunisia

Again, a situation with upslope north-easterly flow in the boundary-layer is forecast on Thursday. The moist maritime boundary-layer with a mixing ratio in excess of 12 g/kg will be capped by hot desert air that is advected with south-westerly winds ahead of the Iberian trough. Diurnal heating will result in large CAPE values around 2000 J/kg. The capping inversion will be rather weak especially over Morocco and western Algeria, where first storms are expected to form.

Storms are forecast over the Atlas mountains along the dryline in the afternoon hours. Strong vertical wind shear of more than 20 m/s 0-6 km bulk shear and favourable veering profiles will allow for rapid storm organization. Supercells are forecast capable of producing very large or giant hail. Severe wind gusts and local flooding are not ruled out. A tornado may also form especially in the evening hours when low-level vertical wind shear increases.

Storms are expected to grow upscale into a mesoscale convective system given QG support ahead of the eastward moving trough. This MCS may affect northern Tunisia until the night hours with an increasing threat of severe wind gusts. Large hail, excessive rain and tornadoes are not ruled out as well. During the night, additional storms may form over the central Mediterranean area, with the main threat being large hail.

South-eastern Spain

Convective activity will go on across Spain in the range of the mid-level trough centre. At its eastern flank, easterly low-level winds will be associated with upslope flow and moisture advection from the Mediterranean Sea. Additionally, rather strong vertical wind shear will be in place given south-westerly mid-level winds. Storms will tend to organize and supercells are forecast. Large hail and excessive precipitation seem to be the main threat, but a tornado or severe wind event is not ruled out. Storms will weaken in the evening hours when the upslope flow weakens.

Western Black Sea region, Moldova and surroundings

With northerly winds, rich moisture from the Black Sea advects into Moldova and north-western Turkey. This rich boundary-layer moisture overlaps with a plume of steep lapse rates ahead of an approaching short-wave trough axis. QG support and upslope flow will result in thunderstorms during the noon and afternoon hours. Vertical wind shear will be around 15 m/s in the lowest 3 km, supporting organized storms. Supercells may produce large hail. Excessive precipitation is also not ruled out. Storms are expected to spread eastward during the day ahead of the trough axis.