Storm Forecast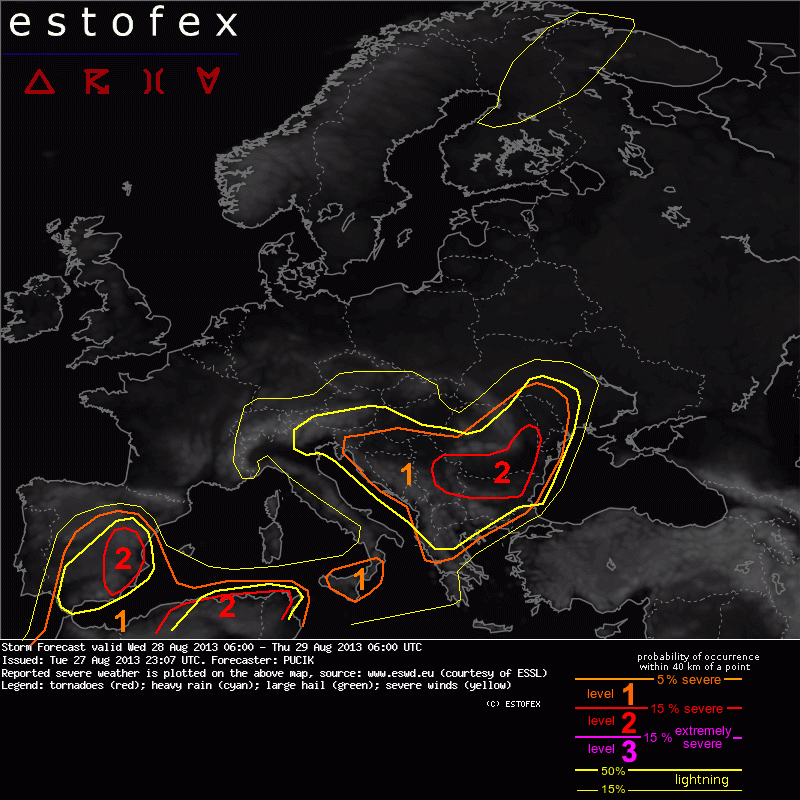 Storm Forecast
Valid: Wed 28 Aug 2013 06:00 to Thu 29 Aug 2013 06:00 UTC
Issued: Tue 27 Aug 2013 23:07
Forecaster: PUCIK
A level 2 was issued for SE Spain mainly for large hail, severe wind gusts and excessive precipitation.

A level 1 was issued for southern part of Spain mainly for large hail, severe wind gusts and excessive precipitation.

A level 1 was issued for Morocco and W Algeria mainly for (very)large hail and damaging wind gusts.

A level 2 was issued for Algeria and Tunisia mainly for (very) large hail and damaging wind gusts.

A level 2 was issued for E Serbia, S Romania and N Bulgaria mainly for large hail, excessive precipitation and to the lesser degree for severe wind gusts and tornadoes.

A level 1 was issued for Slovenia, Croatia, SW Hungary and NW Romania mainly for isolated excessive precipitation event.

A level 1 was issued for southern Balkans mainly for large hail and severe wind gusts.

SYNOPSIS

An active weather pattern will continue over Southern Europe as large scale cyclonic vortex persists over Central Europe, shifting eastwards with several short-wave troughs rotating around its periphery. The first one will affect Iberia during the day, the second one will cross from Italy towards the Balkans and the latter one will translate towards the Baltic states. Enhanced mid and upper tropospheric flow is simulated at the southern flank of the vortex. Another significant trough is expected to affect Scandinavia during the forecast period, while two ridges are forecast over the Atlantic and over Russia. As such, general synoptic scale situation slightly resembles an "Omega" pattern albeit it is not very stable with weakening vortex. Main frontal zone will lie over the Mediterranean and Balkans with weak temperature gradients over the rest of Europe, perhaps apart from Scandinavia.


DISCUSSION

... Spain ...

Surface observations confirm moist, easterly surface flow thanks to the low pressure system centered inland with dewpoints exceeding 20 °C especially over eastern part of the country. 12 UTC Tuesday sounding from Murcia reveals environment conducive for storms, including the well organised ones thanks to the strong vertical wind shear. Conditions will remain similar also on Wednesday, when moderate degree of latent instability is forecast with higher values towards the Mediterranean sea (deeper low level moisture). DLS values will mostly be on the order of 15 to 20 m/s, so that well organised multi / supercells are anticipated. With the approaching trough, initiation will be plentiful and a high storm coverage is expected. Especially in case of supercells, large hail and severe wind gusts should be the main threats, while with increasing cell clustering and an evolution of convective system, excessive precipitation threat should be also noteworthy. Coverage of severe might be quite high so that SE Spain deserves a Level 2.

... Northern Africa ...

From the whole forecast domain, this region will be under the most conducive environment for the severe convection. Unseasonably strong deep layer wind shear combined with very steep mid-level lapse rates and moist low-levels contribute to an explosive environment. This is confirmed by Tuesday 12 UTC Dar-El-Beida sounding featuring more than 1500 J/kg of MLCAPE with 7 m/s southeasterly surface flow topped by 25 m/s westerly flow at 500 hPa. No major change in the environment is expected for Wednesday, the only question remaining initiation, though with plenty of storms in the previous periods, confidence in at least isolated storms remains very high. Moreover, the positive influence of the approaching Iberian trough might aid with the initiation. Any storm forming in such environment might quickly become supercell or a bow-echo capable of very large hail and/or damaging wind gusts. Therefore, for the area with greatest chance of initiation, a Level 2 is introduced.

... Serbia into N Bulgaria and S Romania ...

Surface observations from Tuesday evening reveal easterly surface flow from the Black Sea advecting moist airmass well inland - especially E Bulgaria having dewpoints over 20 °C. It looks like that rising motion ahead of the approaching trough along with the southwesterly flow advecting mid-level airmass from Africa should result in at least moderately steep mid-level lapse rates. Moderate CAPE values are likely, with values between 1000 and 2000 J/kg, decreasing towards north. Vertical wind shear should be quite favourable for well organised convection, including some supercells. Storms will likely form first along local convergence zones in the isolated manner (related to the topographic features), becoming more clustered later on with one or two MCS likely towards the evening as the strong forcing from the trough supports the initiation. Especially early into the development, large hail and/or severe wind gusts will be likely in case of supercells. Later on, particularly over Romania, high values of PW along with almost saturated vertical profiles might boost precipitation effectivity with pronounced excessive precipitation threat. An isolated tornado event is not completely ruled out in the evening hours given quite low LCLs and patches of LLS approaching 10 m/s.