Storm Forecast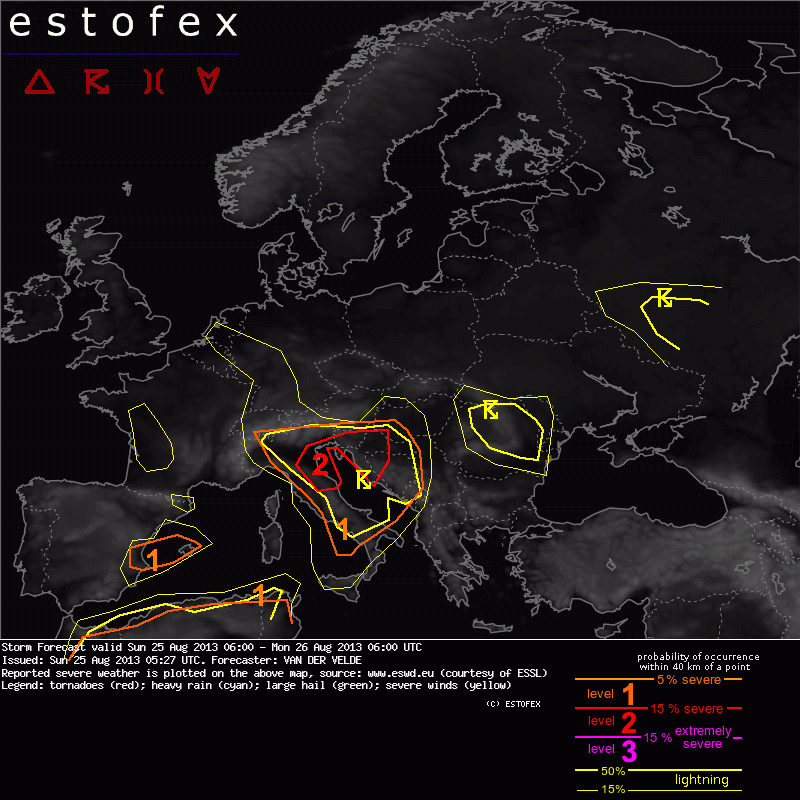 Storm Forecast
Valid: Sun 25 Aug 2013 06:00 to Mon 26 Aug 2013 06:00 UTC
Issued: Sun 25 Aug 2013 05:27
Forecaster: VAN DER VELDE
A level 2 was issued for Italy and northwestern Balkan mainly for severe convective wind gusts and large hail.

A level 1 was issued for Italy and northwestern Balkan mainly for severe convective wind gusts, large hail and tornadoes.

A level 1 was issued for eastern Spain mainly for large hail.

A level 1 was issued for northern Morocco, Algeria and Tunesia mainly for severe convective wind gusts and large hail.

SYNOPSIS

A multicore low pressure system is situated over France, Germany and northern Italy. Cool airmass has entered France and the northwestern Mediterranean. Warm unstable airmass is sticking around Italy and the western Balkan, as well as in a small pocket over eastern Spain. An occluded front with weak conditional instability stretches from the Alps to the Netherlands. From Czechia to Moldova it has the form of a warm front. A merry-go-round of shortwave upper troughs affect Netherlands, western France, northern Italy and Hungary.
An occlusion of another low with a zone of unstable air is present over western Russia. Northern Africa is also active and very high-based.
Model buoyancy profiles look weak in the mixed phase region over France, Germany, Romania and Russia, with reduced potential for significant electrification and hail production.

DISCUSSION

...Italy, Slovenia, Croatia and surrounding area...

A large area with 500-1500 J/kg MLCAPE and 15-20 m/s deep layer shear is expected to continue producing severe storms. The Adriatic CAPE is a bit more capped. The highest potential is over northeastern parts of Italy and the northwestern Balkan, because these areas are crossed by upper shortwave troughs which can destabilize mid levels and enhance upper winds and shear. GFS model hodographs appear the roundest over eastern Italy, while over Slovenia and Croatia they look more helical in the lowest levels. Supercells and mesoscale convective systems are the expected mode. Large hail is likely. Of particular interest is delta-theta-e, enhanced over 16-20K over a large area, apparently created with help from cooler, drier mid level air behind the mid level cold front overrunning the warm moist low level air. This parameter suggests enhanced downdraft intensity with severe gusts, and combined with mesoscale forcing widespread damaging winds may occur. Tornadoes are not that likely given a not very low cloud base height and somewhat weak 0-1 km shear, but local orographic enhancing factors combined with veering profiles in a large region probably will allow an isolated event.
After the big storms, (18Z and later) waterspout tornado potential increases over the northern Adriatic as low level lapse rates steepen during the night as cooler air comes in.

...eastern Spain...

A chance of large hail exists due to moderate deep layer shear combined with CAPE and triggering by higher terrain. SREH ranges around 150 mē/sē allowing supercell mode (although there may just be 1 storm). Cap will initially be strong. During the evening and night it weakens over sea, activating convection while effective shear will still be 20 m/s. It is doubtful that updrafts with such low LCL (500-1000m at night) are effective producing hail, though.

...Morocco, Algeria, Tunesia...

Very high cloud bases support strong downdraft wind gusts while storm-relative helicity over 200 mē/sē allows supercells with large hail and severe gusts. There is no synoptic or mesoscale lifting mechanism.