Storm Forecast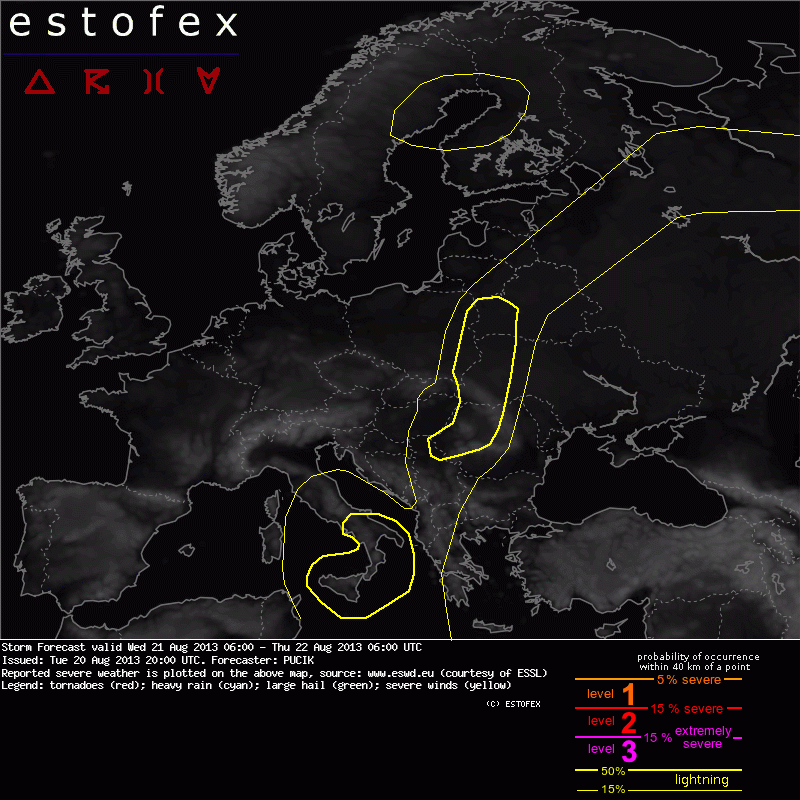 Storm Forecast
Valid: Wed 21 Aug 2013 06:00 to Thu 22 Aug 2013 06:00 UTC
Issued: Tue 20 Aug 2013 20:00
Forecaster: PUCIK
SYNOPSIS and DISCUSSION

A deep trough that has been amplifying southwards during its progress to the east will split into a two separate cyclonic vortices. The first one will remain centered over Southern Poland and shift eastwards, while the second one will form at the former southern base of the trough with center over Italy and the Ionian Sea. To the east and west of this system, ridges will be prominent, especially the one covering Iberia and much of France.

Closer to the surface, a large high pressure system wil affect much of Western and Central Europe with shallow lows towards north (Scandinavia) and southeast (Turkey). Wavy cold frontal boundary will continue weakening on its way eastwards, at 12 UTC its axis stretching from Western Russia towards Eastern Poland and Hungary.

Current regime, featuring mostly dry airmass over much of continental Europe and under weak vertical wind shear will not favour any areas with enhanced severe thunderstorm risk.

The only areas worthy of pointing out are the frontal zone with some diurnally driven DMC activity ahead of the upper level low (especially over the Carpathian range of Romania and Eastern Poland) and over Southern Italy and adjacent seas, where cold mid-level temperatures contribute to steep mid-level lapse rates and moderate CAPE values. Here, some marginally large hail can not be ruled out in stronger cells.