Storm Forecast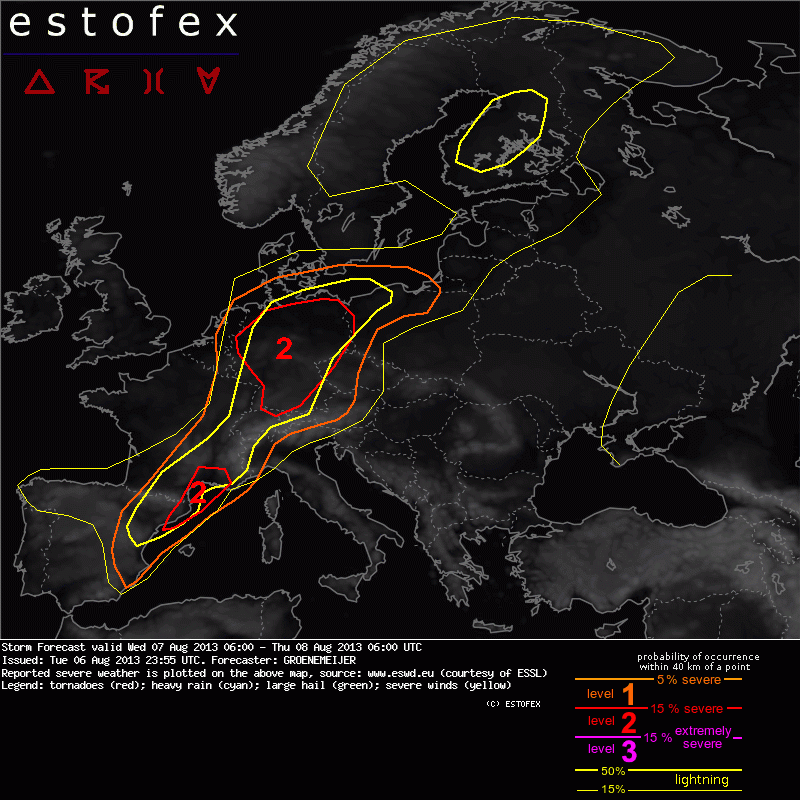 Storm Forecast
Valid: Wed 07 Aug 2013 06:00 to Thu 08 Aug 2013 06:00 UTC
Issued: Tue 06 Aug 2013 23:55
Forecaster: GROENEMEIJER
A level 2 was issued across north and northwest Germany for tornadoes, large hail, severe wind gusts and excessive precipitation.

A level 2 was issued across south Germany and east Germany mainly for large hail, severe wind gusts and excessive precipitation.

A level 2 was issued across southeast France and northeast Spain mainly for large hail, severe wind gusts and excessive precipitation.

A level 1 was issued for an area surrounding the level 2 areas including east Spain, south and east France, the Benelux countries, much of the Alps and much of north and west Poland for a lower risk of large hail, severe wind gusts, excessive precipitation and tornadoes.

SYNOPSIS

At 06 UTC on Wednesday, a frontal zone stretches from eastern Spain across southeast France and northeast Germany to northern Poland. It separates a warm air mass with relatively steep lapse rates to its east from cooler air to its west.

A mid/upper-level trough is initially located near 8 W and forecast to move eastward during Wednesday.

A wave is in the front is expected to evolve with an area of low pressure developing over France and moving northward into the Benelux countries. A major driver behind the pressure falls is likely the latent heat release in abundant convection across France.

On the eastern fringe of the low pressure system, a mid-level jet is expected to strengthen, reaching wind speeds of 20-25 m/s at 700 hPa.

DISCUSSION

... northwest and north Germany, Benelux countries ...

NWP guidance suggests that abundant partly convective precipitation will persist to the north and west of the surface low. This may lead to flash flooding in some locations across the Benelux countries,

A warm front is expected to stretch eastward from the low pressure system's core. Near this front relatively high amounts of moisture should be available wih 18-20 C dew point temperatures liekly in place.

In combination with the relatively steep lapse rates, 1000-2500 J/kg of MLCAPE forecast to develop there during the day. Near the surface low, CAPE values will probably be somewhat lower though.

Near and especially to the north of the warm front, a strongly sheared and helical flow should be in place. We expect scattered to widespread storms will develop during the day. With about 20 m/s of deep-layer shear, a few supercells are expected, yielding a risk of large hail and severe winds.

Storms developing in the helical flow near and to the north of the warm front, where cloud bases should be low, can produce a few tornadoes. The greatest risk of this happening will be across northwestern Germany.

... south and east Germany...

Models suggest that storms will initate within the warm sector during the afternoon, most likely once again across southwestern Germany. Ample shear should be in place to sustain strong supercells. These will bear a risk of producing large to very large hail and damaging wind gusts.

It is likely that these storms will gradually organize into a northeastward moving bow echo system that may produce a large swath of damaging winds.

A lower risk of such storms will also exist across the adjacent level 1 areas across the Alps, Czechia and Poland.

...northeast Spain and southeast France...

Onshore flow will likely develop once more across coastal Catalonia as well as across the southern Rhone delta. With 2000 J/kg of CAPE and 20-30 m/s of 0-6 km shear in place, storms developing in this environment are likely to develop into supercells producing large or very large hail and possibly severe wind gusts, too.

Possibly storms will backbuild to the south across the Rhone Valley so that local very high precipitation accumulations are possible.

Across Catalonia, initiation of storms may be hesitant at first, but coverage will likely increase during the evening upon approach of the mid/upper trough. Flash floods will then become more likely.