Storm Forecast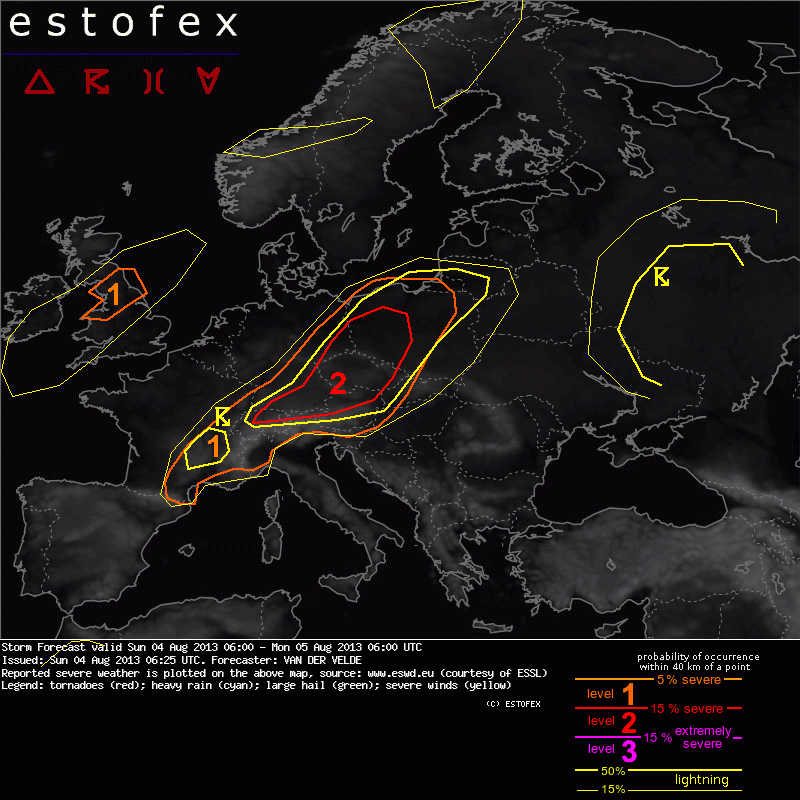 Storm Forecast
Valid: Sun 04 Aug 2013 06:00 to Mon 05 Aug 2013 06:00 UTC
Issued: Sun 04 Aug 2013 06:25
Forecaster: VAN DER VELDE
A level 2 was issued for N Switzerland, S and E Germany, N Austria, Czechia and W Poland mainly for severe convective wind gusts and large hail.

A level 1 was issued for SE France mainly for isolated large hail and severe wind gusts.

A level 1 was issued for part of United Kingdom for tornado chances.

SYNOPSIS

A plume of steep mid level lapse rates originating from northern Africa and Spain has stretched out during the previous days into western Europe and is now advected to the east. Under this plume, dewpoints of 17-19°C are observed this morning, mainly in Switzerland, northern Austria, Czech Republic and western Poland. MLCAPE values should build in these regions over 1000 J/kg with little capping. Over a large area 0-6 km deep layer shear will be stronger than 15 m/s but most likely will remain under 20 m/s in the warm airmass. These moderate CAPE and shear values will combine with strong vertical lifting by an upper shortwave trough that backs the cold front.


DISCUSSION

...central Europe...

The characterization of CAPE and shear is favorable for storms with rotating up/downdraft pairs (supercells) when storms form well ahead of the cold front. These will likely be orographically triggered. Also there is at 05Z already a dramatic wind shift line in place over central Germany with weak temperature and dewpoint gradients which can act as a source of lift for parcels to trigger storms, after the boundary layer has warmed up.
The shortwave trough will probably start triggering storms in Switzerland by late morning, which many WRF models predict will keep growing into an MCS along the north side of the Alps, with a margin of a few hundred kilometers wide. This is also where the shortwave almost has a negative tilt for extra forcing.
The trough's fast motion of around 80-100 km/h already suggests that widespread severe wind gusts are highly likely with the MCS, and with ample CAPE ahead of the system it should become very long-lived. Large/very large hail is also highly probable. The finest scale models actually simulate some isolated supercells over the Czech Republic before the MCS. The limiting factors preventing to go with level 3 are MLCAPE below 1500 J/kg, somewhat limited deep layer shear and upper jet support and not all that large LCL heights which are predicted by GFS to be 1200-1700m. Also the SW-NE orientation of the shear vector to the SSW-NNE orientation of the PV intrusion is not ideal but regardless sufficient. 0-1 km/0-3 km low level shear is missing. This could enhance bow echo formation.

...France...

The Massif Central seems to be weakly capped and under 10-15 m/s deep layer shear, allowing marginal supercells. GFS indicates strong delta-theta-e which should support strong evaporational cooling and strong downburst. But lifting factors are limited to orography.

...eastern Spain...

There are signals of CAPE but the cap will likely persist. An isolated storm cannot be ruled out, but will probably struggle to survive even with decent shear for rotating updrafts.

...Ireland and UK...

A very moist zone with continuous lifting and an occlusion will slide over the Irish Sea into northern UK. Despite marginal CAPE and lack of heating, the occlusion is a focal point for possible tornadoes as 10-12 m/s 0-1 km shear would be present and very low LCLs. But there is no strong jet stream over it. The ingredients may not be enough.

...northern Norway...

A cold front will pass and GFS develops a shallow CAPE under very moist conditions (low LCL). There is also some 15-20 m/s deep layer shear but without low level shear support needed for tornadoes nor CAPE in the mixed phase required for large hail.