Forecast Update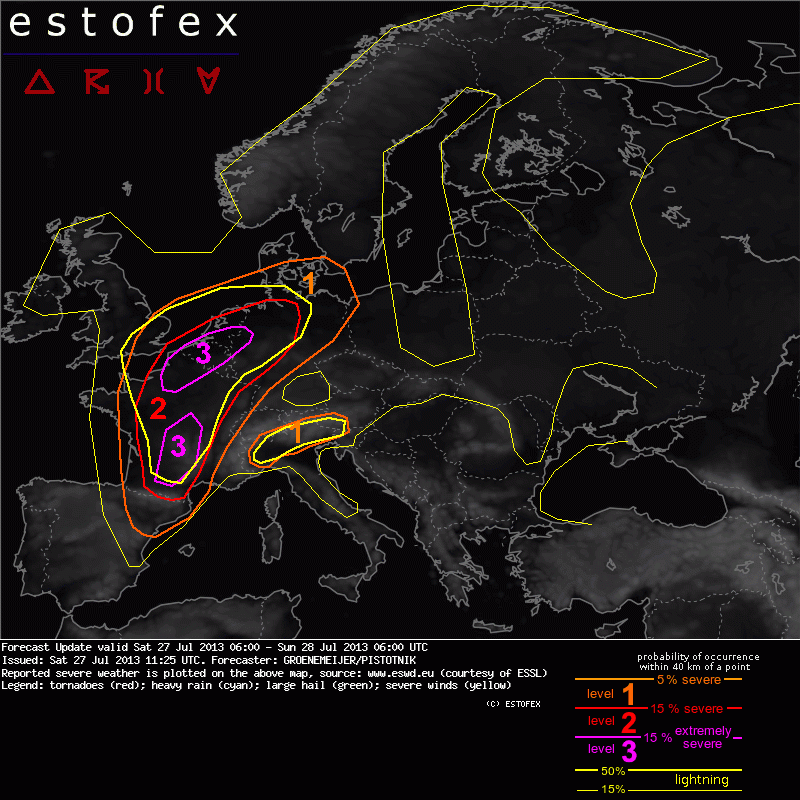 Forecast Update
Valid: Sat 27 Jul 2013 06:00 to Sun 28 Jul 2013 06:00 UTC
Issued: Sat 27 Jul 2013 11:25
Forecaster: GROENEMEIJER/PISTOTNIK
This update upgrades parts of south France to level 3. Only very minor changes were made to the other risk areas.

For the complete forecast discussion, refer to the original forecast text.

A level 3 has now been issued for south France for severe winds, large hail, tornadoes and excessive precipitation.

DISCUSSION

Confidence has grown that the storms which initiate during the evening across the confluence zone/cold front will produce extremely severe weather in particular damaging wind gusts. Latest NWP guidance suggests somewhat stronger synoptic scale support across the area. Given that very strong 30-35 m/s deep-layer (0-6 km) shear should overlap with abundant low-level humidity and steep lapse rates, supercell storms are forecast to develop. A threat of large or very large hail will exist with these storms. Tornadoes are also possible as the boundary layer cools. The highest threat appear to be the damaging winds that will evolve when cells transform into one or multiple bow echoes. These should move quickly to the north-northeast producing swaths of extreme winds (> 32 m/s). Overnight, the intensity of the bow echo(es) will gradually diminish.