Storm Forecast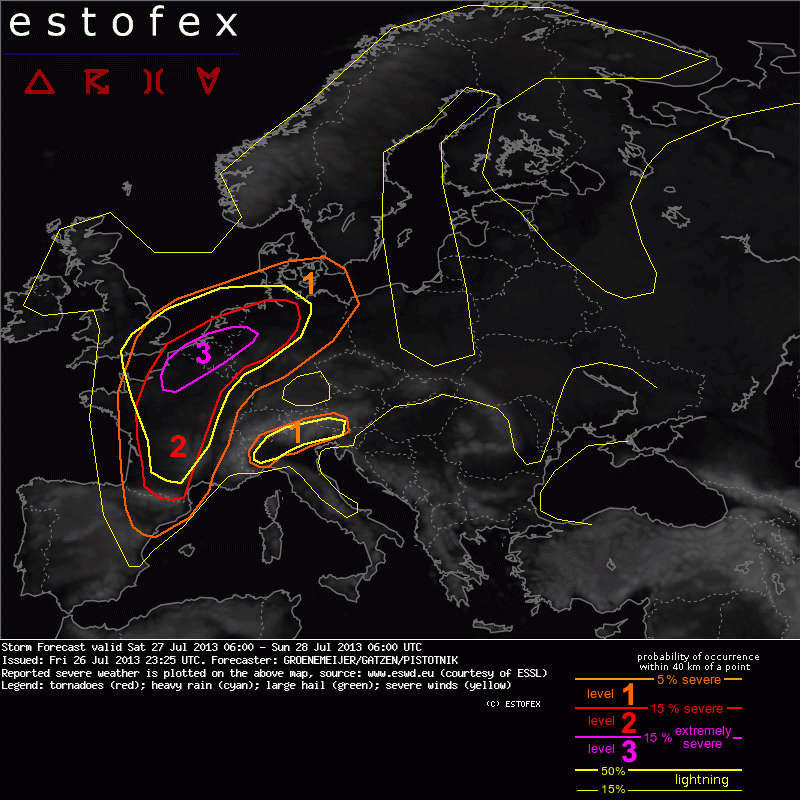 Storm Forecast
Valid: Sat 27 Jul 2013 06:00 to Sun 28 Jul 2013 06:00 UTC
Issued: Fri 26 Jul 2013 23:25
Forecaster: GROENEMEIJER/GATZEN/PISTOTNIK
A major outbreak of severe storms is expected across regions of France, the Benelux countries and northwestern Germany. These storms may produce tornadoes, very large hail and widespread damaging wind gusts

A level 3 was issued across northern France, the Benelux and a part of northwest Germany for tornadoes, severe wind gusts, large or very large hail and excessive precipitation.

A level 2 was issued across parts of France, the Benelux countries and northwestern Germany for severe winds and large or very large hail, excessive precipitation and tornadoes.

A level 1 was issued across a larger part of France, the Benelux countries, northwest Germany as well as southeast England, parts of Denmark and north Spain for the same risks.

A level 1 was issued across the southern Alps, mainly for excessive precipitation and large hail.

Synopsis...

Between a deep trough over the Altantic and a ridge over central Europe, a strong southwesterly flow is present over western parts of the continent. A shortwave trough over the Bay of Biscay should move northeastward during the forecast period.

An area with steep mid-level lapse rates has advected northward off the Spanish Plateau across much of France and Germany. To the west and north of this warm air mass, convergence is located in a frontal zone with high low level moisture.

During the day, a beginning wave in this front will become more pronounced in response to the approaching trough. An associated low-pressure area is expected to move northward ahead of this system across France, reaching southeastern England during the evening.

Discussion...

...North and Northwest France, Benelux, northwest Germany...

Widespread elevated convection is expected to be ongoing across northwestern France and the Benelux during the morning, the remnants of overnight convective activity.

In response to pressure falls, surface winds are expected to retain an easterly component north of a boundary seperating humid air to its northwest and dry, hot air to its southeast. This boundary is visible in several NWP models and because of its temperature and moisture gradient may be interpreted either as a warm front or as a dry line.

Strong 20-25 m/s deep-layer (0-6 km) shear is forecast north of this boundary where high amounts of storm-relative helicity are forecast of 200-300 m2/s2, suggesting a high threat that any initiating storms in that environment will quickly acquire rotation and become supercells. With dew point temperatures of 20-22 C forecast, and steep lapse rates present, sizable CAPE of about 2000 J/kg should be available.

It seems likely that a number of supercell storms will form near the boundary during the afternoon and evening. Any supercell storm will be able of producing large hail and damaging wind gusts. In addition, strong low level (0-1 km wind shear) indicates that a risk of tornadoes will exist, some of which may be significant tornadoes (F2 or stronger).

The storms will likely cluster overtime and may well evolve into a bowing systems producing swaths of damaging winds.

...South France...

The cold front of the baroclinic wave will move eastward only very slowly, and NWP guidance indicates persistent convergent winds across south-central France where low level flow from the Atlantic Ocean and the Mediterranean Sea meet. The flow off the Mediterranean will be highly helical (300 m2/s2 0-3km SRH).

Storm initiation is predicted during the late afternoon and/or evening. Given the high helicity and strong (~30 m/s) wind shear, supercells capable of very large hail are likely to evolve.

A particular threat will be risk of damaging winds as strong downdraught cooling will be possible into a deep boundary layer with temperatures expected to rise above 35 C. It is therefore likely that strong cold pools develop and a few northeastward bowing structures will evolve. Tornado risk is not particularly high, but an isolated event cannot be ruled out after the boundary layer has cooled somewhat.

...Northeast Spain...

NWP guidance does not produce any precipitation south of the Pyrenees, because of a strong cap that is forecast to remain in place. However, strong deep-layer shear and some 1000-2000 J/kg CAPE are expected over the area. This implies that if an isolated storm can nevertheless develop, it may quickly turn into a strong supercell storm producing large or very large hail and damaging gusts. To reflect this conditional risk, a level 1 was introduced.

.... North Italy and the southern Alps...

Quite high amounts of CAPE are once again forecast across Italy. It is likely that diurnally-induced upslope flow across the Alps will lead to some well-organizad storms, capable of producing high rainfall and large (2-3 cm) hail, and possibly localized severe winds.