Storm Forecast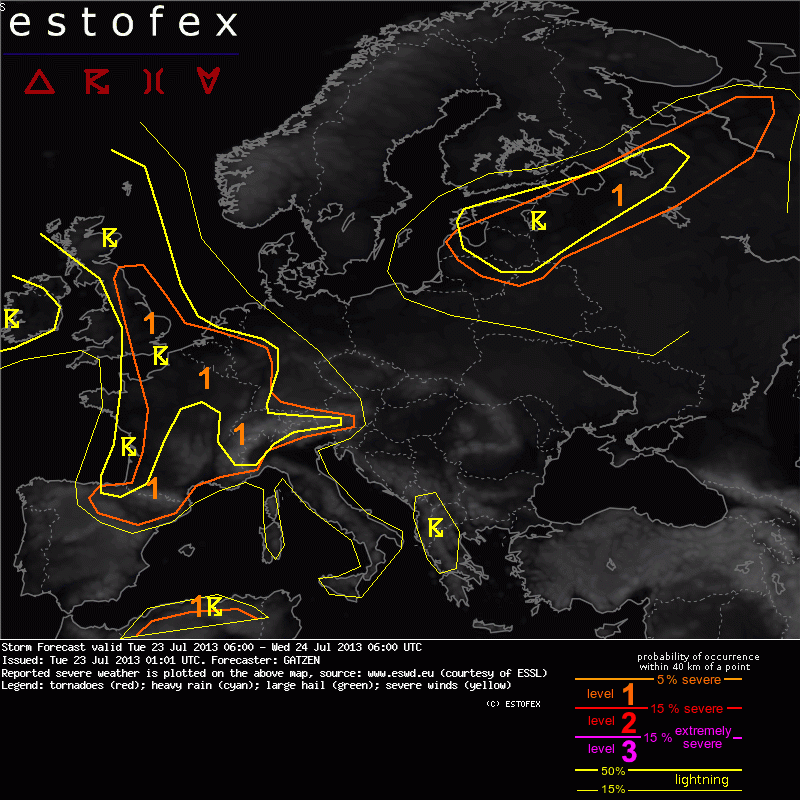 Storm Forecast
Valid: Tue 23 Jul 2013 06:00 to Wed 24 Jul 2013 06:00 UTC
Issued: Tue 23 Jul 2013 01:01
Forecaster: GATZEN
A level 1 was issued for northern Spain, France, Belgium, and western Germany mainly for large hail and excessive rain.

A level 1 was issued for the eastern British Isles mainly for excessive precipitation.

A level 1 was issued for north-western Russia mainly for Tornadoes.

A level 1 was issued for northern Algeria mainly for large hail and severe wind gusts.

SYNOPSIS

Two troughs are situated across western Russia and to the west of the British Isles. Between both features, a weakening ridge is present over the North Sea. Short-wave troughs will lower the geopotential within the ridge axis over central Europe from the east and from the west. The eastern short-wave trough moves from central Sweden to Denmark and the southern Baltic Sea, the western trough crosses France and the Benelux countries until the night hours. At lower levels, the axis of warm air will move into Germany and the North Sea, whereas colder air masses are advected into western France and the British Isles as well as into the southern Baltic Sea region. Another plume of warm air spreads into Finland and the central Baltic Sea at the northern edge of the Russian trough.

DISCUSSION

Northern Spain, France, Benelux, British Isles, and western Germany

A well-defined convergence zone will be still present on Tuesday morning from the northern Pyrenees across France to the central British Isles. Deep moisture was indicated by Monday's soundings that will also be in place on Tuesday. Additionally, lapse rates around 7K/km will overlap with this moisture, leading to mostly elevated instability in the morning hours along and east of the convergence line. Given QG forcing due to several vorticity lobes ejecting from the Atlantic trough into France and the British Isles, ongoing thunderstorms are expected through-out the period.

During the daytime, although clouds and showers will limit the diurnal heating, CAPE is expected to increase over the region, reaching more than 1500 J/kg across central France due to the higher moisture and remaining steep lapse rates. In the noon and afternoon, a new vorticity maximum spreads into the area from the west, leading to QG forcing especially from central to northern France and the British Isles and also to the Benelux countries and western Germany later on. A frontal wave is indicated to form over France that will cause increasing warm air advection across northern France and the Benelux countries, whereas cold air advection spreads westward from the French Atlantic coast. Further north, the convergence zone will re-intensify across the British Isles ahead of the approaching vorticity maxima, leading to ongoing thunderstorms.

Given the rich moisture and steep lapse rates overlapping with quite substantial QG forcing and a well-developed boundary-layer convergence, storms are likely to increase in number and intensity during the afternoon and evening, especially from northern France to the Benelux countries, western Germany, and across the eastern British Isles.

Vertical wind shear will slightly increase as 700 hPa winds will strengthen during the day. In regions with backed low-level winds, especially from northern Spain to southern France as well as from the Benelux countries to northern France and the British Isles, 0-3 km vertical wind shear is expected to reach 10 to 15 m/s according to latest GFS and it may be slightly higher as well. Supercells are not ruled out especially across northern Spain/southern France given larger hodographs there. Further north, storm organization will be weaker, but multicell clusters are forecast that may also produce severe weather. Especially over France, Spain, and Belgium western Germany, large hail seems to be a threat, together with excessive precipitation and severe downbursts with storm clusters and/or supercells. Across the British Isles, hail threat will be weaker, although an isolated event is not ruled out. The main threat will be excessive rain due to front-parallel storm motion and to a lower extend severe wind gusts. Due to the QG forcing, convection can grow upscale forming an MCS later on across northern France or further north over the Benelux countries/ southern England with the main threat being excessive rain.

Alpine region

Within the axis of warm air, low-level moisture has increased during the last days and overlaps with steep lapse rates, leading to weakly capped CAPE during the day that may exceed 1500 J/kg locally. Upslope flow and convergence over the mountains will allow for initiation in the noon hours. With weak vertical wind shear, most storms will not organize and severe potential is quite weak. However, given the rather high CAPE, a few large hail events are forecast with the stronger storms. Additionally, the slow storm movement will increase the potential of excessive rain. In the afternoon, weak GQ support is expected due to the approaching ridge axis, so that convective acticity will be limited and my quickly decay after sunset.

Northern Baltic States and southern Finland into western Russia

At the northern flank of the west Russian cut-off low, the advection of warm and moist air will go on during the period. Latest Kargopol sounding indicates rich low-level moisture and steep lapse rates and numerous thunderstorms have formed overnight. On Tuesday, scattered convection will again develop in the noon and afternoon hours in response to diurnal heating. Given the strong easterly low-level jet exceeding 20 m/s at 700 hPa across western Russia, chances of severe convection are increased, and tornadoes are forecast with low-based supercells. During the day, northerly surface winds start to advect drier low-level air into Finland and north-west Russia, leading to decaying storms from the north.

Northern Algeria

Along the sea-breeze front and upslope flow, isolated storms may form over northern Algeria. Weaker synoptic forcing and also weaker CAPE due to decreasing moisture will lead to a weaker severe threat as on Monday. However, every storm that forms will be capable o producing large hail and severe downbursts. Convective activity is expected to stay isolated and will rapidly weaken after sunset.