Forecast Update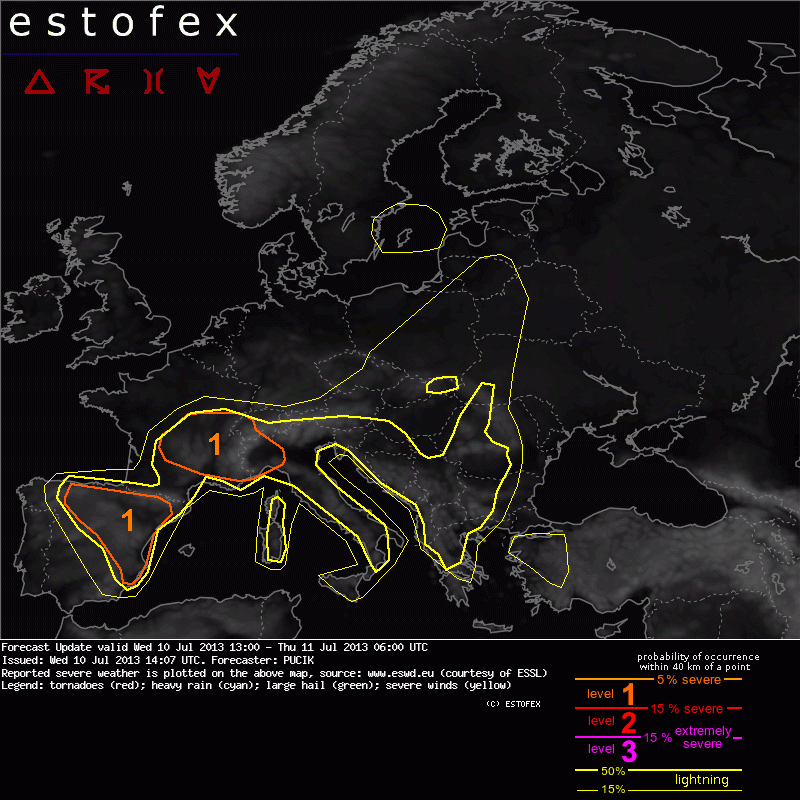 Forecast Update
Valid: Wed 10 Jul 2013 13:00 to Thu 11 Jul 2013 06:00 UTC
Issued: Wed 10 Jul 2013 14:07
Forecaster: PUCIK
A level 1 was issued for Northern and Eastern Spain mainly for severe wind gusts and large hail.

A level 1 was issued for Massif Central towards Northwestern Italy mainly for excessive precipiation and to the lesser degree for marginally large hail and severe wind gusts.

SYNOPSIS

Refer to the storm forecast.

DISCUSSION

... Massif Central to NW Italy ...

Sounding observations from the area reveal moderate CAPE values with rather "skinny" vertical profile in conjunction with very chaotic vertical wind profile, yielding almost no vertical wind shear. Nevertheless, local topographic upslope flow and convergence areas seem to serve as foci for continuous thunderstorm redevelopment, so that isolated excessive precipitation event seems to be possible. Moreover, very isolated downburst or marginally large hail event is not ruled out with stronger multicells. Combined threat might suffice for a low-end Level 1.



Only minor changes were made to other areas.