Storm Forecast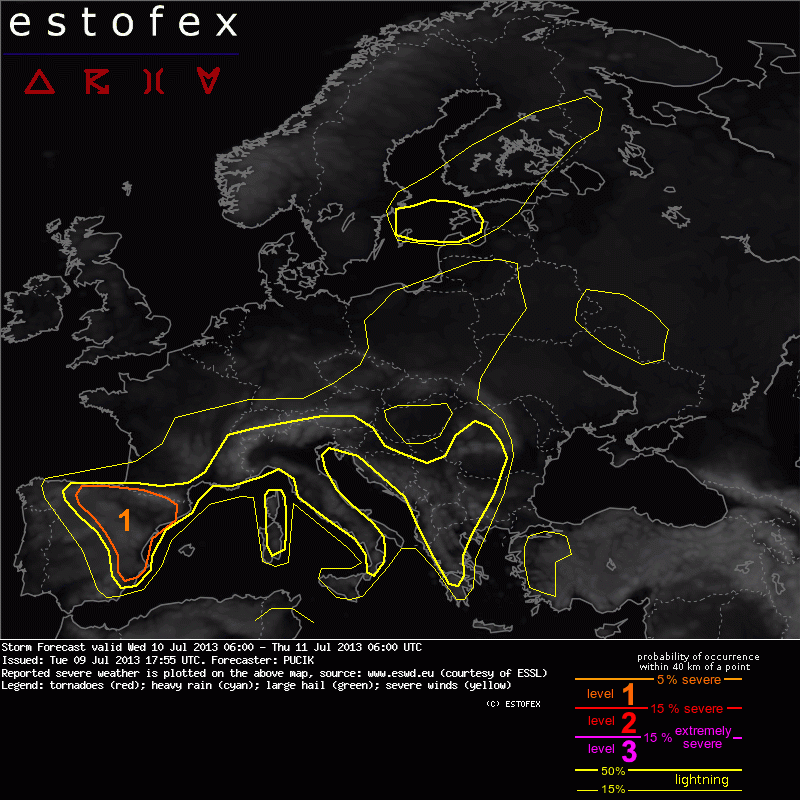 Storm Forecast
Valid: Wed 10 Jul 2013 06:00 to Thu 11 Jul 2013 06:00 UTC
Issued: Tue 09 Jul 2013 17:55
Forecaster: PUCIK
A level 1 was issued for Eastern and Northern Spain mainly for severe wind gusts and large hail.

SYNOPSIS

General synoptic situation is not expected to undergo a major change in this forecast period with a ridge of higher geopotentials stretching from Atlantic towards the British Isles. A quite sharp short-wave trough will move of Scandinavia towards Poland during the day in the northwesterly flow at the forward flank of the ridge. A subtle trough is also forecast over southern France and northern Iberia. Most of central and southeastern Europe will be under a broad, very weak geopotential field and steering flow. Closer to the surface, a large high pressure system remains centered over Scottland with cold front pushing to the southeast across Northern Germany and Western Poland. Of interest might be the development of "heat induced" low is over Iberia.


DISCUSSION

... Spain ...

Models generally simulate 10-15 m/s of westerly-northwesterly flow overlapping with southeasterly low-level flow induced by the surface low especially over the eastern part of the country, yielding moderate degree of deep layer shear, including some enhanced SREH. With very steep lapse rates, well resolved by Tuesday 12 UTC soundings, southeasterly advection of moister airmass inland could render moderate degree of instability with MLCAPE values possibly locally exceeding 1000 J/kg. Strong capping will be likely especially inland with 850 hPa temperatures easily exceeding 20°C. Deep and dry boundary layer along with steep lapse rates should contribute to rather strong downrafts and thus, severe wind gusts could occur even with less organised convection. Especially in case that shear allows for at least some storm organisation (namely over the eastern part of the level 1, where an isolated supercell event is not ruled out), large hail will be another severe weather threat.

... Alpine area, Appenines and Balkans ...

Widespread, but weakly organised DMC is forecast over these areas, with very weak vertical wind shear and low to moderate CAPE values. Pulse-like convection is expected, clustering especially around the topographic features or along the colliding cold pools. Very isolated threats of excessive precipitation and severe wind gusts will be present, but as it is almost impossible to pick up more specific areas (perhaps associated with local convergence zones) with enhanced threat, we refrain from issuing a Level 1 attm.

...