Storm Forecast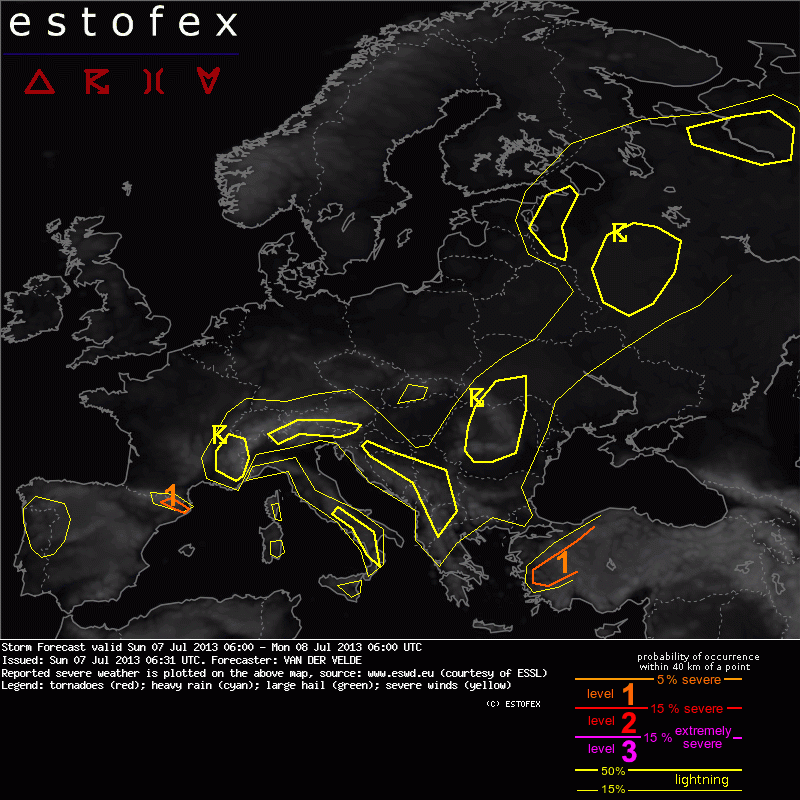 Storm Forecast
Valid: Sun 07 Jul 2013 06:00 to Mon 08 Jul 2013 06:00 UTC
Issued: Sun 07 Jul 2013 06:31
Forecaster: VAN DER VELDE
A level 1 was issued for parts of Turkey for isolated large hail.
A level 1 was issued for northeastern Spain for isolated large hail.

SYNOPSIS

A large surface high pressure area is situated over the Birtish Isles and North Sea, causing stable conditions over a large part of Europe. Unstable airmass is present in the south and east, mainly depending on orography and sea breeze circulations to trigger convection, as dynamic features are absent. Vertical wind shear is weak which should favor short-lived cells, locally clustered, outflow dominant, with poor organization. Exception is Turkey where deep layer shear is 15-20 m/s with SREH 100-200 mē/sē and cloud base over 2000m, which locally could produce rotating updrafts with large hail. South of the Pyrenees bulk shear is also decent (15 m/s) and isolated large hail cannot be ruled out.
An upper cold pool over western Russia exhibits some enhanced shear (>10 m/s) at its east flank. But cloud bases are lowish (1000m) so it is below marginal for level 1.
Several regions can see slow storm motion and isolated flash floods as result. Very isolated landspout tornado occurrences are not ruled out either.