Storm Forecast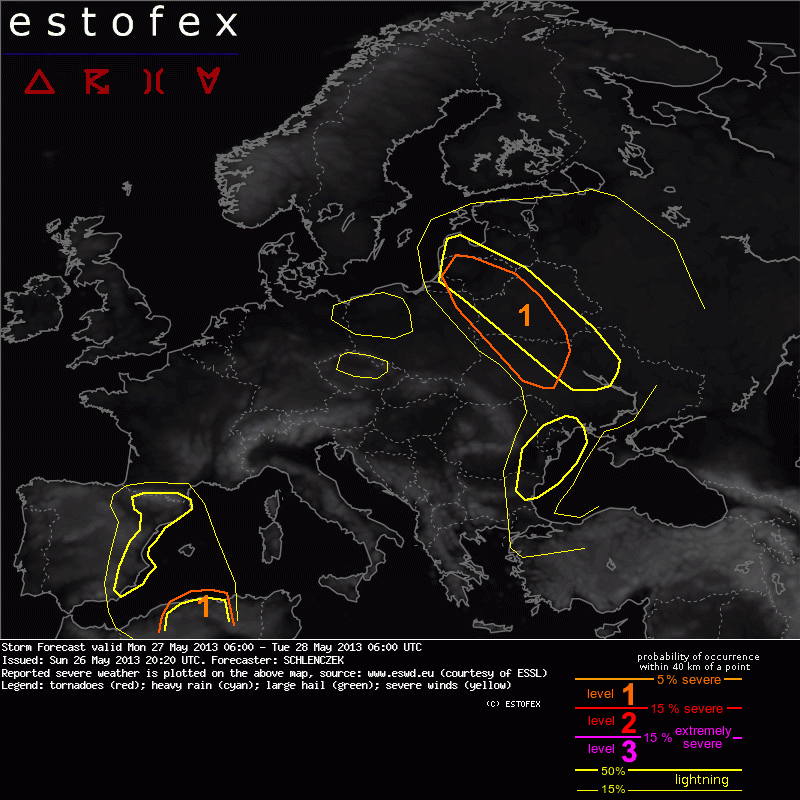 Storm Forecast
Valid: Mon 27 May 2013 06:00 to Tue 28 May 2013 06:00 UTC
Issued: Sun 26 May 2013 20:20
Forecaster: SCHLENCZEK
A level 1 was issued for parts of Ukraine, Belarus and the Baltic States for large hail, severe wind gusts and tornadoes.

A level 1 was issued for N Algeria for large hail and severe wind gusts.

SYNOPSIS

An occluding low pressure system W of Scotland and an upper high over Finland lead to advection of moist and unstable air into the Baltic region. Remnants of a small upper cold core move across the Iberian Peninsula and lead to unstable conditions over Spain and the SW Mediterranean region. Apart from these two main regions, only marginal instability is present over parts of the Mediterranean Sea and other parts of eastern Europe.

DISCUSSION

...Ukraine, Belarus and Baltic States...

With a strong easterly LL flow, warm and moist air is advected into the Baltic region. Along the cold front of a low which is centered over Poland, thunderstorms should form during the day. Given a narrow region where moderate (10 - 20 m/s) 0-3 km and 0-6 km bulk shear and some hundred J/kg of MLCAPE overlap, there will be a slight risk of severe multicellular storms. Towards the south, more shear is present whereas the instability maximum is located towards the north. A probable scenario for such a constellation is some isolated pre-frontal storms with a marginally severe hail / wind gust threat and a multicellular line or line segments along the front with severe wind gusts and a chance of a tornado due to enhanced 0-1 km shear and SRH. Convective inhibition is almost zero which will tend to reduce the threat of widespread severe convection due to cluster formation. However, one can't exclude an isolated severe precipitation event in this case.

...N Algeria...

In a slightly unstable environment, some 20 - 30 m/s of 0-6 km shear is expected along the S Mediterranean coastline of Algeria. If a storm forms under such conditions with quite high CIN (order of -100 J/kg) and strong QG forcing due to the approaching trough, it is likely to develop a mesocyclone and produce large hail. As some desert air with steep lapse rates should mix with the surrounding airmass, severe wind gusts are possible as well.