Storm Forecast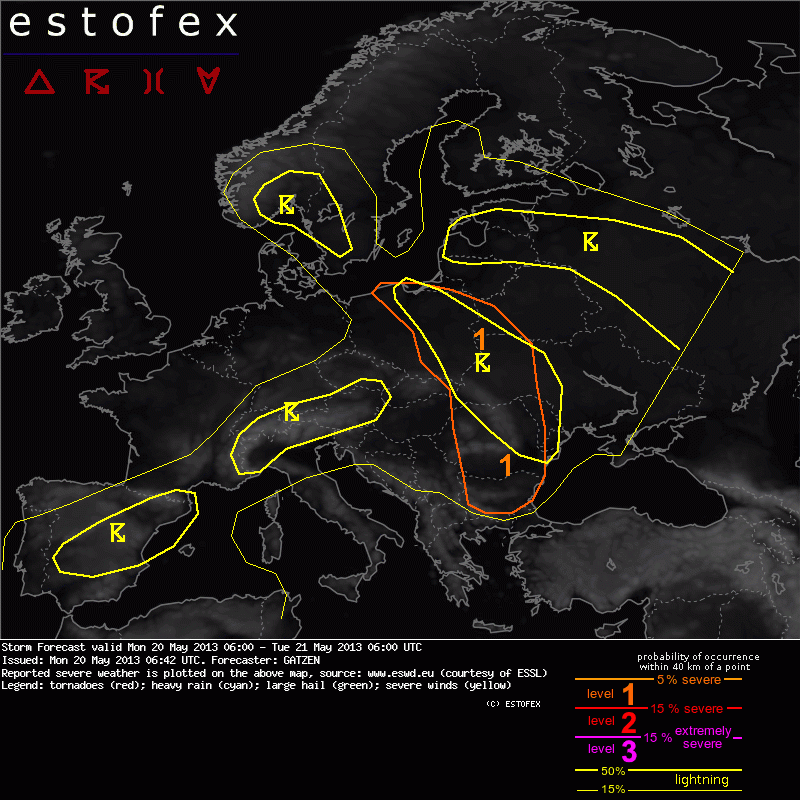 Storm Forecast
Valid: Mon 20 May 2013 06:00 to Tue 21 May 2013 06:00 UTC
Issued: Mon 20 May 2013 06:42
Forecaster: GATZEN
A level 1 was issued for South-eastern Poland, western Belarus, Ukraine, Romania, and Bulgaria mainly for large or very large hail and to a lesser extend severe wind gusts and excessive precipitation.

SYNOPSIS

A closed mid-level trough extends from Iberia to the Alpine region. It yields a strong south-westerly jet streak that travels across the central Mediterranean and Balkan Peninsula reaching the Ukraine late in the period. Ahead of the accompanying trough axis, warm air masses are present across eastern and north-eastern Europe. Thunderstorms are actually present along the frontal boundary that extends from Poland to Greece and slowly moves eastward.

To the north of the main European trough, small mid-level troughs are present.

DISCUSSION

South-eastern Poland, western Ukraine, Romania, and Bulgaria

A tongue of rich low-level moisture exceeding 8 g/kg mixing ratio is present along the frontal boundary. This moisture overlaps with steep mid-level lapse rates present from the southern Baltic Sea to the Aegean Sea. Latest GFS model expects MLCAPE values around 1000-1500 J/kg in this region.

Forcing is expected especially in the northern portions across the Ukraine and Poland, where low-level warm air advection and differential cyclonic vorticity advection are present ahead of the approaching jet streak. Numerous thunderstorms are forecast along and ahead of the cold front today. Given increasing vertical wind shear from the west with values around 10-15 m/s 0-3 km bulk shear, storms are expected to organize. Given weak veering profiles due to latest GFS, multicells seem to be the dominant storms mode, but supercells are also not ruled out especially in the vicinity of outflow boundaries that modify the low-level SRH. Main threat with these storms will be large hail. Isolated severe wind gusts are not ruled out in the noon and afternoon hours given the deep boundary-layer to the east of the front. Storms will likely cluster and may organize into one or two MCSs moving north-eastward across Poland and the Ukraine. Severe wind gusts may become the dominating threat when these systems reach their mature stage. Limiting factor for severe wind gusts will be the rather limited low-level moisture as well as weak background winds. Excessive rain may also be possible locally.

Further south, strong diurnal heating is forecast across Bulgaria and Romania. Outflow-boundaries and orographic forcing are likely and initiation of isolated thunderstorms is expected ahead of the cold front. Given large CAPE release and increasing vertical wind shear will likely support intense multicells and supercells, capable of producing large or very large hail. Severe wind gusts are not ruled out. Storms will likely merge to the cold frontal convection entering the region from the west. These storm clusters are forecast to reach the Black Sea during the night hours where the severe threat will decay later on.

Iberia, Alpine region, northern Balkans, southern Scandinavia

Below the deep cold air masses in the trough centers, deep moist convection is expected in response to diurnal heating. Storm organization will be mostly weak due to weak vertical wind shear. However, stronger deep-layer vertical wind shear near the mid-level jet streak across the Mediterranean as well as across southern Scandinavia will support some multicells or supercells, capable of producing large hail.

Russia

Another round of diurnally driven storms is expected along a broad convergence zone across western Russia. Rich low-level moisture and rather steep lapse rates are present, and diurnally heating will result in CAPE round 1500 J/kg. Storms will initiate early in the period along outflow boundaries and will increase in coverage during the afternoon hours. Weak vertical wind shear is present. As a consequence, only very isolated severe events are forecast (mostly hail and rain) due to pulse storms.