Storm Forecast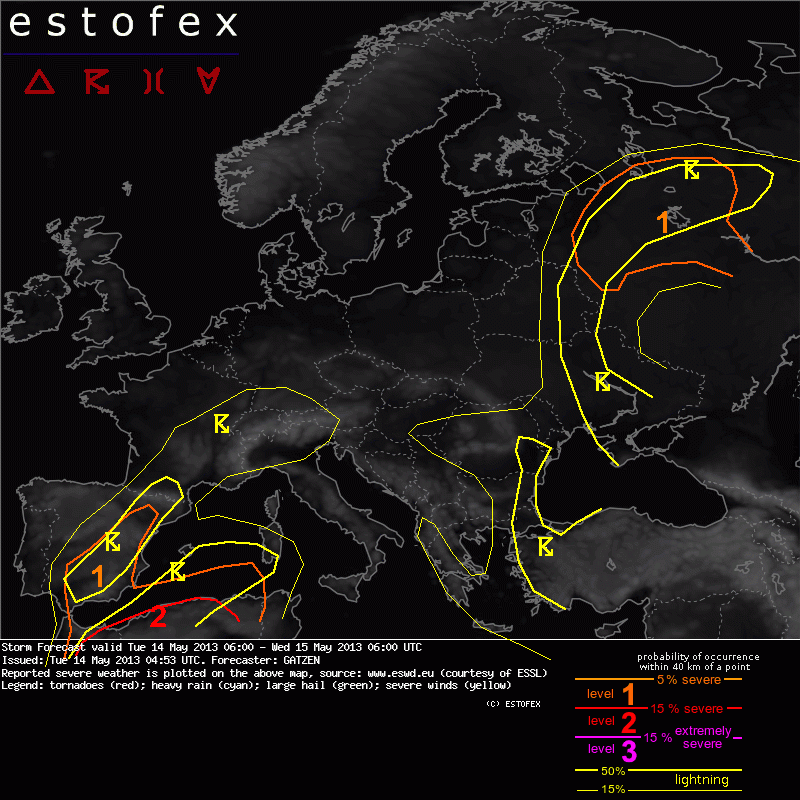 Storm Forecast
Valid: Tue 14 May 2013 06:00 to Wed 15 May 2013 06:00 UTC
Issued: Tue 14 May 2013 04:53
Forecaster: GATZEN
A level 2 was issued for northern Algeria and surroundings mainly for large hail, but also isolated severe wind gusts, tornadoes and local flash floods.

A level 1 was issued for southern Spain mainly for large hail.

A level 1 was issued for north-western Russia mainly for large hail and isolate tornadoes.

SYNOPSIS

Europe is affected by an intense trough across north-west Europe and a region with weak geopotential extending into the Balkans and Turkey. High pressure is located across western Russia and southern France/west Mediterranean. During the period, downstream development leads to an amplification of the main trough/ridge features with decreasing low geopotential across west Europe and increasing geopotential further east. The intense short-wave trough actually located across Denmark/northern Germany will move north-eastwards crossing most of Scandinavia until Wednesday morning. Over Bulgaria/Romania and southern Turkey, two gradually weakening cut-off lows are forecast as geopotential starts to rise there.

At low levels, the convergence zone across east Europe will remain during the period. Moisture pooling in the boundary-layer and the advection of steep lapse rates from the east will result in CAPE and another round of convective initiation today. Further south, low-level convergence will weaken between the two forming cut-off lows. South-western Europe will also be affected by thunderstorms that will spread northward during the day due to increasing warm air advection ahead of the deepening trough.

DISCUSSION

North-west Russia

Along the quasi-stationary frontal boundary, deep moist convection will gradually weaken in the morning hours and increase in coverage and intensity again after noon. Low-level moisture will remain rich and steep mid-level lapse rates will overlap with this moisture. However, CAPE will be slightly below Mondays values as mid-level temperature is expected to increase in the wake of a mid-level vort-max. Most storms are expected to be located to the south of the main frontal boundary in a weakly-sheared environment. Isolated pulse-storms are forecast given numerous outflow-boundaries of overnights convection, and some large hail or flash-flood reports are expected. Further north, vertical wind shear increases especially at low levels. Along and north of the frontal boundary, isolated storms may become supercells given favourable veering low-level profiles. Large hail seems to be the main threat. Additionally, rather strong 0-1 km bulk shear exceeding 10 m/s enhances the probability of tornadoes. Widespread clouds and high coverage of showers and thunderstorms will limit the threat of isolated, severe storms.

Spain and south-west Mediterranean, northern Africa

Mid-level height falls have started across Spain with a first mid-level short-wave trough that will also cross Morocco until Wednesday morning. Ahead of this feature, a strong mid- to upper level jet will slowly move south-eastwards mostly affecting northern Africa and he south-west Mediterranean today. Additionally, subtropical air masses will spread into central Algeria during the period, resulting in increasing low-level vertical shear over most of the region.

First thunderstorms are expected today across south-east Spain where some storms are already going on. Daytime heating will result in a thermal low across Spain and increasing low-level convergence is forecast in the noon and afternoon hours. Rather steep lapse rates and moderate low-level moisture will result in CAPE in the order of 500 J/kg. Scattered thunderstorms are forecast especially across the mountains. Degree of organization will be rather low given the weak vertical wind shear, but isolated pulse storms will pose a threat of large hail that increases furthe south due to incresing deep layer vertical wind shear. Additionally, locally well-mixed subcloud layers increase the probability of strong downdraft winds.

From northern Morocco into Algeria, additional storms are forecast. Latest observations indicate a pool of rich boundary-layer moisture in the wake of overnights convection. Daytime heating and steep mid-level lapse rates are forecast to result in CAPE near 1000 J/kg.

Storms will initiate over the Atlas mountains and are forecast to move east with the strong mid-level flow. With weak north-easterly low-level winds, impressive 25 m/s 0-6 km bulk shear evolves, and GFS also indicates large hodographs with about 150 mē/sē 0-3 km SRH. Therefore, supercells are forecast capable of producing large or very large hail.

During the afternoon and evening hours, low-level kinematics will continue to strengthen due to an increasing horizontal temperature gradient as very warm air spreads into central Algeria ahead of the approaching mid-level short-wave trough. Increasing QG forcing is expected to assist for an MCS spreading north-eastward, capable of producing very large hail and severe wind gusts as well as local flash flooding. More isolated convection feeding the MCS from the west will pose an additional threat of tornadoes as 10 m/s 0-1 km vertical wind shear is forecast. Storms will spread across the south-west Mediterranean where severe threat will decrease due to the cool boundary-layer and increasingly elevated nature of the storms.

Southern France region

Ahead of the approaching west-European trough, warm air advection sets in from the Pyrenees towards southern France and the south-western Alps. Low-level moisture will increase in the warm air advection regime in the afternoon hours, and latest GFS is quite optimistic in CAPE building. Nevertheless, a first round of thunderstorms is quite likely in the afternoon and evening hours, starting in the Pyrenees and Alps, spreading into southern France later on. Vertical wind shear and CAPE will be weak and most storms may be non-severe. However, the northern flank of the warm air advection regime is affect by stronger vertical wind shear, resulting in a weak threat of large hail.