Storm Forecast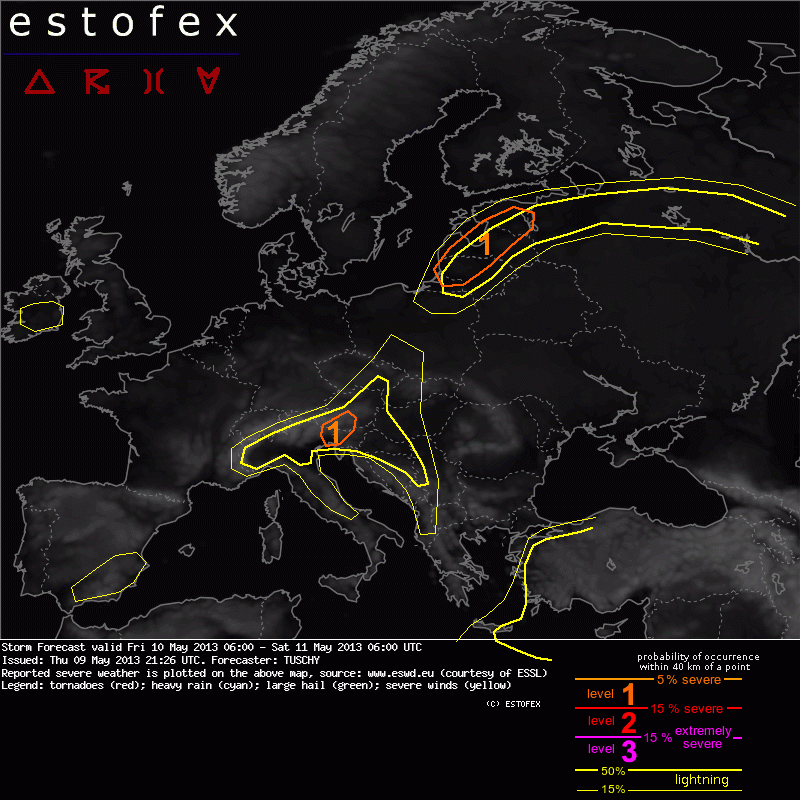 Storm Forecast
Valid: Fri 10 May 2013 06:00 to Sat 11 May 2013 06:00 UTC
Issued: Thu 09 May 2013 21:26
Forecaster: TUSCHY
A level 1 was issued for parts of Lathvia, Lithuania and Estonia mainly for an isolated tornado and large hail event.

A level 1 was issued for NE-Italy, extreme S-Austria and W-Slovenia mainly for heavy rainfall amounts.

SYNOPSIS

The upper streamline pattern features a transient phasing of the upper jets over W-Europe, before high-over low blocking over E/SE-Europe forces both jets to diverge over S-C Europe into a nothern branch (towards the Baltic Sea) and a southern one (towards N-Africa).

Low geopotential heights prevail over NW-Europe as numerous vortices round the base of a major longwave trough. One vortex exits the North Sea during the start of the forecast and approaches Norway and Sweden from the SW. This will be the main synoptic feature, which results in organized DMC. Otherwise, this pattern is not supportive for an organized severe thunderstorm risk over the rest of Europe.

DISCUSSION

... Lithuania, Latvia and Estonia ...

As the aforementioned vortex is about to slide to the NE, mid-level height gradients temporarily increase with a strengthening gradient wind field being the net result. Beside that, some forcing accompanies that trough, which overspreads a wavy SW-NE aligned surface boundary. BL moisture is best just along the immediate boundary and hence a belt of 500-1000 J/kg MLCAPE is forecast to evolve during the day in the highlighted area. DLS up to 20 m/s will be enough for multicell storms to evolve during the afternoon and evening time frame. Shear vectors are aligned nearly parallel to the front, which may result in rapid clustering of storms, but at least during the initiation stage a few large hail and strong wind gust reports will be possible. There are some hints of a gradually evolving mesoscale low along that boundary, which rapidly travels northeastwards from Poland to Estonia during afternoon hours onwards. This could increase backing of the LL wind field and some high resolution models show an overlap of 500-1000 J/kg MLCAPE, 20 m/s DLS, up to 250 SRH-1 and LCLs at or below 600 m over W-Lithuania, Latvia and Estonia. This would support an isolated tornado risk as well and that's where a level 1 was placed. Models try to bring convection to an end just after sunset, but past days showed that enough MUCAPE still exists for a few storms to continue well into the night while moving E/NE towards W-Russia. The severe risk however decreases rapidly.

... N-Italy, Austria, Slovenia, Croatia and W-Hungary...

A leisurely SE-ward moving front becomes trapped by the Alps with weak lee-cyclogenesis forecast over N-Italy. No significant forcing mechanism at mid-upper levels is expected to cross the area, but with a sharpening upper trough over SE/E France, the flow remains cyclonic during the forecast. Also, geometry of the height field results in a coupled jet configuration (placed beneath the left exit of an approaching 30 m/s subtropical jet streak over the Balearic Islands and the entrance region of an exiting jet towards NE Germany) and an ongoing diffluent upper wind regime, assisting in a prolonged period of CI. Capping is weak and the BL remains moist, so scattered thunderstorms are forecast over N-Italy and the S-Alps. 15 m/s DLS may support a few multicells with large hail and strong wind gusts.

With PW values in excess of 30 mm and strong LL convergence signals over NE Italy, training thunderstorms and flash flooding will be a concern and a level 1 was issued to cover that risk. This includes extreme S-Austria and far W- Slovenia. The overall pattern is supportive for a few thunderstorm clusters to affect NE Italy, Slovenia, C/E-Austria, W-Hungary and Croatia, but either the SE-ward moving front will undercut those storms (e.g. Austria) or the weak wind field keeps shear magnitude very low, so no cluster will become organized. Nevertheless, heavy rain, gusty winds and marginal hail can be expected. We expanded the lightning areas far to the NE over the E-Alps to account for a few longer lived clusters and also for the NE-ward fanning MUCAPE plume.

The possibility was examined to expand the level 1 to the NE towards E-Austria as a few models show adequate instability build-up around noon before the front arrives. This scenario would assist in a few prefrontal thunderstorms which could achieve some temporal organization as 15-20 m/s DLS overlaps the CAPE plume. However, uncertainties remain high with extent of downstream convection (insolation) and the final speed of the front, so no upgrade was performed.

Over the N/C Balkan States, shear and forcing will be weak, but convective temperatures will likely be surpassed, so isolated to scattered pulsating storms are forecast. Rapid clustering and numerous disorganized storm clusters are forecast during the late afternoon/evening hours before vanishing until midnight. Strong downbursts and locally heavy rain will be the main hazard.

... W-Turkey ...

A quasi-stationary upper low is parked over W-Turkey, so scattered showers and thunderstorms likely evolve already before noon. DLS at or below 10 m/s precludes any organized and long-lived thunderstorm activity, so a few strong pulsating storms are forecast with marginal hail, strong wind gusts and locally heavy rain. The activity decays after sunset.