Storm Forecast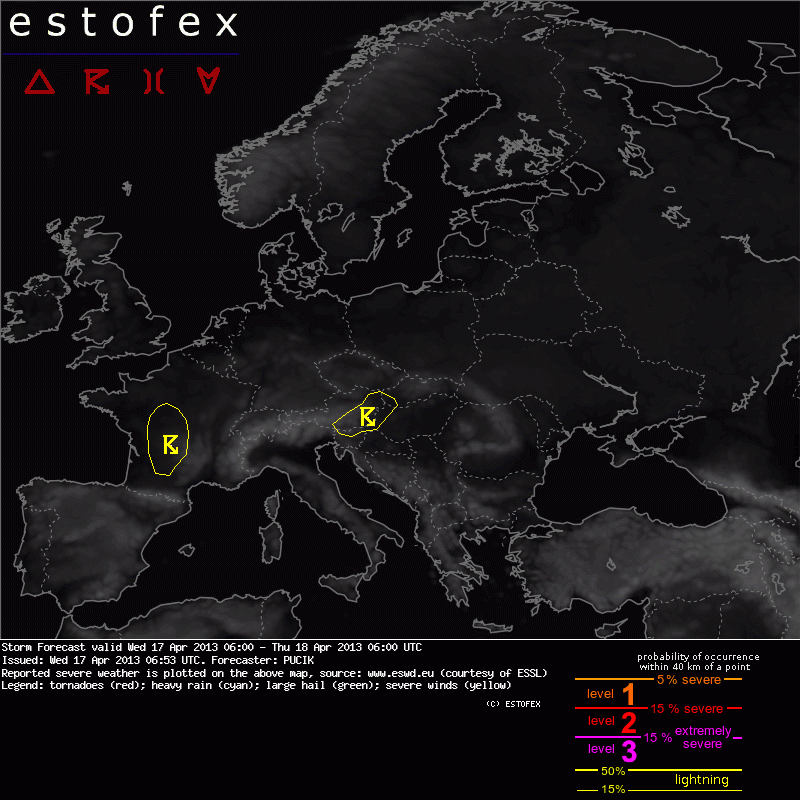 Storm Forecast
Valid: Wed 17 Apr 2013 06:00 to Thu 18 Apr 2013 06:00 UTC
Issued: Wed 17 Apr 2013 06:53
Forecaster: PUCIK
No threat levels have been issued.

SYNOPSIS and DISCUSSION

As of Wednesday morning, MSG satellite loops show an impressive cyclonic system affecting British Isles, that is associated with a 70 m/s jet-stream at 300 hPa and is forecast to rapidly translate towards Scandinavia. To the south, a ridge is dominant over Iberia and southern France, amplifying towards northeast (Germany, Czech Republic) during the day. A short-wave trough will cross the Baltic Sea during the day and Southeastern Europe should stay under a broad and shallow area of low geopotentials. Closer to the surface, a low over the Atlantic and a high over the continent situation prevails with WAA regime predicted for much of Western and Central Europe.

Conditions will be far from conducive to any widespread, let alone severe, DMC activity. The only two areas worth discussing regarding marginal probability of lightning are:

A/ Southwest France - with moister airmass streaming from the Atlantic and steeper lapse rates from Iberia. However, ECMWF remains very sceptic regarding CI. Thunderstorms would be most probable in the late afternoon or evening hours.

B/ Eastern Austria, where scattered showers might develop during the afternoon hours. Degree of instability is quite questionable with Graz 03 UTC sounding revealing conditionally unstable lapse rates only in 900 to 700 hPa layer.

Even in these two areas, confidence regarding thunderstorm occurrence remains low.