Storm Forecast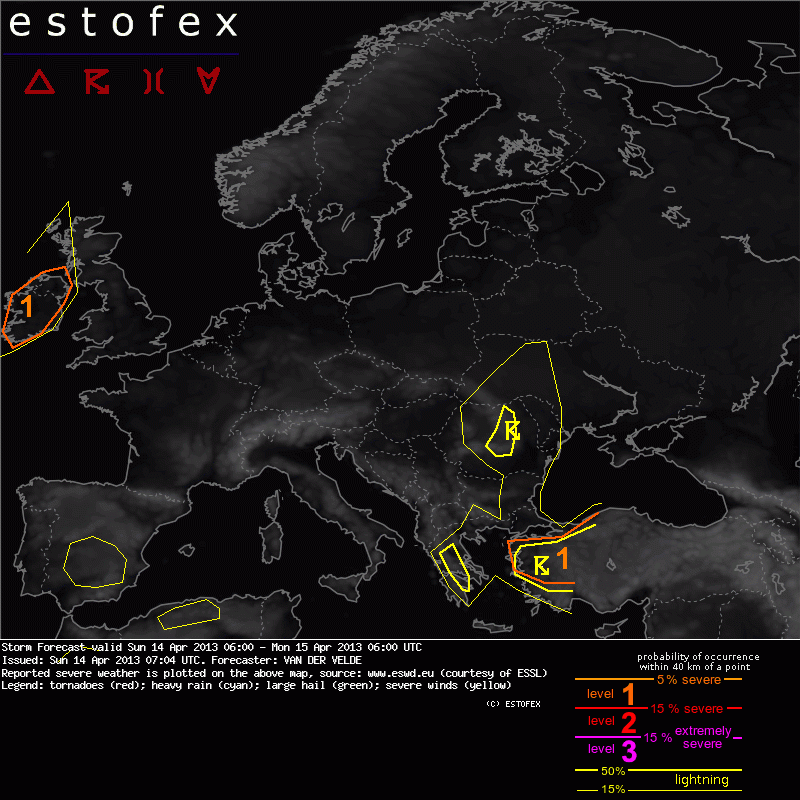 Storm Forecast
Valid: Sun 14 Apr 2013 06:00 to Mon 15 Apr 2013 06:00 UTC
Issued: Sun 14 Apr 2013 07:04
Forecaster: VAN DER VELDE
A level 1 was issued for western Turkey mainly for large hail.

A level 1 was issued for Ireland for tornadoes.

SYNOPSIS

A depression with strong pressure gradients is situated west of Ireland. The cold front lies over the UK. Convection in the cool airmass is clustered and overrun by a jetstreak.
Southeastern Europe and Turkey on the other side of the central European ridge have weakly capped unstable conditions. Forcing is weak except for western Turkey where deep lifting occurs in front of the upper trough.

DISCUSSION

...Ireland...

While the amount of CAPE is low, the strong vertical wind shear and very low lifting condensation level is reason to believe that one or multiple tornadoes may occur. 0-1 km shear well above 15 m/s, 0-3 km storm-relative helicity of 250 mē/sē and 0-6 km bulk shear over 30 m/s are supportive of strong tornadoes (F2 ). Severe convective wind gusts are likely as predicted storm motion vectors are over 25 m/s. The most likely time interval of events is 09Z-21Z.

...Turkey...

Weakly capped MLCAPE in the order of 500 J/kg around with LCL heights of 800-1500m and deep layer shear (0-6 km) of more than 15 m/s and local orographic flow can cause organized/rotating updrafts with chance of large hail.