Storm Forecast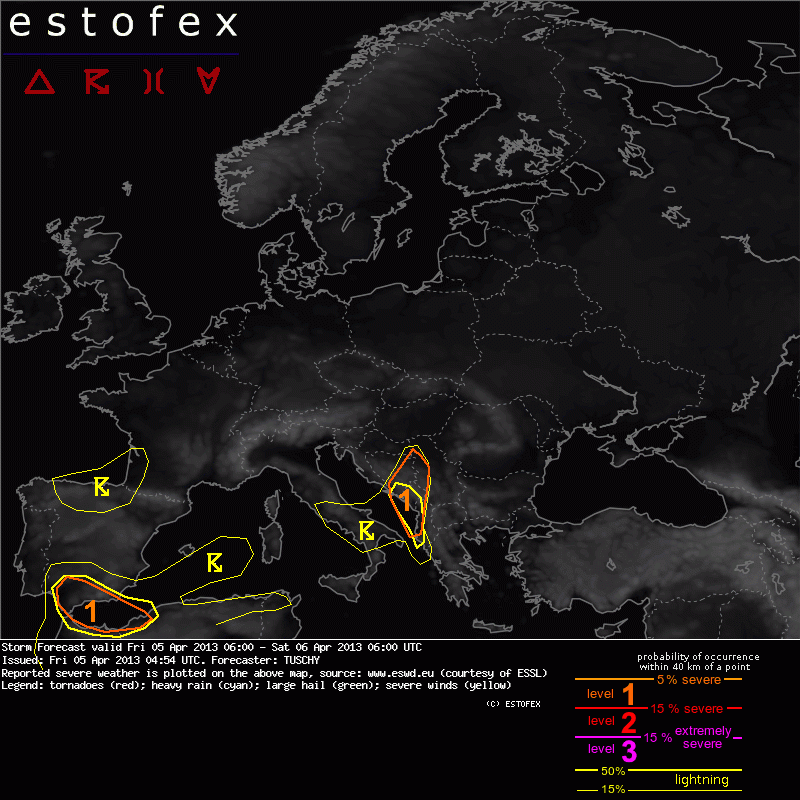 Storm Forecast
Valid: Fri 05 Apr 2013 06:00 to Sat 06 Apr 2013 06:00 UTC
Issued: Fri 05 Apr 2013 04:54
Forecaster: TUSCHY
A level 1 was issued for S-Spain, N-Morocco and far NW Algeria mainly for a few waterspout / tornado events and marginal hail.

A level 1 was issued for W-Albania, Montenegro and Bosnia and Herzegovina mainly for isolated tornadoes/waterspouts and large hail / strong to severe wind gust events (along the coasts and just onshore) and an isolated large hail event (well inland).

SYNOPSIS

A major trough is placed over Europe with cold air at mid-levels spreading all the way to N-Africa. Adequate moisture for deep convection remains confined to the Mediterranean and adjacent areas. Areas further north remain too hostile for DMC.

DISCUSSION

... SE Bay of Biscay ...

A southbound moving cold-core low with temperatures at 500 hPa dropping to -30 °C or below results in enough SBCAPE build-up for a few thunderstorm events during the forecast....mainly along the southeastern most area with enhanced coastal convergence. Despite moderate DLS, convection likely remains low topped due to marginal moisture content, so despite a few marginal hail events and gusty wind reports, nothing severe is expected. With repeatedly onshore moving showers and thunderstorms, a few areas like Asturias, Cantabria and the Basque Country may see heavy rain, which remains well below our level 1 threshold.

... S-Spain ...

Focus for CI will be a southward moving cold front, which crosses the level 1 area during the daytime hours from NW to SE. Surface dewpoints in excess of 10 °C spread northeastwards ahead of the cold front with ongoing modest SW-erly flow regime. This moisture beneath cool mid-levels boost MLCAPE up to 800 J/kg over a concentrated area along the coast and just onshore. Poor mid-level lapse rates keep magnitude of CAPE limited, but those numbers are still enough for a few stronger updrafts. DLS up to 15 m/s also supports a few better organized pulsating storms and upscale growing multicell clusters. During the more discrete initiation stage offshore/along the coast, good BL CAPE signals point to a waterspout/isolated tornado risk with onshore moving storms next to marginal hail. Betimes with clustering well in progress, heavy rain and gusty winds will be the main hazard. Storms finally exit S-Spain around sunset.

During the overnight hours, eastward moving mid-level forcing (W-Mediterranean) and southward moving cold front induce enough forcing for isolated CI over the W-Mediterranean. Betimes, the cold front outruns the mid-level support, but increased BL convergence along the coast of N-Algeria with the front's approach from the NW results in a temporal flare-up of convection over far NW-Algeria. We expanded the level 1 to NW Algeria due to an ongoing waterspout/isolated tornado risk, but the rest of the W-Mediterranean offers a too messy picture with limited CAPE and diffuse forcing for issuing anything higher than a 15-% lightning area.

As a side-note... with a gradually structuring low pressure area over the W-Mediterranean, strong LL convergence signals evolve over the Balearic Islands during the night hours. However, moisture decreases as the surface front exits to the SE. Nevertheless, widespread clusters of showers and embedded thunderstorms may result in locally heavy rain for the Balearic Islands.

... NE Algeria 15-21 Z...

A weak mid-level impulse crosses NE-Algeria from SW to NE during the afternoon and evening hours. Attendant strength of forcing will be questionable for CI, but models continue to show sporadic initiation. One or two organized thunderstorms probably evolve (20-25 m/s DLS) with an isolated large hail risk. The severe risk rapidly diminishes as storms outrun fetch of best BL moisture to the east. No level 1 was issued due to the short-lived and isolated nature of this event and also due to still ongoing questions regarding CI.

... E-coast of the Adriatic Sea and areas further east ...

During the start of the forecast period, a strong mid-level impulse is already situated over Italy with a rapid motion to the ENE. This will bring the wave towards the E-coast of the Adriatic Sea until 12Z. This trough is accompanied by a potent 35 m/s 500 hPa jet, with shifts east just to the south of Italy and towards Albania. Modest mid-level lapse rates atop northward surging BL moisture results in a broad area with 500 J/kg MLCAPE. Any storm which develops along the coasts of Albania, Montenegro and Bosnia and Herzegovina will grow into an environment with 25 m/s DLS and enhanced LL shear, so storms will be capable of producing all kind of severe, including large hail, an isolated tornado and strong to severe wind gusts. Model consensus regarding the strength of the onshore flow is bad, which results in different CAPE signals over Bosnia and Herzegovina and Serbia during the afternoon hours. Despite only modest strength of the S-Adriatic return flow and its weakening trend during the forecast, we see no reason, why a few storms may also not develop far inland. Hence the level 1 was expanded far east mainly for an isolated large hail event.
During the overnight hours, BL stabilization rapidly suppresses convection over land with an ongoing activity along the coast of Montenegro and W-Albania. This activity will be sub-severe due to declining CAPE, but an isolated waterspout event remains still possible.