Storm Forecast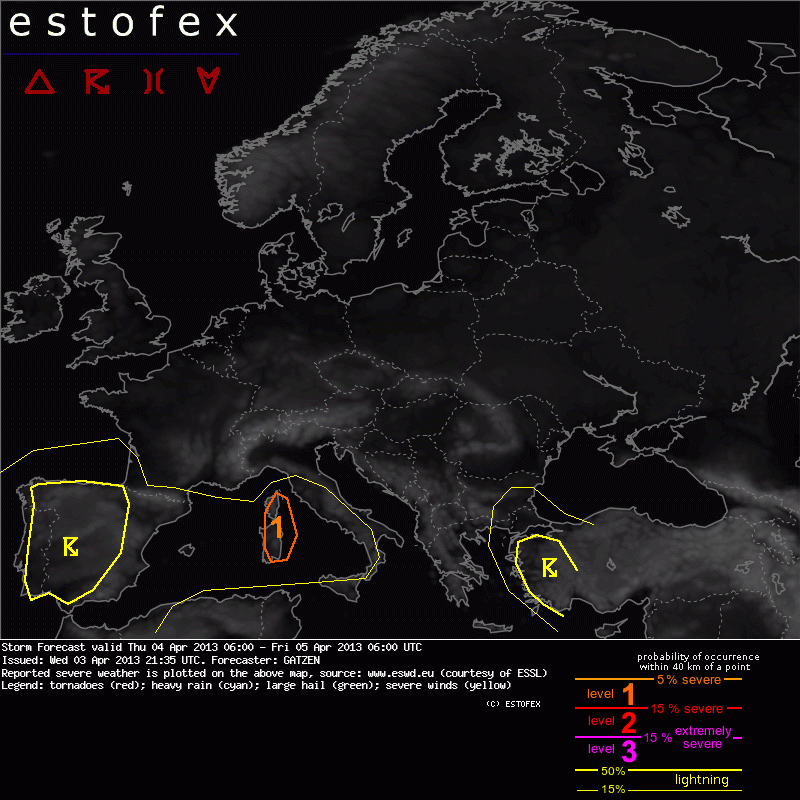 Storm Forecast
Valid: Thu 04 Apr 2013 06:00 to Fri 05 Apr 2013 06:00 UTC
Issued: Wed 03 Apr 2013 21:35
Forecaster: GATZEN
A level 1 was issued for Sardinia and Corsica mainly for large hail.

SYNOPSIS

To the south of cold and dry air across northern and central Europe, the polar jet continues to affect the Mediterranean. An amplified trough currently across the east Mediterranean will cut off over the Middle East, whereas its northern part will cross eastern Europe. Further west, another trough moves into the west Mediterranean. Ahead of this trough, a strong mid-level jet streak will enter the central Mediterranean and the Balkans late in the period.

DISCUSSION

West Mediterranean

Ahead of the approaching trough, a strong mid-level jet streak will enter the central Mediterranean during the day. At 850 hPa, a south-easterly low-level jet will evolve and warm air advection is expected across the west Mediterranean. QG forcing will result in rather steep mid-level lapse rates atop of increasing boundary-layer moisture in the afternoon hours. Latest models expect CAPe values around 500 J/kg. Initiation is most likely across Sardinia and Corsica given some daytime heating and orographic lift. Storm that form will likely organize as vertical wind shear is strong exceeding 15 / 25 m/s 0-3 / 0-6 km bulk shear. Hodographs are not large, and main convective mode will be multicells, capable of producing marginally severe hail. Limiting factor will be the weak instability.

Iberia and surroundings

In the range of the centre of the western trough, cold and unstable air will allow for diurnally driven thunderstorms. Marginally severe hail and strong wind gusts are expected to be the main threat. Weak vertical wind shear is forecast by latest models and a threat level is not issued.

Bulgaria to western Turkey

Near the centre of the eastern trough, some thunderstorms may develop during the day. Weak vertical wind shear will limit the severe potential, but marginally severe hail and strong wind gusts are not ruled out.