Storm Forecast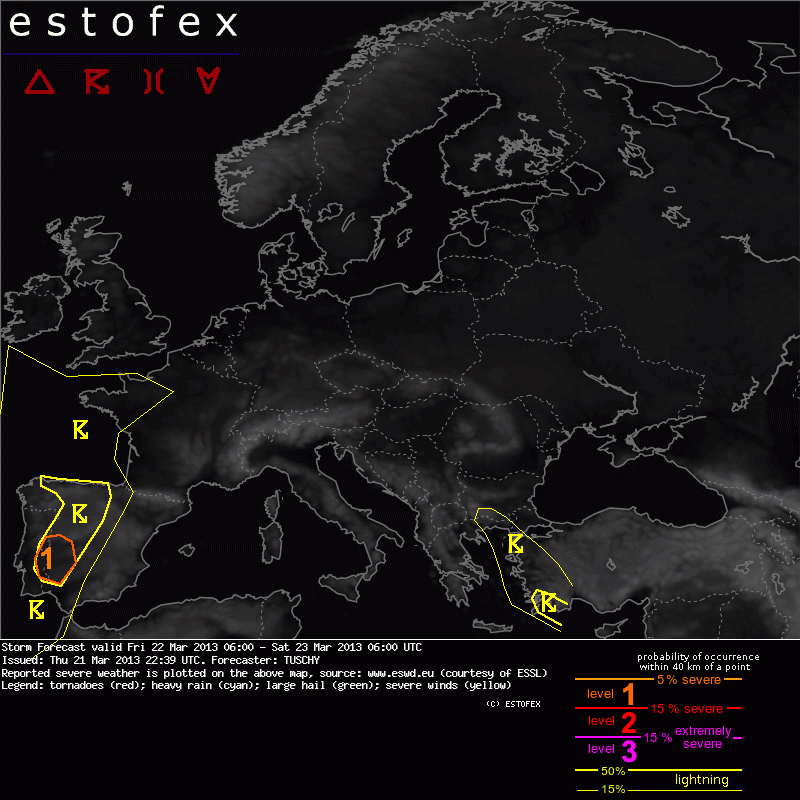 Storm Forecast
Valid: Fri 22 Mar 2013 06:00 to Sat 23 Mar 2013 06:00 UTC
Issued: Thu 21 Mar 2013 22:39
Forecaster: TUSCHY
A level 1 was issued for parts of E-C Portugal and W-C Spain mainly for an isolated tornado and large hail event.

SYNOPSIS

An arctic high builds south over N-Europe with cold air advected far south. The southern fringe of that cold air mass will be a pronounced air mass boundary which runs from E-UK to the Alps to Greece. West of that boundary warmer and slightly more unstable conditions persist.

At mid-levels, the only progressive feature will be a pocket of sub -30 °C temperatures (a upper cold-core low), which rapidly moves SE and approaches NW Turkey during the evening hours from the NW. Otherwise, a large-scale vortex over the E-Atlantic starts to approach W-Europe during the forecast with ongoing advection of a maritime Atlantic air mass towards the Iberian Peninsula.

Another potent vortex affects E-Europe with blizzard and/or freezing rain conditions forecast. Please refer to your national weather service for warnings and information about that risk.

DISCUSSION

... W/NW Turkey ... and ... Portugal/Spain ...

Isolated to scattered thunderstorms over W/NW Turkey (occurrence during the daytime hours) remain mostly sub-severe throughout the forecast. The main risk will be an isolated waterspout risk along the W-coast of Turkey with some LL CAPE and enhanced LL convergence expected along the coast.

A somewhat more robust severe risk evolves over parts of Portugal/Spain around noon onwards as GFS expects LL CAPE in excess of 200 J/kg with weakly capped 400-800 J/kg MLCAPE in the moist postfrontal air mass. A level 1 was issued where the BL moisture tongue advects beneath cool mid-levels and where some postfrontal diabatic heating looks most promising. This set-up may result in a few strong thunderstorms, which could produce a few funnels or an isolated tornado. Beside that risk, those storms may contain hail up to 2 cm in diameter. The severe risk gradually diminishes during the late afternoon/evening hours.
The low probability lightning area was expanded far north towards NW France with some WAA thunderstorm events possible that far north.

During the night, another mid-level impulse approaches Portugal from the W with an increase of DMC along the coast and south of Portugal. No 50-% lightning area was issued for that event due to weak LL convergence signals.