Storm Forecast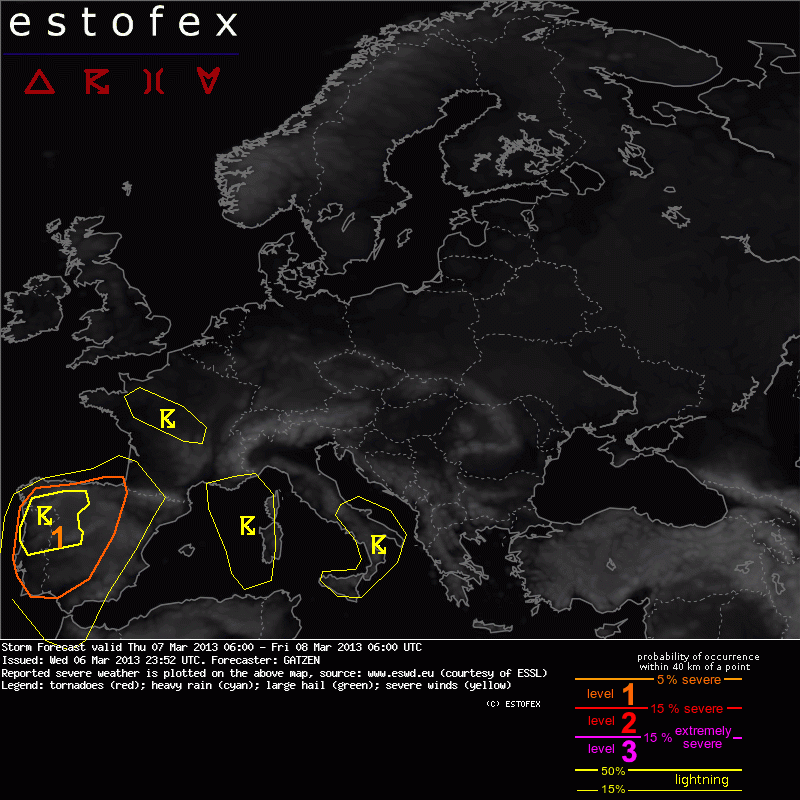 Storm Forecast
Valid: Thu 07 Mar 2013 06:00 to Fri 08 Mar 2013 06:00 UTC
Issued: Wed 06 Mar 2013 23:52
Forecaster: GATZEN
A level 1 was issued for the Iberian Peninsula mainly for severe wind gusts, large hail and to a lesser extent for tornadoes.

SYNOPSIS

An amplified short-wave trough moves across Europe. As a consequence, the European ridge weakens and mid-levels will become colder, leading to steeper lapse rates. However, given very week lapse rates across most places, steep lapse rates are quite unlikely to develop. Best chances to see positive CAPE will be across the southern Italy region where low-level warm air advection is forecast. Additionally, diurnal heating may result in weak CAPE across central France. Together with the diurnally steepening lapse rates, moisture pooling is forecast ahead of a cold front entering western France in the evening hours.

Farther west, another trough enters Europe. This will be associated with the advection of warm and moist low-level air into Iberia.

DISCUSSION

Iberian Peninsula

Warm maritime air masses will enter Iberia at the south-eastern flank of this trough. This air mass is rather unstable given rich moisture and neutral to slightly unstable lapse rates especially at mid-levels, whereas the boundary-layer is relatively cool. However, diurnal heating in the wake of the warm frontal rain is expected to result in low-level instability as well and some surface-based CAPE. With persistent QG forcing at the cyclonically-sheared flank of the jet ahead of the approaching trough axis, numerous thunderstorms are forecast spreading from west to east. The limiting factor is rather poor low-level moisture especially in the eastern and northern portions.

In the strongly-sheared environment (0-1 km 10 ms and 0-3 km 20 m/s bulk shear) convection will quickly become organized. Straight-line hodographs are most likely and multicells are forecast to be the dominant convective mode. These may turn into bowing systems during their lifetime, and local severe wind gusts are forecast. Additionally, the complex topography may enhance low-level SRH and supercells are not ruled out capable of producing large hail. Tornadoes seem to be possible given the strong low-level vertical wind shear, but the weak low-level buoyancy will limit this potential across most places. Best low-level buoyancy is expected across the south-western parts where the boundary-layer moisture is best. In the evening hours, low-level cooling will result in decaying storms quickly.