Storm Forecast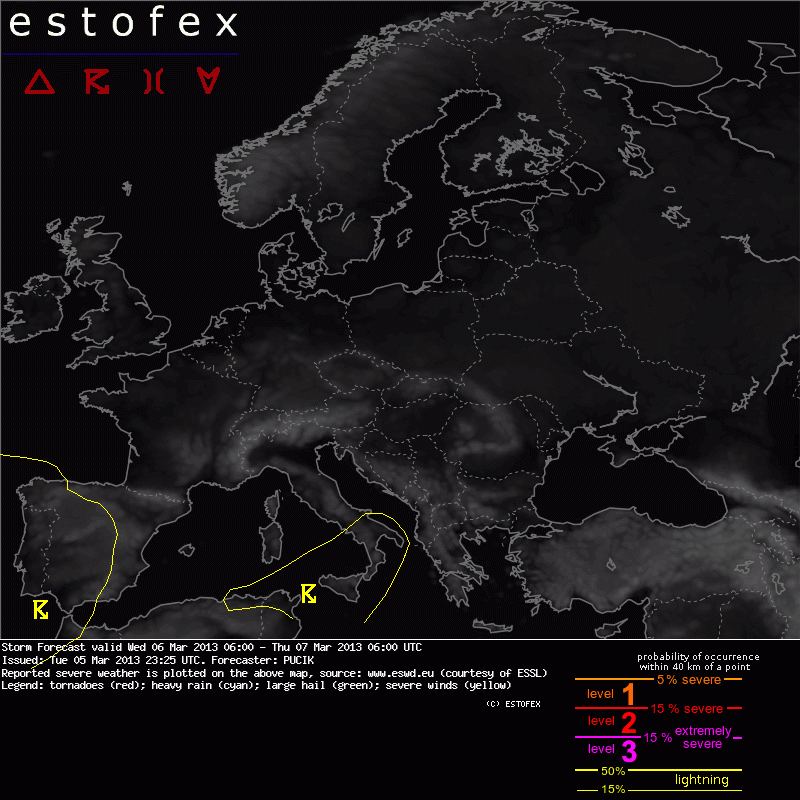 Storm Forecast
Valid: Wed 06 Mar 2013 06:00 to Thu 07 Mar 2013 06:00 UTC
Issued: Tue 05 Mar 2013 23:25
Forecaster: PUCIK
No threat levels have been issued.

SYNOPSIS and DISCUSSION

A ridge stretching from the Mediterranean into Central Europe and further into the Northern Sea will undergo weakening and its southern part will translate eastwards as a mid-level trough moves from Iberia towards the Central Mediterranean. Strong mid-level flow surrounds southern and western flank of the trough, while most of Western and Central Europe will stay under a weak steering flow regime. Prominent cyclonic activity along with sharp arctic frontal boundary will affect Scandinavia. Closer to the surface, with large low pressure system covering Atlantic and high pressure system centered over Russia, most of Europe will be under a WAA regime.

This forecast period will be mostly devoid of DMC activity, perhaps aparat from two regions:

A/ Western half of Iberia
Here, southwesterly low-level flow will provide some low-level moisture, but with increasing geopotential heights and mid-level temperatures, lapse rates should be rather poor, thus only marginal instability is predicted. At the same time, we expect strengthening westerly flow, so that DLS should reach 20 - 30 m/s over most of the area. Even with little directional shear, such wind profile would provide good basis for well organised DMC, but meager instability and unfavorable forcing will likely dimnish any chances for notable severe weather activity. Best chances for some electrified convection will exist over SW Iberia coastlines close to the end of forecast period with the approach of mid-level impulse.

B/ Tunisia coastlines, Southern Mediterranean
With the approach of the mid-level trough and cooler temperatures, mid-level lapse rates are forecast to steepen. A broad stratiform rain of the low pressure system will spread north and eastwards towards coastlines of France, Italy and Balkans. A gradual decrease in the precipitation rates will be linked to the weakening of the moist LLJ. Any instability will develop behind this rain shield, in the zone of quite weak forcing. Therefore, chances for DMC will be pretty slim, greatest around the Tunisia coastline.