Storm Forecast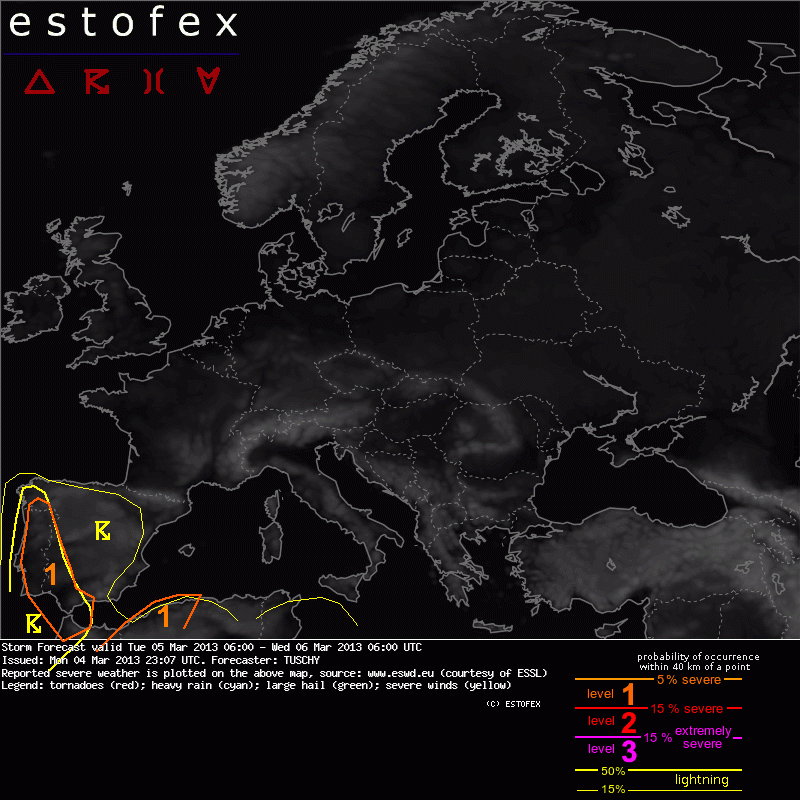 Storm Forecast
Valid: Tue 05 Mar 2013 06:00 to Wed 06 Mar 2013 06:00 UTC
Issued: Mon 04 Mar 2013 23:07
Forecaster: TUSCHY
A level 1 was issued for parts of Portugal mainly for an isolated tornado event, isolated large hail and heavy rain.

A level 1 was issued for SW Spain and far NW Morocco mainly for heavy rainfall amounts.

A level 1 was issued for NW Algeria mainly for heavy rainfall amounts.

SYNOPSIS

A transient omega-like pattern has established over Europe with strong ridging over C-Europe, flanked by troughs to its east and west. Low pressure areas west of Portugal advect a warm and moist air mass east, which affects parts of the Iberian Peninsula. Scattered thunderstorms are forecast.

For the rest of Europe, tranquil conditions regarding thunderstorm development continue. An heavy rainfall event for extreme NE Spain and far S-France shapes up for the overnight hours with nicely placed surface low and strong onshore flow along its northern fringe, but missing CAPE precludes any lightning/level areas for now.

DISCUSSION

... Portugal, far SW Spain and N-Morocco ...

Near neutrally stratified vertical profiles (due to weak lapse rates aloft) but rich BL moisture (featured by 8-9 g/kg mean BL mixing ratios) create a favorable set-up for moderate MCLAPE build-up during the day with peaks of 400-800 J/kg mainly over the lowest two-thirds of Portugal with a decreasing trend to the north and east. Deep layer shear remains weak during the daytime hours with no significant speed maximum crossing the area of interest. Nevertheless, 10-15 m/s DLS may already assist in a few stronger pulsating storms, which might produce an isolated large hail event and heavy rain (due to slow storm motion and clustering). The main concern however will be the favorable thermal stratification in the lowest 1-3 km, where good LLCAPE build-up may assist in a few funnel/isolated tornado events as f.ex. stronger updrafts move over mesoscale convergence zones. Mesoscale dictates that risk and therefore a broad-brushed level 1 was the best choice. Also, any thunderstorm which evolves during the late afternoon hours takes advantage of a gradually backing of the LL flow due to an increasingly ageostrophic component of the wind (as the LL depression approaches from the W). This helps to increase SRH-1 which might also assist in an isolated tornado event. We extended the level 1 quite far east (into far SW Spain), to include the main frontal boundary, where shear will be somewhat stronger. Current thinking is however that this activity will be slightly elevated which should lower the tornado risk. Still, heavy rain and isolated large hail remains still possible.

The level 1 was expanded far southeast towards SW Spain/N Morocco, where repeatedly onshore moving showers/thunderstorms likely produce heavy to isolated excessive rainfall amounts, resulting in some flash flood problems beside and isolated waterspout/tornado risk along the coasts. Some concern exists with 20-25 m/s low-level flow aligned parallel to the stom motion vectors that some training activity is possible within the southern part of the level 1, which may locally boost rainfall amounts to 100 l/qm/12h.

Sporadic electrified convection in the WAA regime might be possible over most of Spain and N-Africa and therefore the lightning areas were adjusted accordingly.

... NW Algeria ...

A wave is forecast to cross NW Algeria from SW to NE before developing into a surface low over the far SW/W Mediterranean around noon. Strong convergence along the tip of the wave beneath divergence aloft and some modest lift result in scattered to widespread shower and thunderstorm development with heavy rain being the main risk. Keeping the arid climate in mind, heavy rain likely results in flash flood problems despite model QPF remaining below our level-1 threshold. Therefore a level 1 was added.