Storm Forecast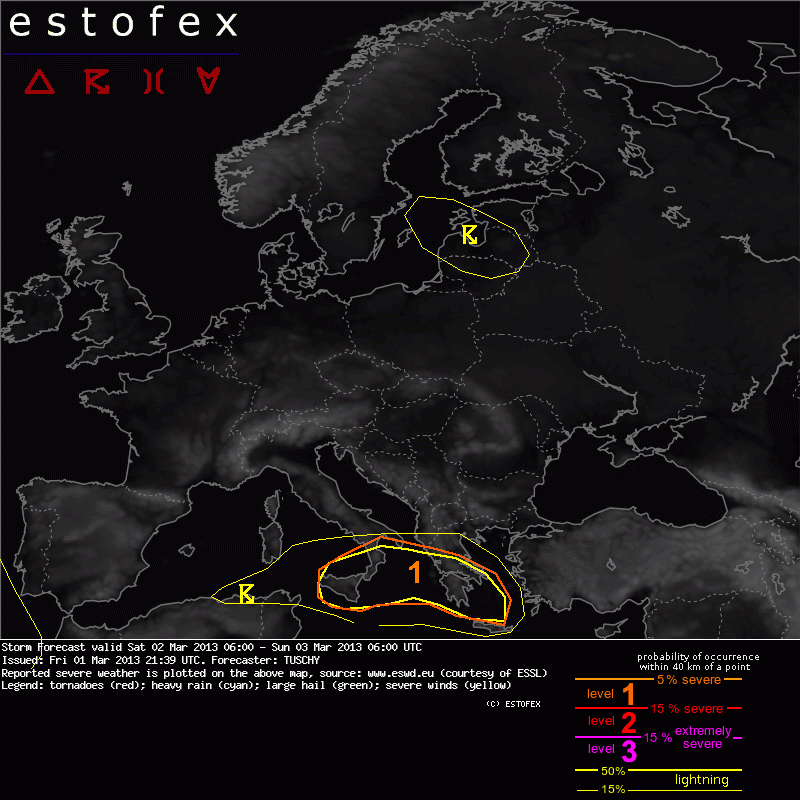 Storm Forecast
Valid: Sat 02 Mar 2013 06:00 to Sun 03 Mar 2013 06:00 UTC
Issued: Fri 01 Mar 2013 21:39
Forecaster: TUSCHY
A level 1 was issued for Sicily, S-Italy, the Ionian Sea and parts of Greece mainly for heavy to isolated excessive rainfall amounts, an isolated tornado (waterspout) event and isolated large hail.

SYNOPSIS

A slowly eastward moving low crosses Sicily around noon end enters the Ionian Sea during the night hours. This compact feature will produce a concentrated swath of enhanced convection.

High pressure to the west and cold/dry air to the NE preclude any more serious thunderstorm activity for the rest of Europe. An intense depression crosses C Norway/Sweden from NW to SE and isolated thunderstorm activity may be seen along the dry slot/cold front interface and along the W-coast of Norway. Strong to isolated severe wind gusts will be the main hazard with short-lived thunderstorm activity. Latvia/Lithuania need to be monitored for a potentially forced line of shallow convection after sunset, if GFS verifies with negative LI 700 hPa and strong forcing overlap. A more widespread wind gust risk may be the result.

DISCUSSION

... Sicily, S-Italy, Ionian Sea and parts of Greece ...

The eastward traveling low remains stable regarding strength although some slight weakening may start during the end of the forecast mainly due to damping dynamics/jet streaks. With sub-freezing 850 hPa temperatures accompanying that system, a concentrated area of 500 - locally 1000 J/kg MLCAPE is forecast, which remains displaced from the best shear for most of the forecast period. Therefore, the main risk with this feature will be:

a) isolated tornadoes over Sicily, S Italy and SW-Greece. There will be a tornado risk by organized DMC due to enhanced SRH and LL CAPE but also an isolated waterspout risk over the Ionian Sea during the overnight hours as the core of the upper low moves atop. Beside the tornado risk, an isolated large hail event is possible.

b) heavy to isolated excessive rainfall amounts mainly with an eastward trailing MCS, as thunderstorms reveal slow storm motions and back-building tendencies. Due to the overall progressive nature of this low, a broad level 1 should cover that risk. Especially SW/S-Greece and S-Italy may see local rainfall amounts of 100 l/qm/12h.