Storm Forecast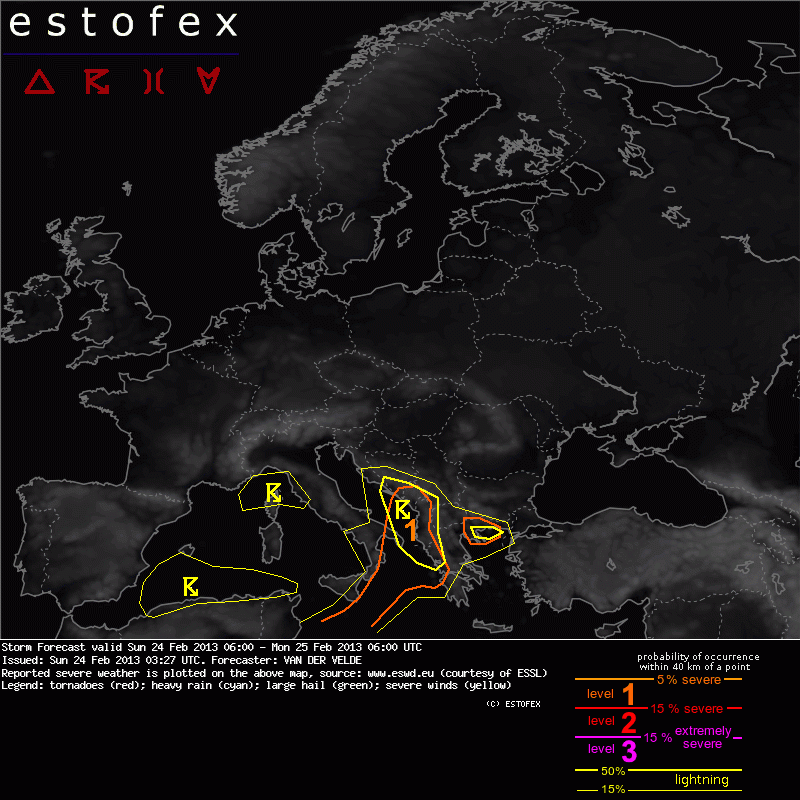 Storm Forecast
Valid: Sun 24 Feb 2013 06:00 to Mon 25 Feb 2013 06:00 UTC
Issued: Sun 24 Feb 2013 03:27
Forecaster: VAN DER VELDE
A level 1 was issued for southern Bosnia-Herzegovina, Montenegro, Albania, western and northern Greece for excessive convective rainfall, severe convective wind gusts, tornadoes and large hail.

SYNOPSIS

A large low pressure area is centered over the Gulf of Genua. Its cyclonic pressure pattern extends from southern Scandinavia, UK, Iberian Peninsula to the Balkan. Most of this area is inside the cold airmass at the surface. Warm airmass is found near southern Italy and Balkan, aloft even deeper northwards into central Europe, with associated cloudiness and precipitation. The warm airmass is conditionally unstable from Tunesia to the southern Balkan with MLCAPE over 500 J/kg, but seems mostly capped over most parts of the Ionean Sea except near the Balkan coast. Significant winds are present in this region as well with more than 25 m/s in the lowest 3 kilometers.

DISCUSSION

... southern Bosnia-Herzegovina, Montenegro, Albania, western and northern Greece...

Storm-relative helicity is enhanced to values over 250 mē/sē as result of veering wind profiles associated with warm air advection. With reasonable CAPE this will likely result in development of some supercells, with large hail and possibly tornadoes (regarding low-level shear >15 m/s and low LCL height). More general threat comes from storms sticking over elevated terrain especially in the Montenegro region, which can result in tens of millimeters of rainfall in few hours time with local flash floods as result. The precipitable water content is not so high for an obvious level 2, and strong storm-relative upper winds should carry precipitation away from cores, spreading it over larger regions further inland, which should also gather increased rainfall rates from the moist upslope flow. Additionally, severe wind gusts can occur, especially when an MCS would organize into linear segments, or in association with supercells.