Storm Forecast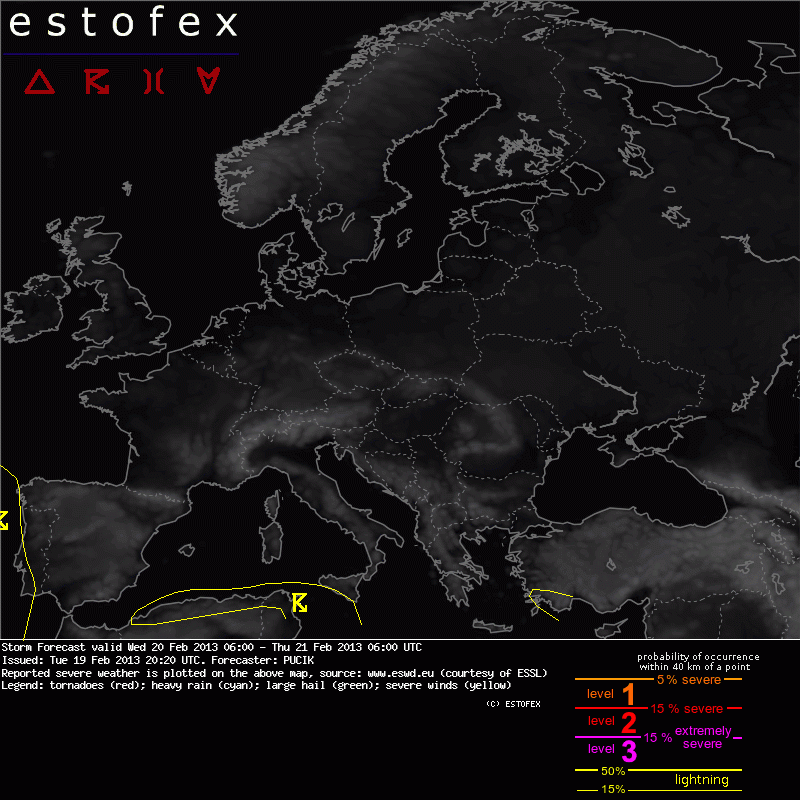 Storm Forecast
Valid: Wed 20 Feb 2013 06:00 to Thu 21 Feb 2013 06:00 UTC
Issued: Tue 19 Feb 2013 20:20
Forecaster: PUCIK
No threat levels have been issued.

SYNOPSIS and DISCUSSION

An "omega-block" pattern has established over Europe with a significant ridge stretching from Iberia all the way towards Western Scandinavia. Underneath, a large high pressure system is centered over Southern Norway / Sweden. Towards the southeast, a deep cyclonic vortex will become quasi-stationary, centered over Southern Poland. In such configuration, most of Europe will be under a dry northerly to northeasterly flow, with mixing ratios generally below 3 g/kg. More abundant low-level moisture is forecast over the Meditteranean. Some marginal latent instability might form over the coastal zone of Algeria and Tunisia, where northerly flow should contribute to the "moisture pooling" while being overlapped by somewhat steeper mid-level lapse rates. A tongue of moister airmass will also affect western coastline of Iberia towards the Thursday morning hours.

Nevertheless, environmental conditions will be generally be meager for severe DMC.