Storm Forecast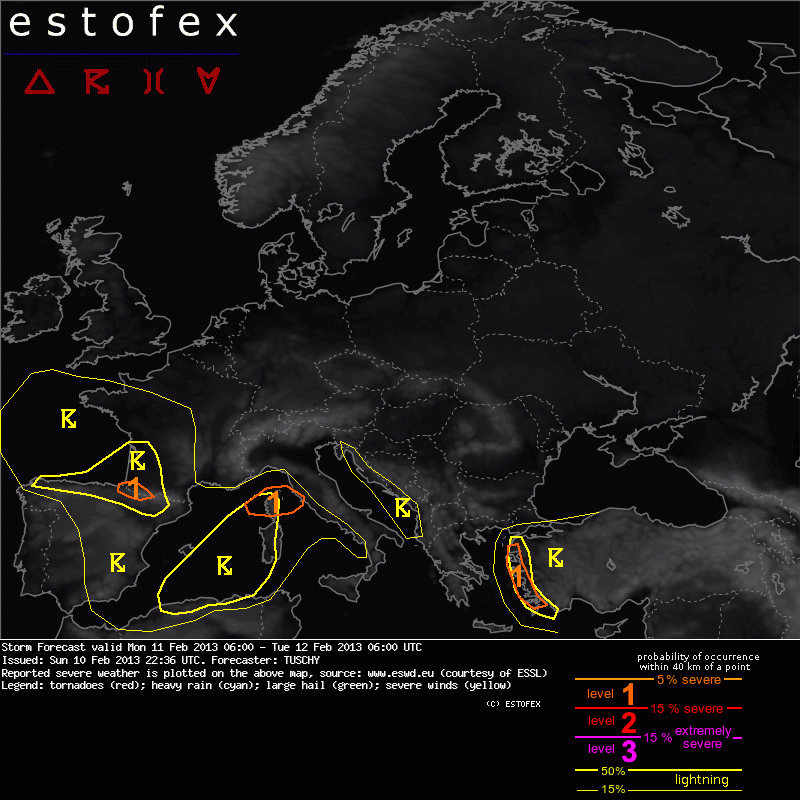 Storm Forecast
Valid: Mon 11 Feb 2013 06:00 to Tue 12 Feb 2013 06:00 UTC
Issued: Sun 10 Feb 2013 22:36
Forecaster: TUSCHY
A level 1 was issued for Corsica and adjacent areas mainly for heavy rain and an isolated waterspout event.

A level 1 was issued for W-Turkey mainly for waterspouts.

A level 1 was issued for the extreme SE Bay of Biscay mainly for heavy rain.

SYNOPSIS

And yet another major impulse makes its way towards the western Mediterranean with very cold mid-levels spreading SE. Other vortices over Europe start a retrograde motion towards the W along the northern fringe of the major impulse. Scarce BL moisture still covers most of Europe and hence, the focus for stormy weather remains over the W/C Mediterranean.

DISCUSSION

... Bay of Biscay and W-C Mediterranean ...

Despite some moisture advection ahead of the impulse and mid/upper-level divergence atop, marginal lapse rates at mid-levels keep the thunderstorm activity over the C-Mediterranean limited. Once again the focus remains the cold-core vortex, which assists in some low-end to moderate SBCAPE build-up mainly atop the W-Mediterranean. Weak shear and moderate CAPE keep the severe risk low.

Nevertheless, there exists a chance for a few better organized storms along the slowly eastward progressing cold-front over the Balearic Islands between 6-12 Z. A few deep updrafts may evolve which take profit of 30 m/s DLS. An isolated large hail risk will be the main hazard. No level area covers that risk due to the isolated nature of those storms.

The heavy rain risk also needs a few words, as a LL depression strengthens somewhat over the Ligurian Sea. With no intense deepening expected and a gradual eastward movement forecast, there should be no a widespread heavy rain risk. However, mainly westward facing upslope regions over Corsica and N/C Italy could receive locally up to 100 l/qm/24 h. The same for the N-Ligurian Sea and coastal areas, which may see a temporarily enhanced training shower/thunderstorm activity ahead of the cold front/LL depression. Good LL CAPE, an organizing LL vortex with increasing background vorticity, structuring mesoscale bands with enhanced convergence and weak background shear may result in a few waterspout events about Corsica. Due to the local nature of this event no level area will be issued excluding Corsica, where a combined risk of heavy rain and waterspouts may justify a marginal level-1 area.

Another area with enhanced thunderstorm activity will develop over the SE Bay of Biscay and adjacent areas. With robust LL CAPE and enhanced LL shear along the coasts, an isolated tornado and marginal hail event is possible. Repeatedly onshore moving showers and storms may cause local flash flood problems due to heavy rain. The activity gradually winds down after 15 Z, as mid-level ridging builds in from the NW. A heavy rainfall level area was issued, where up to 100 l/qm/24h is possible.

... W-Turkey ...

A potent vorticity lobe enters the Aegean Sea during the morning hours from the west and causes scattered to widespread thunderstorm development. Despite weak shear, strong forcing may cause a line of showers and thunderstorms to affect the W-coast of Turkey with heavy rain, marginal hail and gusty winds. The main hazard right now seems to be a few waterspout events due to weak background shear and significantly enhanced LL CAPE. At 15 Z onwards, incoming NVA and rapidly strengthening subsidence from the west result in a rapid decrease of thunderstorm activity.