Storm Forecast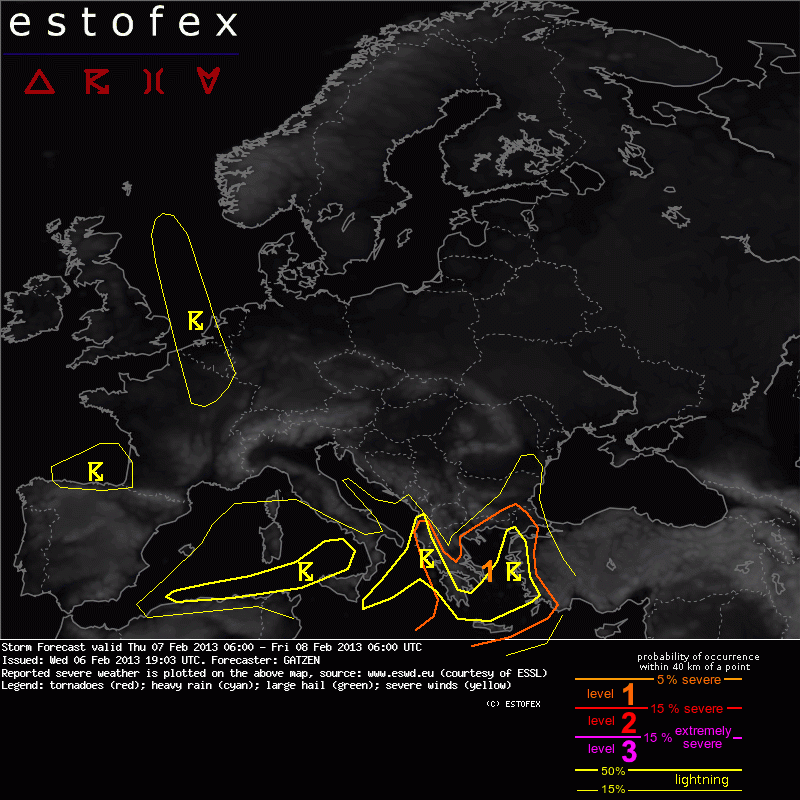 Storm Forecast
Valid: Thu 07 Feb 2013 06:00 to Fri 08 Feb 2013 06:00 UTC
Issued: Wed 06 Feb 2013 19:03
Forecaster: GATZEN
A level 1 was issued for the south-east Adriatic region and the Aegean region mainly for excessive rain, severe wind gusts and tornadoes.

SYNOPSIS

A deep trough is present across Europe. A vort-max will travel southward at its western flank affecting the Bay of Biscay. Ahead of the trough, warm air advection is forecast from the east Mediterranean into the Black Sea region.

DISCUSSION

East Mediterranean to Black Sea region

A 45 m/s mid-level jet streak will eject out of the base of the European trough and moves north-eastward into western Turkey. It will provide strong DCVA together with a negatively tilted short-wave trough entering the east Mediterranean at the end of the period. Rather warm mid-level air will spread northward leading to relatively poor lapse rates initially. However, instability is forecast to increase during the period as better low-level moisture is expected to build ahead of an approaching cold front from the west. Additionally, lift will also result in steeper lapse rates.

Current thinking is that substantial CAPE will develop at the cyclonically sheared flank of the jet exit in the afternoon and evening hours as indicated by GFS. Further east, instability will remain marginal. Ahead and along the cold front, thunderstorms are forecast to spread from the Adriatic into the Aegean region during the day. Main severe threat will be excessive precipitation along the coasts due to upslope flow. The strong pressure gradient ahead of the cold front will also support severe wind gusts across the Aegean region. The strong low-level vertical wind shear will overlap with the instability across the Aegean region, and a few tornadoes are not ruled out. In the wake of the cold front, severe potential will decrease given weaker vertical wind shear.

West and central Mediterranean

Cold polar air spreads into the Mediterranean with strong Mistral winds. Steep lapse rates are expected up to 500 hPa above the warm sea surface. Latest soundings indicate some remaining low-level moisture across the southern and central Mediterranean ahead of a second cold front that crosses the west and central Mediterranean on Thursday from the north-west. The overlap of low-level moisture and steep lapse rates will result in CAPE ahead of the cold front that will be released due to strong forcing. Widespread convection is expected that weakens north of the cold front given the weaker moisture. Vertical wind shear is limited and organized storms are not expected. However, given the strong pressure gradient, severe wind gusts are forecast across the west Mediterranean.