Storm Forecast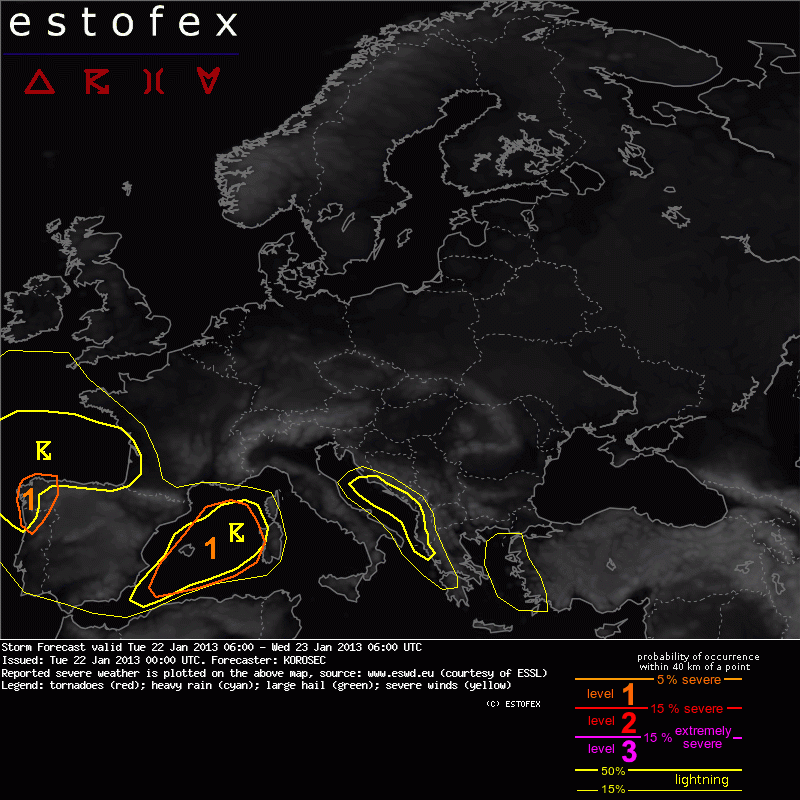 Storm Forecast
Valid: Tue 22 Jan 2013 06:00 to Wed 23 Jan 2013 06:00 UTC
Issued: Tue 22 Jan 2013 00:00
Forecaster: KOROSEC
A level 1 was issued for western Mediterranean mainly for strong winds and excessive rainfall threat.

A level 1 was issued for NW Iberia mainly for strong winds threat.

SYNOPSIS

A blocking pattern continues on Tuesday, with low pressure system extending from western Europe across N-W Mediterranean. Focus for today's convective activity will be a vort-max moving from the bay of Biscay into NW Mediterranean. At surface, one cyclone wobbles over bay of Biscay while another one forms over W Mediterranean later in the afternoon. A weak impulse crosses central Adriatic sea and scaterred convective activity will be in place there in the first half of the forecast period.

DISCUSSION

... Iberia into W Mediterranean ...

An upper low geopotentials will overspread these areas today, resulting in slightly unstable environment. The existing SFC low over bay of Biscay will slowly diminish while strong westerlies in its wake will enhance shear towards NW Iberia. Despite marginal instability there, it seems strong wind potential will be in place, warranting a level 1 threat over these areas. It should as well result in enhanced excessive rainfall threat as well with any stronger storms arriving ashore.

As soon as the colder mid/upper levels enter the Mediterranean, a secondary low will form offshore Iberia. Quite steep lapse rates will result in marginally to moderately unstable environment, overlapped with moderately strong shear. This should be sufficient for some organized storms, capable of producing some excessive rain and wind threat. For this reason a level 1 is required. Threat will be spreading east towards Corsica/Sardinia overnight.