Storm Forecast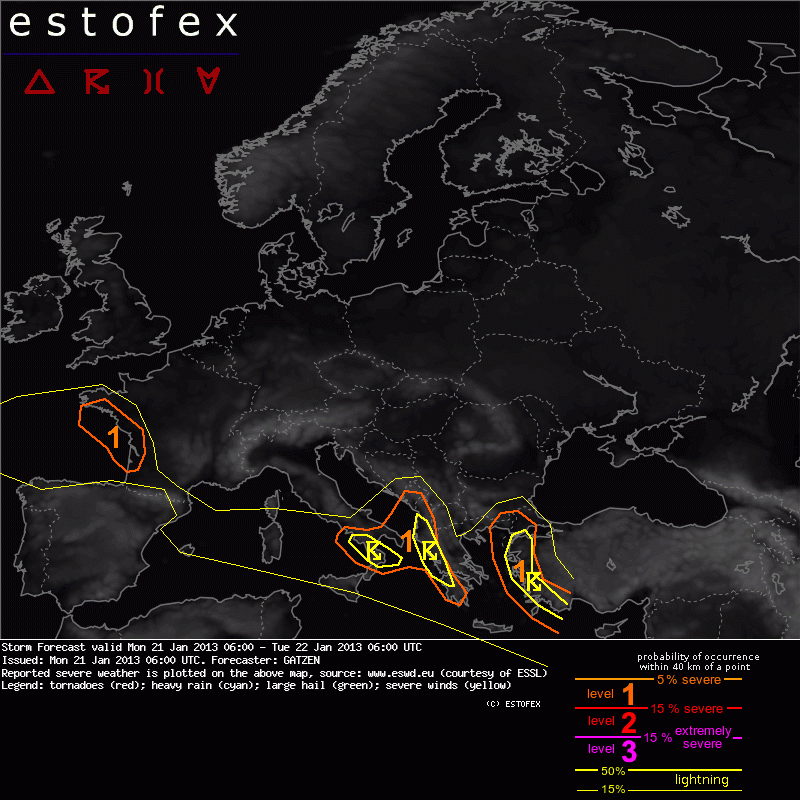 Storm Forecast
Valid: Mon 21 Jan 2013 06:00 to Tue 22 Jan 2013 06:00 UTC
Issued: Mon 21 Jan 2013 06:00
Forecaster: GATZEN
A level 1 was issued for southern Italy and the southern Adriatic, the southern Balkans, Aegean, and southern Turkey mainly for tornadoes, severe wind gusts, and large hail.

A level 1 was issued for the Bay of Biscay mainly for severe wind gusts.

SYNOPSIS

Blocking pattern persists across northern Europe, resulting in easterly winds and a very dry and cold boundary-layer. The position of the westerly jet remains far south and extends across southern Europe, associated with a couple of vort-maxima spreading eastward. Especially in the eastern portions, low-level moisture can recover ahead of these vort-maxima, whereas rather dry air spreads into the west Mediterranean.

DISCUSSION

Southern Adriatic to Aegean and Turkey

A lifting short-wave trough currently centred across the south Mediterranean Sea will move into Romania at the end of the period. It will provide QG forcing especially from the southern Adriatic Sea to the southern Aegean Sea. At low levels, warm air masses are present ahead of the trough, and a tongue of rich low-level moisture was sampled by latest Brindisi sounding. It also indicates that steep mid-level lapse rates are present and weak CAPE is expected ahead of the cold front. In the morning hours, a linear MCS has developed along the cold front that moves across southern Italy. Strong low-level vertical wind shear and favorably veering profiles are present ahead of this convective line and tornadoes are not ruled out. Given rich low-level moisture and rather steep lapse rates, deep moist convection will spread into the southern Adriatic region until noon along the cold front. However, the severe threat will gradually decrease as low-level shear weakens. A few large hail events are not ruled out especially in the southern portions of the convective line where CAPE is not too marginal and may reach 1000 J/kg. Approaching the Balkans, excessive rain is also not ruled out given the rich low-level moisture and upslope flow along the coasts.

Later in the period, the cold front will move into the Aegean region. Current thinking is that the upslope flow along the coasts of Turkey, Greece and Moldova will support thunderstorms. Excessive rain may be possible locally. Along the southern Turkish coast, easterly surface winds are expected to increase the low-level vertical wind shear. Therefore, a tornado is not ruled out.

Bay of Biscay, west Mediterranean Sea

Although low-level moisture is weak, rather steep lapse rates will likely result in weak CAPE. Two vort-maxima moving across the region will support deep moist convection especially over the sea. Main threat will be severe wind gusts along of linear organized convection. Over most of the region, severe potential will be pretty low, though. Best potential is expected across the Bay of Biscay during noon given the strongly forced situation.