Storm Forecast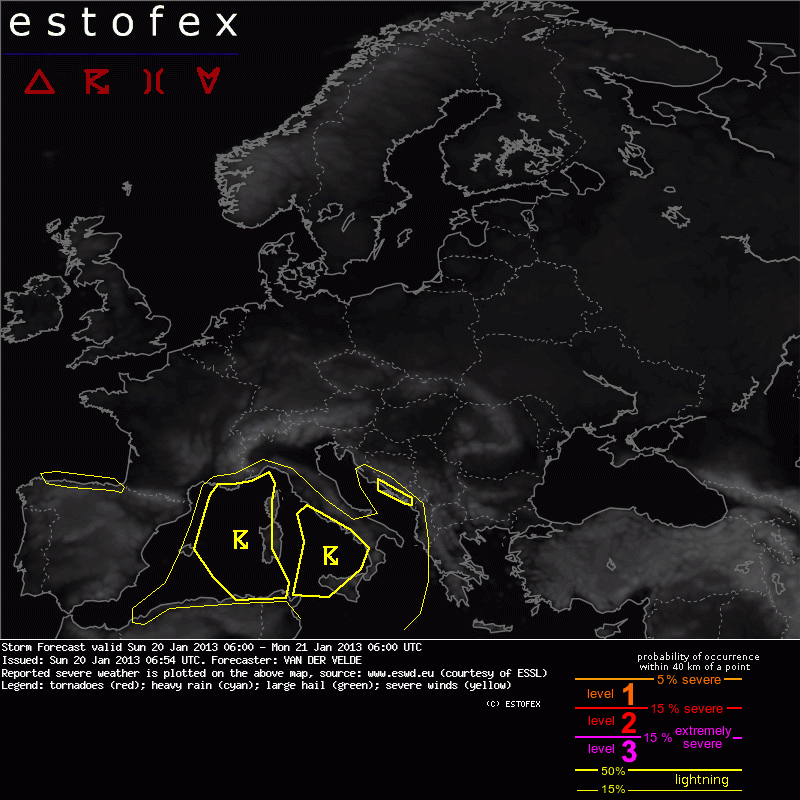 Storm Forecast
Valid: Sun 20 Jan 2013 06:00 to Mon 21 Jan 2013 06:00 UTC
Issued: Sun 20 Jan 2013 06:54
Forecaster: VAN DER VELDE
SYNOPSIS and DISCUSSION

A low pressure system associated with an upper trough moves through the western and central Mediterranean Sea area. While there is a large region of steep lapse rates under the cold upper trough, SBCAPE remains mostly under 500 J/kg and MLCAPE in GFS seems weaker than 200 J/kg. Reason for high probability thunder areas is the lift associated with a second cold front entering the Mediterranean from the Gulf of Lion, pushed forward by a strong tramontane. It will function as a trigger for convection. By late afternoon this front reaches Sardinia. The Italian west coast will see quite enhanced moisture lifting by onshore flow, and it is possible to see some convective cells surfing the coast, but since CAPE and precipitable water content are not high, no threat level was issued for precipitation. The same situation occurs at the Balkan west coast region. Vertical wind shear is enhanced to over 20 m/s over the Sicily - southern Italy - Balkan zone, but models, in particular WRF versions, do not predict many storms and the low CAPE will likely not withstand the shear. Therefore the threat of large hail and tornadoes seems low enough to go without issued level. The day after, however, CAPE will build up over the Ionean Sea area not long after 06Z.
A few waterspout tornadoes cannot be excluded within the marked thunder areas.