Storm Forecast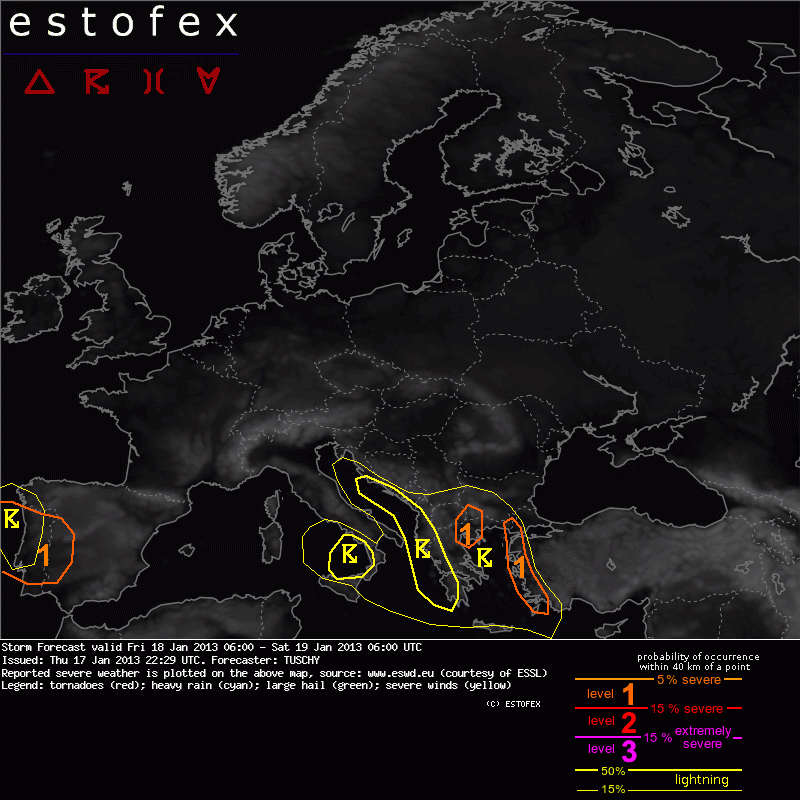 Storm Forecast
Valid: Fri 18 Jan 2013 06:00 to Sat 19 Jan 2013 06:00 UTC
Issued: Thu 17 Jan 2013 22:29
Forecaster: TUSCHY
Two level 1 areas were issued for the NW/E Aegean Sea mainly for heavy rain and isolated large hail.

A level 1 was issued for Portugal and extreme W-Spain mainly for severe wind gusts and an isolated tornado risk. There exists the possibility for a damaging wind event during the end of the forecast period over parts of Portugal.

SYNOPSIS

A disturbed pattern, evoked by a split polar vortex, continues with a complex high-level flow pattern present over most of Europe. Reversed flow pattern has established over N-Europe with a strengthening high pressure over the Norwegian Sea. Further south, e.g. Mediterranean area, the far south displaced frontal zone will be the focus for numerous healthy vortices. The first one exits Italy during the morning hours to the SE and affects Greece during the overnight hours. The vortex is well structured as dynamics and latent heat release (owing to an marked increase of the T-SST spread) push the cyclone's thermodynamic core structure even to a transient shallow warm-core structure. This however is not unusal for this time of year. Unsettled conditions accompany that depression and affect most of SE Europe with the bulk of thunderstorm probabilities confined to that feature.
Another impulse enters the forecast area from the west during the evening hours onwards. Emerged from the subtropics and integrated into the healthy looking frontal zone, this depression will see moderate to rapid deepening just before moving ashore along the north coast of Portugal. Both, the plume of subtropical air and placement in the exit region of a 60 m/s mid-level jet cause this deepening rate. Seems like an active back-bent occlusion may affect Portugal during the end of the forecast period with intense winds probably mixing down to the surface (if GFS verifies...EZ a bit less aggressive).

Isolated thunderstorm activity may occur over far NW Europe (surrounding Ireland/UK and Scotland), but neither coverage nor intensity force any issuance of a lightning/level area.

DISCUSSION

... Central and eastern Mediterranean ...

Scattered DMC is forecast over a broad area, as the depression moves east atop the Tyrrhenian and Ionian Sea. Highest CAPE remains displaced from stronger shear, so mainly pulsating and sub-severe storms are anticipated. Can't exclude marginal hail due to the cold lower troposphere and an isolated waterspout event, especially atop the Adriatic and E-Ionian Sea.

A bit more active will be the frontal passage over the Aegean Sea during the later afternoon/evening hours. Prefrontal moisture advection beneath moderate lapse rates (ongoing cool-down at mid-levels) assists in 500-800 J/kg MLCAPE ahead of the front. Not sure if this CAPE will be used, as models try to evolve a pronounced prefrontal convergence zone, which remains in a capped air mass despite the available energy. The cold front itself seems to struggle with CI due to limited moisture behind the convergence zone (low CAPE). Therefore, the main concern will be a messy cluster of showers/thunderstorms along the prefrontal convergence zone, which may result in heavy rain for most of the NE/E coasts of the Aegean Sea. Would not be surprised to see some back-building with prefrontal 20 m/s LLJ, but overall progressive nature of this event should keep rainfall amounts on the moderate side. However, a low-end level 1 was issued to cover that rainfall risk (keeping orography in mind). The cold front itself remains quite inactive regarding DMC activity. Any strom which initiates ahead of the prefrontal convergence zone may bring isolated large hail to the SW/W coast of Turkey.

A sporadic thunderstorm may evolve over the W-Black Sea during the night with some elevated CAPE spreading noth. Low confidence in CI precludes any lightning area that far north.

... Portugal and far NW Spain ...

The main show likely will be a heavy rain/wind event with limited DMC probabilities. Positive tilt of this impulse keeps CAPE values on the lower end side despite rich LL moisture spreading ashore. Favorable dynamics and upper-level support cause a prolonged period with heavy rain, but embedded convection seems unlikely. The focus however will be the passage of the cold front and occlusion beyond midnight. Expected phase diagrams and impressive dynamics point to a potential warm seclusion event with an active back-bent occlusion/potential sting jet, so the main concern will be 03Z onwards:

a) the cold front may consist of a forced line of shallow convection (EL temperatures shy below -10 °C) within a 30 m/s 850 hPa background flow. Severe wind gusts will be the main risk and I don't want to exlcude an isolated tornado event due to rapidly increasing LL shear along the coast.

b)the back-bent occlusion approaching the W coast of Portugal thereafter (around 06Z onwards). GFS hints at 30-35 m/s winds just above the BL with mixed maritime Atlantic air mass spreading ashore. The concern exists for a concentrated swath of severe to damaging wind gusts.

Low confidence in any electrified activity kept lightning probabilities low (offshore) or non-existent (onshore), so a level 1 for the wind risk with the aforementioned cold front should cover that risk for now. The eastern edge of the level 1 depicts the rough cold front position at 06Z. Please keep in mind that this level area does not cover the winds of the occlusion due to missing convection.



This outlook is dedicated to my dad.